Innovative Financing Structures for Impact Enterprises
Thursday, November 16, 2023
12:00 PM - 1:15 PM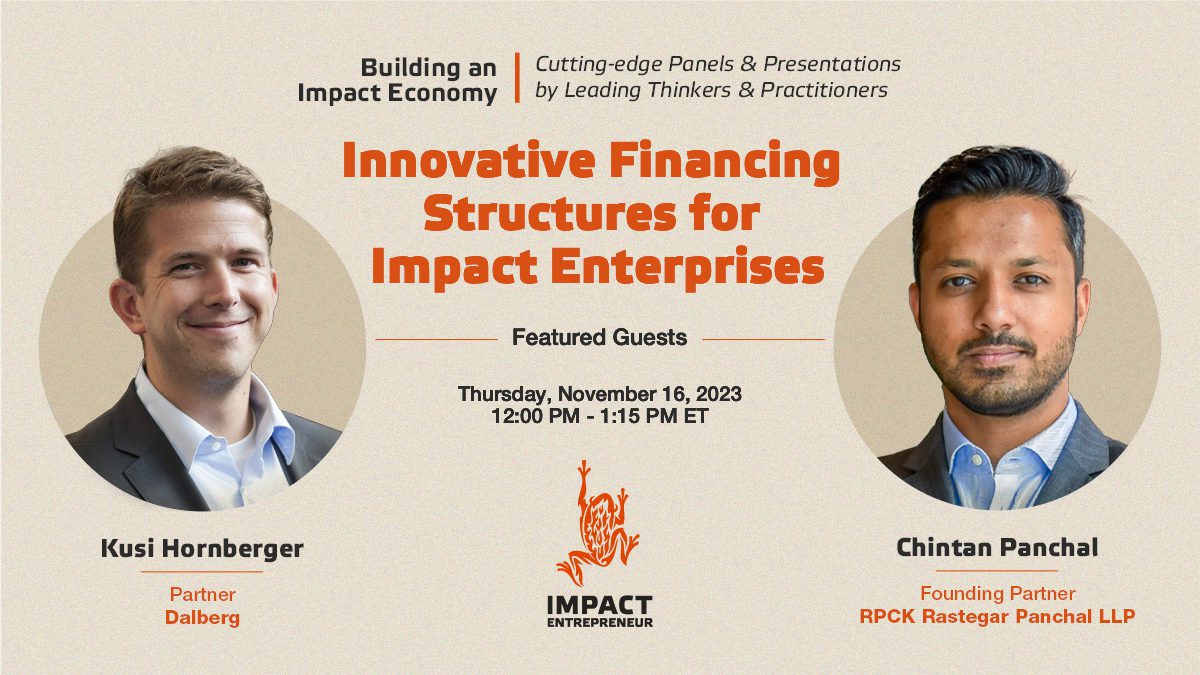 Impact Entrepreneur Premium Members register for all live programs for free. Become a Premium Member today!
Innovative Financing Structures for Impact Enterprises
In the evolving sphere of impact entrepreneurship, the strategic allocation of financial resources is a linchpin for sustainable success. This live program delves into the burgeoning world of innovative financial structures and approaches that fortify impact-driven enterprises. This session aims to unfold the myriad of financing avenues that are tailored to bolster the triple-bottom-line. As the impact economy grows/scales, it is imperative that financing structures evolve in tandem to undergird the sustainable and systemic change heralded by impact enterprises.
Featuring two experts in impact investing and finance, the conversation will provide frameworks with real-world examples of innovative financing structures. They'll unravel how these approaches are not only feasible but instrumental in propelling impact enterprises towards their lofty yet grounded objectives. The discourse will bridge the conceptual with the practical, offering attendees a clear understanding of how innovative financing models can be harnessed to drive forward the impact economy.
Topics to be covered include:
Summary of different types of financing needs of early and growth stage enterprises and which types of innovative financing structures are appropriate for which types of enterprises.
An exploration of various innovative financing structures such as impact-linked financing, royalty financing, and demand dividend structures.
An examination of how these financing models align with the mission and sustainability goals of impact enterprises.
Case studies showcasing the application and success of innovative financing structures in different sectors of the impact economy.
The role of stakeholders in catalyzing and sustaining financing innovation.
Legal and regulatory considerations for adopting novel financing structures.
General discussion of the future of financing in fostering a thriving impact economy.
This webinar is an indispensable journey for impact entrepreneurs, investors, and scholars keen on exploring the frontier of financing that undergirds the transformation towards an impact economy. Through engaging discussions and insightful case examinations, attendees will be equipped with a robust understanding of the financial scaffolds that can empower impact enterprises in their pursuit of systemic, sustainable change.
Kusi Hornberger
Kusi Hornberger is a Partner at Dalberg, where he leads its Finance & Investment Practice. In this role, Kusi has led more than 200 advisory projects on a wide range of topics related to blended finance, financial inclusion, impact investing, impact measurement and management, and innovative finance with leading donors, development finance institutions (DFIs), family offices, foundations, and private investors around the globe. Outside of Dalberg, Kusi serves on the board for several leading international NGOs, guest lectures at leading business and policy schools, speaks at conferences on topics related to the impact economy and regularly publishes articles in leading business and finance publications. Kusi also recently published a book titled, Scaling Impact: Finance and Investment for a Better World (Palgrave MacMillan Press, 2023).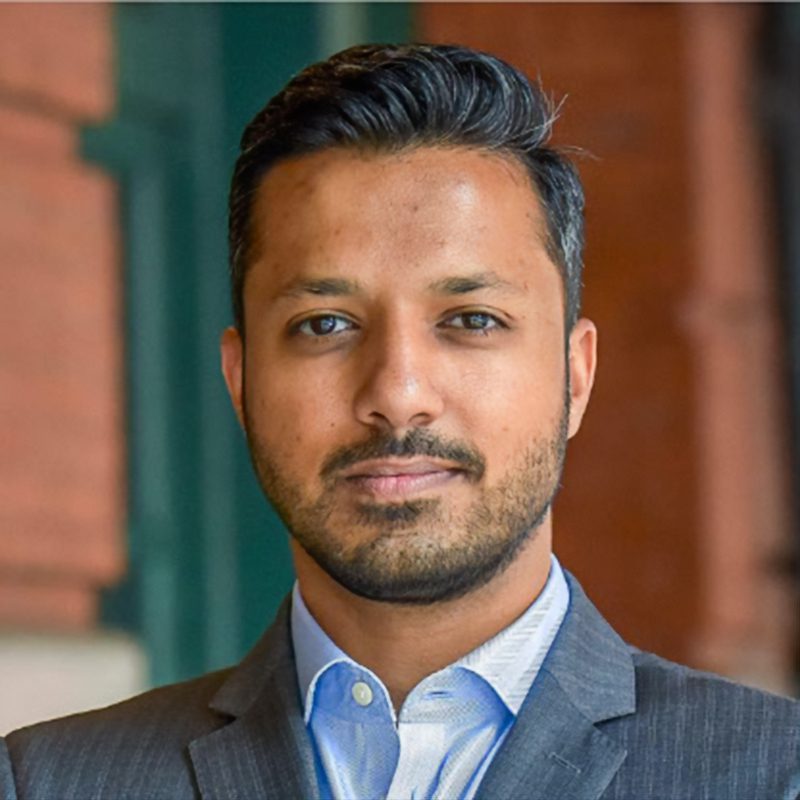 Chintan Panchal
A transformative figure and influencer since the early days of impact investing, Chintan Panchal is recognized for his ability to use the levers of finance and law to create novel transaction frameworks that address some of the most pressing global challenges around the world. Chintan is a Founding Partner and head of the U.S. region at RPCK, Rastegar Panchal, a global boutique law firm that specializes in co-creating and facilitating the launch of scalable and investible solutions that address social and environmental targets.
RPCK works closely with leading family offices and foundations, high growth companies, and investment funds around the globe and across a broad spectrum of industries on a range of capital investments that generate social and environmental impact alongside market rate, risk-adjusted financial returns.
Chintan has helped architect a number of groundbreaking transactions for clients around the world that have become templates for the rest of the industry, and is a recognized speaker at industry conferences around the country.
Laurie Lane-Zucker
Laurie Lane-Zucker is Founder and CEO of Impact Entrepreneur, LLC, an impact economy business that hosts the Impact Entrepreneur Network — a large, global network of "systems-minded" entrepreneurs, investors and scholars of social and environmental innovation — and publishes Impact Entrepreneur Magazine. For over 30 years, Laurie has been a "pioneer" (Forbes) and recognized leader in sustainability, social enterprise, and impact investing. Laurie was the founding Executive Director of the international environmental organization, Orion Society, which publishes the celebrated Orion Magazine, as well as the founder of a global sustainability think-tank, the Triad Institute, and Hotfrog, a Founding B Corporation, GIIRS Pioneer Company, and the first company ever to complete an equity transaction on an impact investment exchange. Laurie is the bestselling and multiple award-winning publisher and editor of books and magazines on sustainability and social impact, and the author of numerous articles on entrepreneurship and impact investing. Laurie is contributing author of the recently published, bestselling textbook from World Scientific, Sustainability: Business and Investment Implications (2023).