Moral Imagination, Patient Capital, and Their Roles in Solving Big Problems
Thursday, November 3, 2022
12:00 PM - 1:15 PM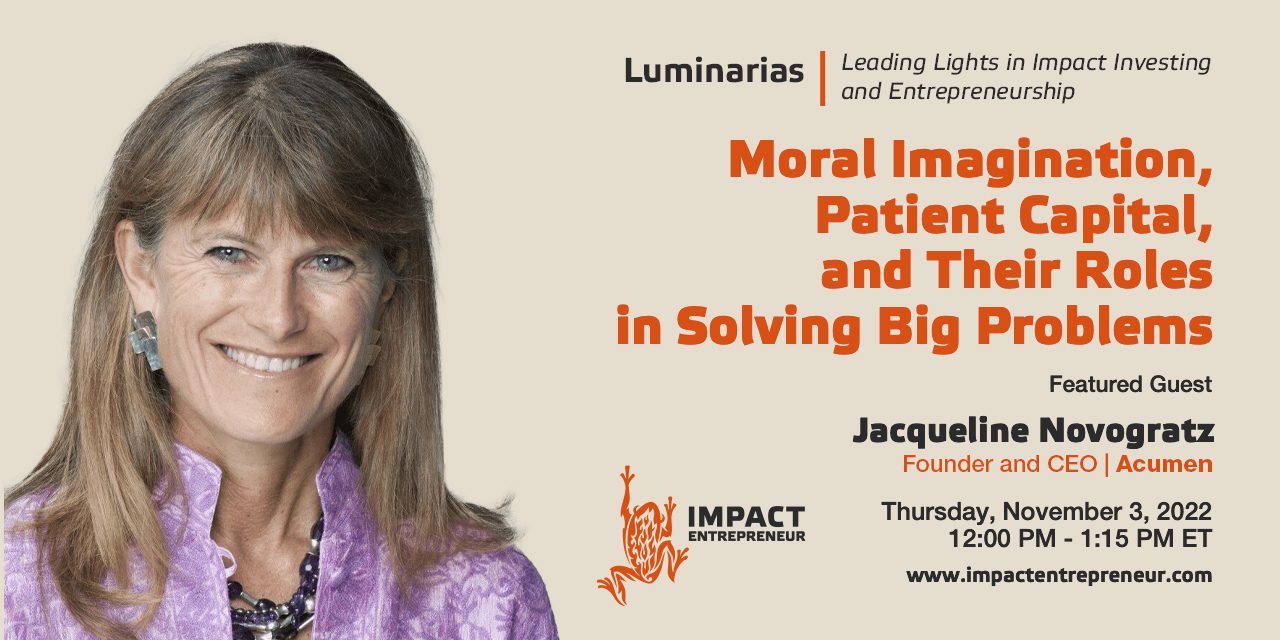 Too many who yearn to make a difference become paralyzed by the fear of leaping without having worked out every detail. Yet the decision we face is not to chart the perfect way forward; it is simply to embark on the journey. In her latest book, Manifesto for a Moral Revolution, Jacqueline Novogratz, founder and CEO of Acumen, outlines concrete practices we can all use to jumpstart our own impact on the world. Change is possible, she argues, and because it's possible, it's up to each of us to be part of that change. 
The critical ingredient for large-scale, sustainable progress lies in moral imagination — which starts by viewing other people's problems as if they were your own, and discerning how to solve those problems. It requires both the audacity to see where you want to go, and the humility to realize the scale of what we're facing. In this intimate conversation and audience Q&A, Impact Entrepreneur's Laurie Lane-Zucker welcomes Jacqueline Novogratz, who will share her story of quitting her banking job to start a business in Rwanda, which ultimately led to founding Acumen 21 years ago and forging the path for a now-thriving impact investing industry. She'll explain the role of patient capital in building markets and solving the problems of poverty, and the role that listening, immersion, and transcending our tendencies toward binary thinking plays in building dignity for all.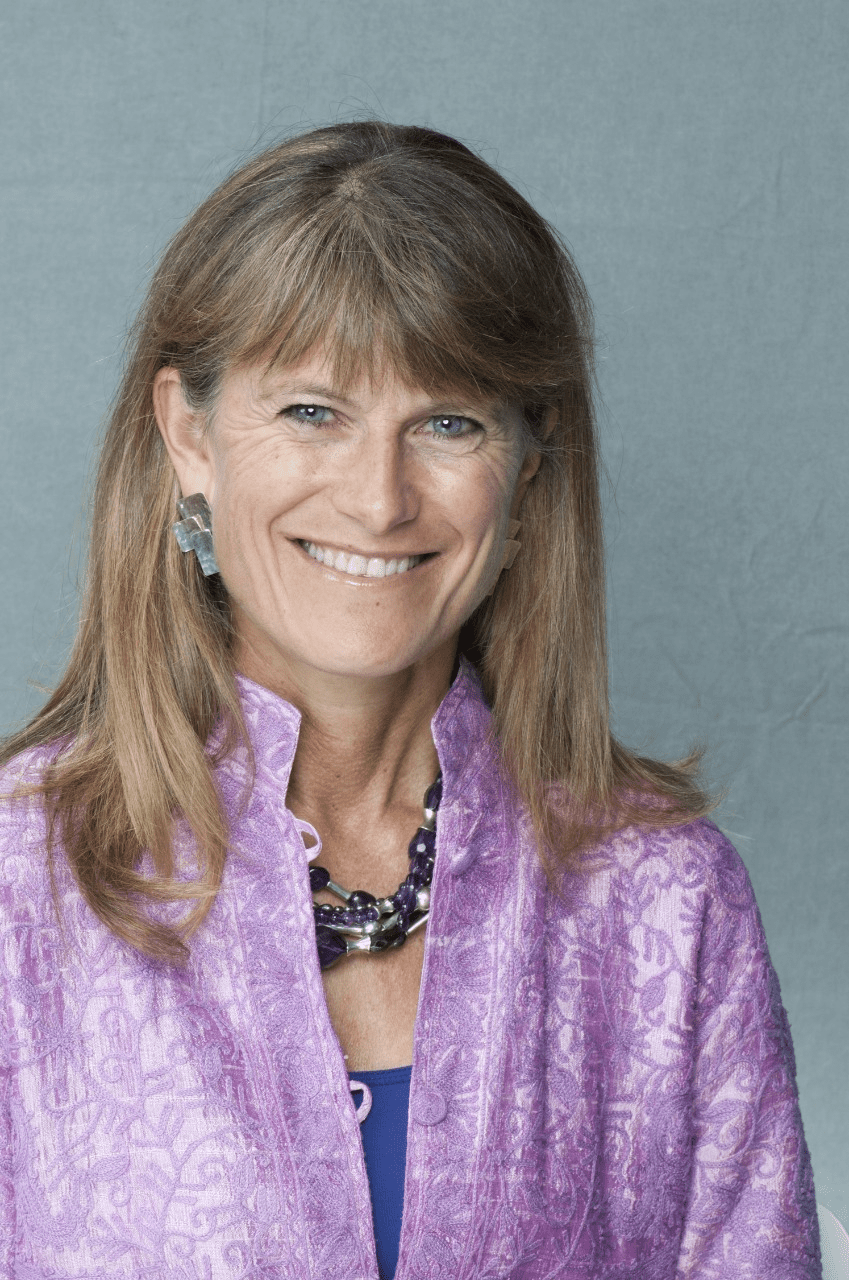 Jacqueline Novogratz
Jacqueline Novogratz is the Founder and CEO of Acumen, and a recognized leader and innovator in the social impact sector. Her work began in 1986 when she quit her job on Wall Street to co-found Rwanda's first microfinance institution, Duterimbere; the experience inspired her to write the bestselling book The Blue Sweater: Bridging the Gap Between Rich and Poor, and, in 2001, launch Acumen.
A pioneer of impact investing, Acumen has invested more than $146 million of patient capital into 151 companies affecting the lives of nearly 400 million people across Africa, Latin America, South Asia and the United States in the areas of clean energy, agriculture, healthcare, and education.  Acumen also has launched four for-profit funds, including KawiSafi, a nearly $70 million impact fund focused on off-grid solar energy in East Africa, and ARAF, a first-of-its-kind $58 million fund focused on helping smallholder farmers mitigate the impacts of climate change.
Her second book, Manifesto for a Moral Revolution: Practices to Build a Better World, was named one of the top 10 social entrepreneurship books of all time. A recognized leader in the issue of poverty and the importance of dignity, Jacqueline has been named one of the Top 100 Global Thinkers by Foreign Policy, one of the 25 Smartest People of the Decade by the Daily Beast, and one of the world's 100 Greatest Living Business Minds by Forbes. She lives in New York with her husband.
Laurie Lane-Zucker
Laurie Lane-Zucker is Founder and CEO of Impact Entrepreneur, PBC, an impact economy business that hosts the Impact Entrepreneur Network — a large, global network of "systems-minded" entrepreneurs, investors and scholars of social and environmental innovation — and publishes ImpactEntrepreneur.com. For over 30 years, Laurie has been a "pioneer" (Forbes) and recognized leader in sustainability, social enterprise, and impact investing. Laurie was the founding Executive Director of the international environmental organization, Orion Society, which publishes the celebrated Orion Magazine, as well as the founder of a global sustainability think-tank, the Triad Institute, and Hotfrog, a Founding B Corporation, GIIRS Pioneer Company, and the first company ever to complete an equity transaction on an impact investment exchange. Laurie is the bestselling and multiple award-winning publisher and editor of books and magazines on sustainability and social impact, and the author of numerous articles on entrepreneurship and impact investing.