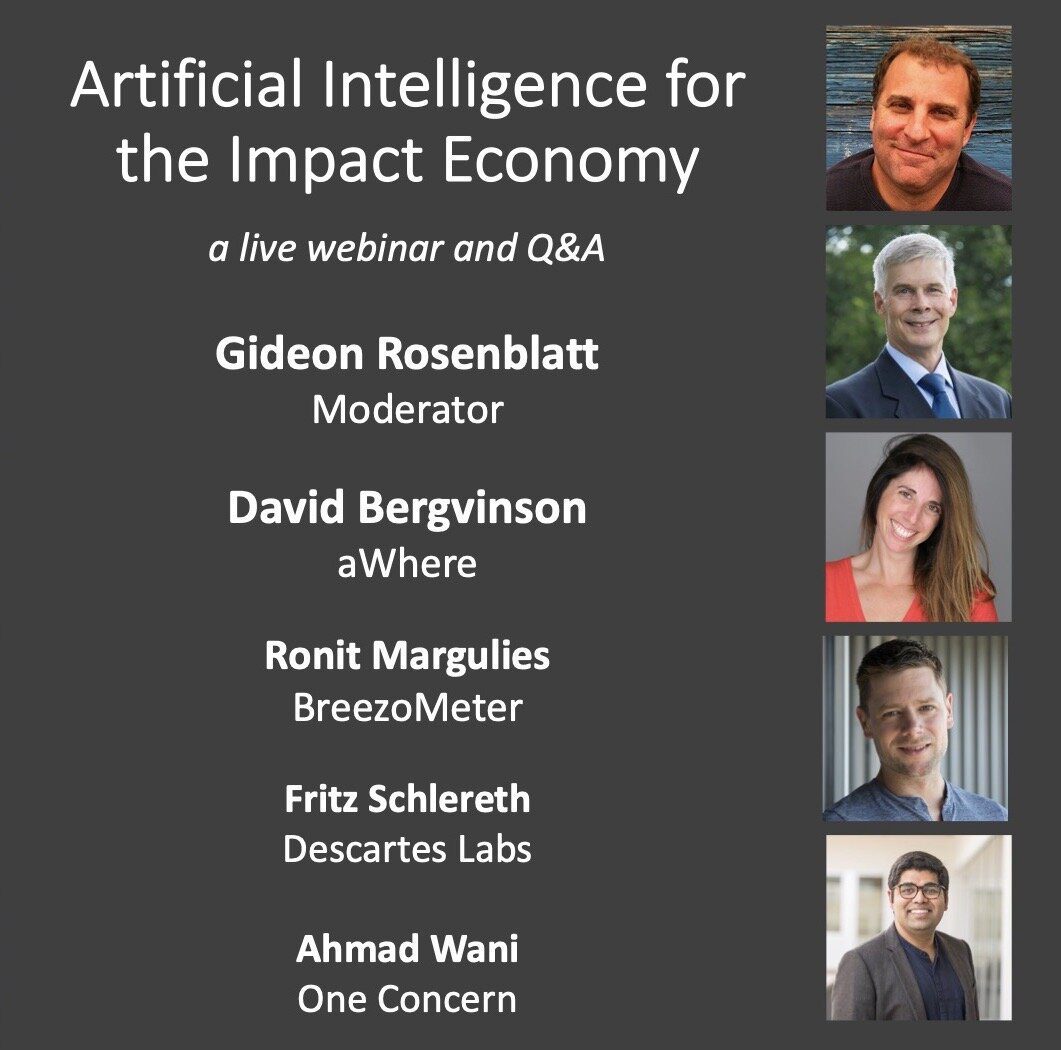 $15.00
Content: Video Webinar Presentation with Q&A
Length: 1:14:59
Premium Members get free access to the entire catalog of past webinars as well as invitations to upcoming, live programs.
$15.00Add to cart
Like the Impact Economy, machine learning transforms established ways of doing business. Recent breakthroughs have made this powerful technology accessible to a whole new range of businesses. Impact entrepreneurs are now using this organizational intelligence to pioneer some truly inspiring applications of artificial intelligence — including helping to combat the coronavirus.
This webinar and Q&A features senior leaders from four growing businesses deeply involved in applying artificial intelligence for social and ecological impact. We discuss, among other topics:
How machine learning is being used to help tackle the covid-19 pandemic
The kinds of problems for which machine learning is well-suited
Options for impact entrepreneurs in acquiring machine learning expertise
Challenges and opportunities in funding Impact AI
Building funder/customer capacity for understanding and applying machine learning
Opportunities for partnering with philanthropy and NGOs to develop Impact AI
Using mission to compete with well-funded "big tech" to recruit and retain tech talent
Guest Moderator
GIDEON ROSENBLATT
GIDEON ROSENBLATT has dedicated much of his working life to promoting the use of technology as a force for good in the world. He worked at Microsoft for nine years in marketing and managing product development teams. He later ran a mission-driven technology consulting group, dedicated to improving citizen engagement across hundreds of environmental organizations in the United States and Canada. He now writes about the impact that machine learning and automation have on the nature of work, the human experience, and society itself. Most of his writing can be found at his website, the Vital Edge.
Panelists
DAVID BERGVINSON
DAVID BERGVINSON is Chief Science Officer at aWhere and former Director General at the International Crops Research Institute for the Semi-Arid Tropics, where he has brought cutting-edge science, demand-driven innovation and strategic partnerships together in both private and public sector settings to bring prosperity to rural farm families in the dryland tropics of Asia and Africa. David is the former Senior Program Officer and Deputy Director for the Agriculture Development team at the Bill & Melinda Gates Foundation, where he led the establishment of the Digital Design for Agriculture initiative. David also managed one of the largest and most impactful crop improvement portfolios for the Gates Foundation and served on the CGIAR Fund Counsel and Advisory Committee for the Alliance for a Green Revolution in Africa. David has advised Bill Gates, Carlos Slim, Jack Dangermond and Clinton Foundation on how technology can be leveraged to accelerate agriculture development in sub-Saharan Africa and South Asia. He has been leading organizational change at aWhere and ICRISAT – both focused on leveraging science to empower farmers and deliver better nutrition to consumers.
RONIT MARGULIES
RONIT MARGULIES heads all of the communications and co-marketing activities at BreezoMeter and is passionate about improving the health and quality of life for billions of people worldwide, by providing accurate air quality data for consumers and businesses in a simple, intuitive and actionable way. Ronit has spent almost a decade within the international hi-tech and creative industries and loves nothing more than startup culture and a strong mission. BreezoMeter is the leading provider of street-level and real-time air quality information, including air pollution, pollen and active fires data. Their free Android and iOS apps help individuals protect themselves from harmful air exposure. Their APIs enable businesses to increase sales & product engagement. BreezoMeter is integrated by leading brands across healthcare, smart home, automotive, and cosmetic industries.
FRITZ SCHLERETH
FRITZ SCHLERETH heads Marketing at Descartes Labs and he is focused on educating global enterprise customers on how its geospatial data refinery and predictive analytics platform can help global enterprises overcome eroding decision advantage, opaque supply chains, and increasing environmental challenges. Descartes Labs has been focused on disruptive applications of high-scale computing, machine learning and satellite imagery since its inception. As an executive since its very early days, Fritz has led a number of functions at Descartes Labs prior to marketing, including product management and customer delivery. Fritz has a passion for start-ups and emerging technologies and his background includes social media (founding team at Dynamic Signal), adtech, capital markets, Accenture Technology Labs, and Xerox PARC.
AHMAD WANI
AHMAD WANI serves as the CEO and Co-Founder of One Concern, a Menlo Park-based Resilience as a Service solution provider that brings disaster science together with machine learning for better decision-making. As the leader of One Concern, Mr. Wani directs the company's day-to-day operations and is responsible for the development and execution of its long-term strategy and vision. A native of Kashmir, South Asia, Mr. Wani survived the devastation of major disasters that impacted his family and community, providing the inspiration that fuels his commitment to building global resilience. Recognizing the inadequacy of traditional disaster solutions, Mr. Wani and his team at One Concern are using artificial intelligence to revolutionize the world's understanding of natural phenomena sciences, thereby enabling both government and the private sector to better prepare for, respond to and recover from natural disasters. Mr. Wani holds a Graduate Degree in Structural Engineering, with a focus on seismic engineering, from Stanford University. Before attending Stanford, Mr. Wani graduated top of his class at the National Institute of Technology, India, earning a Gold Medal award for distinction. Before moving to California, Mr. Wani performed structural design and risk analysis for critical infrastructure for the Central Government of India.
Laurie Lane-Zucker
Laurie Lane-Zucker is Founder and CEO of Impact Entrepreneur, PBC, an impact economy business that hosts the Impact Entrepreneur Network — a large, global network of "systems-minded" entrepreneurs, investors and scholars of social and environmental innovation — and publishes Impact Entrepreneur Magazine. For over 30 years, Laurie has been a "pioneer" (Forbes) and recognized leader in sustainability, social enterprise, and impact investing. Laurie was the founding Executive Director of the international environmental organization, Orion Society, which publishes the celebrated Orion Magazine, as well as the founder of a global sustainability think-tank, the Triad Institute, and Hotfrog, a Founding B Corporation, GIIRS Pioneer Company, and the first company ever to complete an equity transaction on an impact investment exchange. Laurie is the bestselling and multiple award-winning publisher and editor of books and magazines on sustainability and social impact, and the author of numerous articles on entrepreneurship and impact investing.