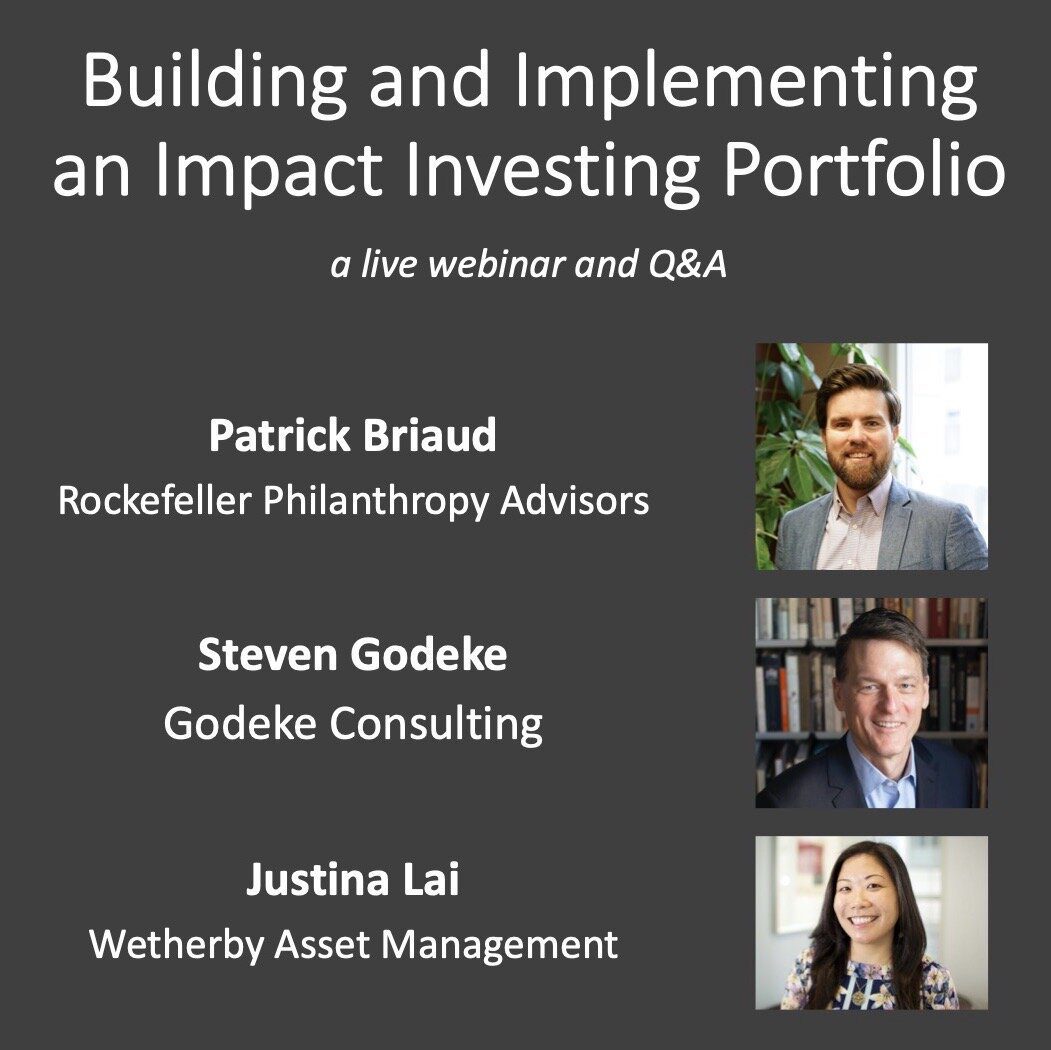 $15.00
Content: Video Webinar Presentation with Q&A
Length: 1:11:45
Premium Members get free access to the entire catalog of past webinars as well as invitations to upcoming, live programs.
$15.00Add to cart
How do mission-driven asset owners develop and execute a tailored impact investing strategy? Individuals, foundations, and companies are increasingly seeking to drive social and environmental change through more of their assets. With so much interest in and coverage of the topic, there are surprisingly limited resources to bring an asset owner along on the full journey. This webinar features three experts involved in authoring the forthcoming
Impact Investing Handbook: An Implementation Guide for Practitioners
from Rockefeller Philanthropy Advisors, which explores the following points along the journey:
What: Locating impact investing at the intersection of philanthropy, investment and policy
Who: Describing the landscape of key market participants and stakeholders
Why: Combining your impact goals with your investment goals to arrive at your theory of change
How: Adding specific tools and structures to shift or build your portfolio
So What: Measuring success to make future decisions
Now What: Sharing concrete organizing approaches and best practices
Participants
PATRICK BRIAUD
PATRICK BRIAUD As lead for RPA's Impact Investing Practice, Patrick helps individuals, foundations and corporations use a range of assets to achieve their social impact goals. In addition to advising asset owners on mission-aligned investment strategies, he oversees four customized portfolios of charitable investments including debt, equity, and recoverable grants. Patrick also leads RPA's impact investing thought leadership including two recent primer guides commissioned by the Bill & Melinda Gates Foundation (Introduction and Strategy & Action) and currently the 10th anniversary rewrite of RPA's 150-page impact investing monograph to be published in late 2019.
Prior to Rockefeller Philanthropy Advisors, Patrick was head trader and investment analyst of Lee Financial's $900M portfolio. As a professional tennis player, he earned a world doubles ranking of 125 and played in Wimbledon 2008. Patrick has a B.S. in Industrial Engineering and Operations Research from the University of California, Berkeley and an MBA from Yale's School of Management. He serves on the boards of Briaud Financial Advisors and the Rivendell Institute at Yale. Outside of work, Patrick can be found dancing the Texas two-step with his wife Angela, wrestling with his four nephews, and discussing the practical implications of different worldviews.
STEVEN GODEKE
STEVEN GODEKE Through his independent consulting practice, Steven works with families and foundations to create impact investing statements and then connects them with the right partners and resources. He is currently writing a new Impact Investing Handbook with Rockefeller Philanthropy Advisors that will be published later this year. Prior to establishing his own firm, Steven worked in corporate and project finance at Deutsche Bank where he structured debt and equity products and advised corporate clients in the natural resources, telecommunications, media and real estate industries.
Steven is also an adjunct professor of finance at New York University's Stern School of Business where he teaches Investing for Environmental and Social Impact and Impact Investing in Family Offices. He has just completed his six-year term on the board of the Jessie Smith Noyes Foundation, a family foundation that focuses on social justice and has a long history of aligning its investment and mission goals. Steven served as Board Chair and led the Investment Committee. Steven grew up on a family farm in Southern Indiana and attended Purdue University where he received a B.S. in Management and a B.A. in German. He studied as a Fulbright Scholar at the University of Cologne and earned an M.P.A. from Harvard University.
JUSTINA LAI
JUSTINA LAI joined Wetherby Asset Management in 2015. In her role, she leads the firm's impact investing strategy as well as the integration of impact across Wetherby's investment management, client service offering and experience, and operational functions. Prior to Wetherby, she was a Director and Senior Investment Analyst at Sonen Capital focused on global impact investment strategies in the private markets including private equity, private debt, and real assets investments. Previously, Justina helped manage the Rockefeller Foundation's Program Related Investments portfolio comprised of domestic and international impact investments in private equity and private debt. She was also a core member of the Impact Investing team where she advanced and shaped the grantmaking initiative strategy focused on building the field of impact investing. In addition, she has held positions with Legacy Venture in Palo Alto, CA and Rwanda Ventures, a business incubator launching and operating sustainable agricultural companies in Kigali, Rwanda. Prior to her career in impact investing, Justina spent several years in investment banking with Citigroup and private equity with Vestar Capital Partners in New York and Paris.
Justina received a B.S. in Finance and International Business, summa cum laude, from New York University and an M.B.A. with certificates in Public and Global Management from Stanford University's Graduate School of Business. Justina is a Board Member and Finance Committee Chair of Turning Green, a student-led global movement focused on promoting positive environmental and social actions. She is also a Board and Investment Committee Member of ICA Fund Good Jobs, a Community Development Financial Institution (CDFI) investing in high potential businesses to create economic freedom for those who need it most.
Laurie Lane-Zucker
Laurie Lane-Zucker is Founder and CEO of Impact Entrepreneur, PBC, an impact economy business that hosts the Impact Entrepreneur Network — a large, global network of "systems-minded" entrepreneurs, investors and scholars of social and environmental innovation — and publishes Impact Entrepreneur Magazine. For over 30 years, Laurie has been a "pioneer" (Forbes) and recognized leader in sustainability, social enterprise, and impact investing. Laurie was the founding Executive Director of the international environmental organization, Orion Society, which publishes the celebrated Orion Magazine, as well as the founder of a global sustainability think-tank, the Triad Institute, and Hotfrog, a Founding B Corporation, GIIRS Pioneer Company, and the first company ever to complete an equity transaction on an impact investment exchange. Laurie is the bestselling and multiple award-winning publisher and editor of books and magazines on sustainability and social impact, and the author of numerous articles on entrepreneurship and impact investing.