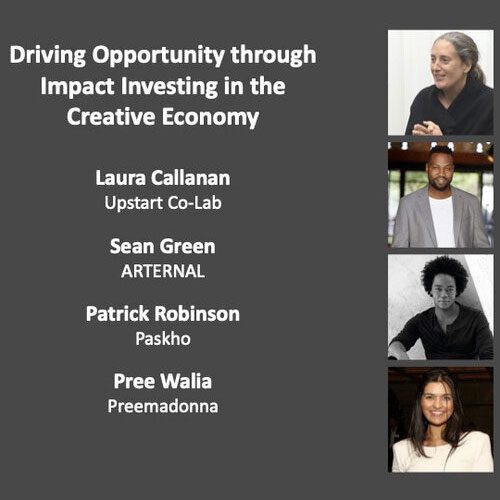 $15.00
Content: Video Webinar Presentation with Q&A
Length: 1:12:42
Premium Members get free access to the entire catalog of past webinars as well as invitations to upcoming, live programs.
$15.00Add to cart
In the US, up to 35% of woman-owned businesses and approximately 38% of BIPOC-owned businesses are in the creative economy. Women entrepreneurs and entrepreneurs of color often launch businesses in the creative economy reflecting the role that originality and merit play in business success.
Businesses founded by artists, designers and other creatives balance financial profitability with concern for the environment, their workers and their communities. These socially-focused companies seek capital from impact investors who understand the power of creativity to drive positive environmental and social impact. The human-centered perspective and distinctive problem-solving tools in the creative economy can be a model for all businesses and investors who value inclusion, equity and sustainability–and recognize diversity as a driver of financial value as well as social impact.
Featured Guests
Sean Green
Born in Jamaica and raised in Toronto, Sean Green holds a BA in Computer Science from York University. Since graduating in 2011, Sean has been the consummate entrepreneur following his instincts, which eventually lead him to the business of art. Based in Los Angeles, Sean oversees all aspects of ARTERNAL's evolution, in partnership with his co-founders. Founded in 2015, ARTERNAL, was the first technology company to focus exclusively on bringing Client Relationship Management (CRM) technology to the art world. Sean's goal was simple: to provide a unified resource that allows the art professional to focus on what they do best – sell art and deepen relationships with their clients. ARTERNAL is now an all-in-one platform providing Revenue & Relationship Management; Tracking client engagement streamlined with inventory management and financial tools to optimize workflow and drive sales. Recent global events have forced dealers to revisit their model, focusing on digital platforms to sell art. As an entrepreneur in the Art + Technology industry, Sean is dedicated to providing leading software solutions to develop alongside the art market's demands.
Patrick Robinson
Patrick Robinson was born in Memphis, Tennessee and grew up in Southern California where he began designing clothes for fellow surfers at the age of 14. After moving to New York and attending the Parsons School of Design, Robinson became an assistant to American-born couturier Patrick Kelly in Paris in 1986. He left Paris to work briefly for Albert Nipon in New York, then returned to Europe as the Design Director for Giorgio Armani in Milan. Robinson transformed Giorgio Armani's ailing Le Collezioni line into a profitable international apparel company over his four-year tenure. Robinson, a New Yorker at heart, moved back in 1994, to become Senior Vice President of Design, Merchandising and Marketing for Anne Klein.
By 1996, Robinson was more than ready to go out on his own and started his own collection, winning numerous awards and named one of Vogue's top 100 rising stars in 1996. His eponymous women's label was picked up by Neiman Marcus, Saks Fifth Avenue, Bergdorf Goodman and Barney's among others. In April 2003, Robinson became the Creative Director of Perry Ellis Women's Sportswear and then in 2005, was named Artistic Director for Paco Rabanne. Robinson has been a Council of Fashion Designers of America member since 1994. In March 2004, Robinson received a CFDA Fashion Award nomination in the Swarovski Perry Ellis Award for emerging Talent in Ready-to-Wear category – a fitting tribute to his hard work. In May 2007 Robinson designed an affordable collection for Target Corporation's Go International line. Robinson was selected in May 2007 to serve as executive vice president of design for Gap Adult and gapbody. Robinson oversaw all elements of design and marketing for Gap women's and men's apparel, accessories and intimates lines worldwide. In 2010 Oprah, Anna Wintour, and Patrick Robinson co-chaired the Metropolitan Museum of Art's Costume Institute Gala. In May 2013 Robinson was hired as global creative director of Armani Exchange. 2016 marked the full launch of his Paskho collection for travel.
Pree Walia
Pree Walia is the founder and CEO of Preemadonna. Preemadonna is a Silicon Valley based technology start-up building interactive hardware & software experiences and powering creative platforms with an initial focus on Gen Z young women. Preemadonna's flagship product is the Nailbot -the patented at home manicure system which prints custom instant nail art and eventually polish on your nails. As of May 2021, Preemadonna has raised $5.6M in overall seed funding led by Halogen Ventures with participation from Version One Ventures, the Amazon Alexa Fund and other supportive investors. Pree previously worked at high growth venture backed start-ups focused on connected devices and building automation services. Pree started her professional career working on progressive political campaigns as a political fundraiser and community organizer. She holds a MBA from the University of Chicago and a BA from Northwestern University. She is passionate about causes that impact women and girls. Pree serves on the Board of Advisors for MakerGirl, a nonprofit that inspires girls to pursue STEM fields. Pree was named one of the top 25 Women in Robotics to know by Robohub.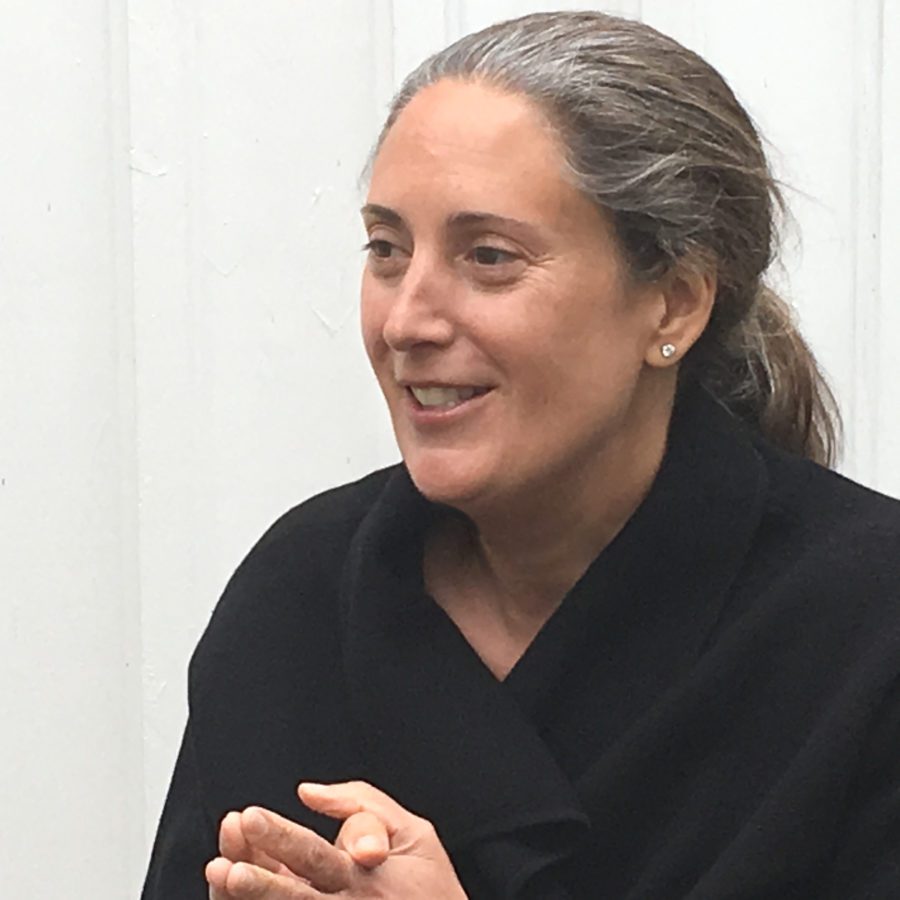 Laura Callanan
Laura Callanan, founding partner of Upstart Co-Lab, is disrupting how creativity is funded by connecting impact investing to the creative economy. Laura was senior deputy chair of the National Endowment for the Arts leading grant-making, operations and research before launching Upstart Co-Lab. Laura was a consultant with McKinsey & Company's Social Sector Office and associate director of the Rockefeller Foundation where, in addition to responsibilities managing the endowment, she co-led impact investing including investments in the creative economy with Smithsonian Folkways Records and netomat. Laura has been visiting fellow at the Federal Reserve Bank of San Francisco, scholar in residence at UC-Berkeley/Haas School of Business, visiting scholar at the American Academy in Rome, and recipient of a Rockefeller Foundation Bellagio Fellowship. She is a board member and immediate past chair of the GlobalGiving Foundation, is an advisor to Shift Capital, and a member of the British Council Policy and Evidence Centre for the Creative Industries – International Council.