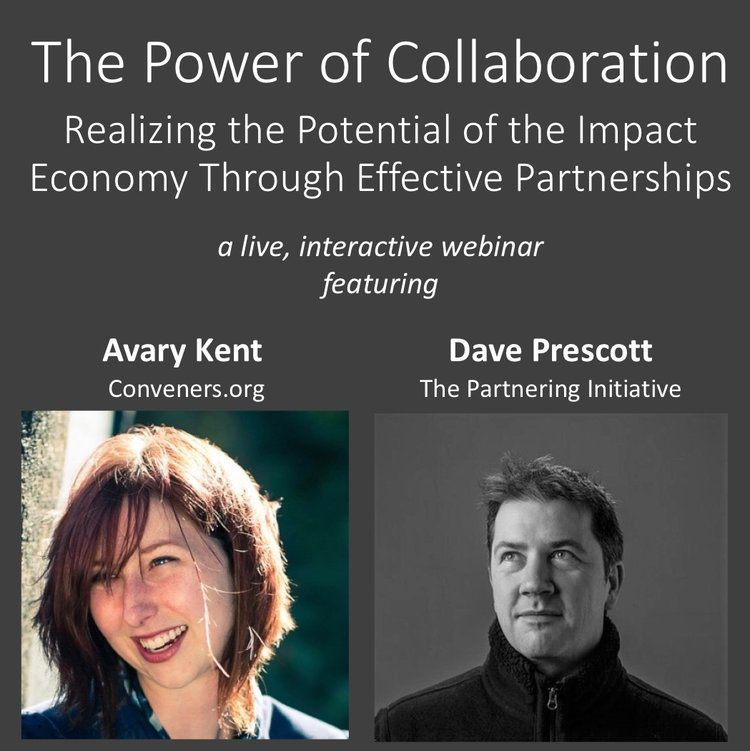 $15.00
Content: Video Webinar Presentation with Participant Discussion
Length: 1:15:26
Premium Members get free access to the entire catalog of past webinars as well as invitations to upcoming, live programs.
$15.00Add to cart
Optimizing the impact economy and its ecosystem that supports social and environmental impact-driven organizations depends on unlocking the full potential of collaboration. The ideas, resources, skills and experience already exist to meet the ambitious goals set out in Agenda 2030, but too often they are disconnected and separate. Silo mentalities, competitiveness and duplication of effort are creating blockages to sustainability. Collaboration not only has the potential to increase organizational advantage, but also create broader societal value that can't otherwise be achieved.
We have witnessed early signs of impact investors, foundations and entrepreneurs collaborating in order to foster greater innovation and deliver increased impact at scale. Yet there is potential to do so much more. To help us explore effective collaboration in the impact space, and to look at practical ways individuals, organizations and networks can partner, Impact Entrepreneur welcomes two of the world's leading organizations in partnership building.
This webinar features Dave Prescott from The Partnering Initiative and Avary Kent of Conveners.org. Leveraging their combined decades of collaboration and partnership experience, Dave and Avary introduced participants to the key ingredients required to achieve effective collaboration. They explored:
individual skillsets and mindsets, and

organizational cultures and ways of working
Participants then had the opportunity to join online breakout rooms where they gained awareness of one another's work and sought opportunities for alignment and quick, achievable, collaborative actions (note that the breakout sessions are not included in this archived version of the program), before returning to the full group for a facilitated discussion.
Featured Guests
Avery Kent
Avery Kent is a serial Social Entrepreneur with deep expertise in making ideas a reality. Currently she is the Founding Executive Director of Conveners.org building the impact ecosystem through more effective convening, accelerators, and mapping initiatives. Her expertise in experience design supports her clients in the development of participant focused events integrating human-centered design techniques that deliver outstanding feedback and results. As a world-class on-site facilitator she has worked with politicians, academics, cyber security experts, factory owners and workers, Fortune 100 brands, investors, and foundation leaders. She is adept at navigating challenging conversations and supporting groups towards productive dialogue and action. She was also the co-founder of ImpactAlpha, The Happiness Institute, and Puzzlebox LLC. She received a BS in Genetics and Geobotanical Field Ecology from George Washington University and an MBA in Sustainable Enterprise from Dominican University.
Dave Prescott
Dave Prescott is a Senior Advisor to The Partnering Initiative, and an independent consultant with over 20 years' diverse international experience in sustainability and cross-sector partnership, with a focus on the role of the private sector in development. Dave's expertise ranges across multiple areas relevant to the SDGs, both in terms of development issues – particularly energy, health, and education – as well as partnership management. Throughout his career, Dave has sought to create effective collaborations across multiple levels, from global policy and strategy through to local community-based action.
Dave has brought his wide-ranging skills of evaluation, research and analysis, training and facilitation, strategic communications, thought-leadership and development of practical tools and operational guidance to many business networks and associations, such as the World Business Council for Sustainable Development, the International Council on Mining and Metals and the International Business Leaders Forum. He has also worked with various international partnerships and intergovernmental bodies on assignments relating to private sector engagement, including the Global Partnership for Education, the Commonwealth Secretariat and the Extractive Industries Transparency Initiative.
CONVENERS.ORG is a 501(c)(3) organization whose mission is to support the diverse ecosystem of impact-focused conveners and accelerators to advance their work by offering resources that allow them to convene and collaborate more effectively and efficiently.
TPI is an independent, charitable organization based in the UK and operating globally. Its mission is to drive widespread, systematic and effective collaboration between civil society, government, donor organisations, development agencies and the private sector.
Laurie Lane-Zucker
Laurie Lane-Zucker is Founder and CEO of Impact Entrepreneur, PBC, an impact economy business that hosts the Impact Entrepreneur Network — a large, global network of "systems-minded" entrepreneurs, investors and scholars of social and environmental innovation — and publishes Impact Entrepreneur Magazine. For over 30 years, Laurie has been a "pioneer" (Forbes) and recognized leader in sustainability, social enterprise, and impact investing. Laurie was the founding Executive Director of the international environmental organization, Orion Society, which publishes the celebrated Orion Magazine, as well as the founder of a global sustainability think-tank, the Triad Institute, and Hotfrog, a Founding B Corporation, GIIRS Pioneer Company, and the first company ever to complete an equity transaction on an impact investment exchange. Laurie is the bestselling and multiple award-winning publisher and editor of books and magazines on sustainability and social impact, and the author of numerous articles on entrepreneurship and impact investing.