The Case for a Public Benefit Biotechnology Industry
Thursday, February 9, 2023
12:00 PM - 1:10 PM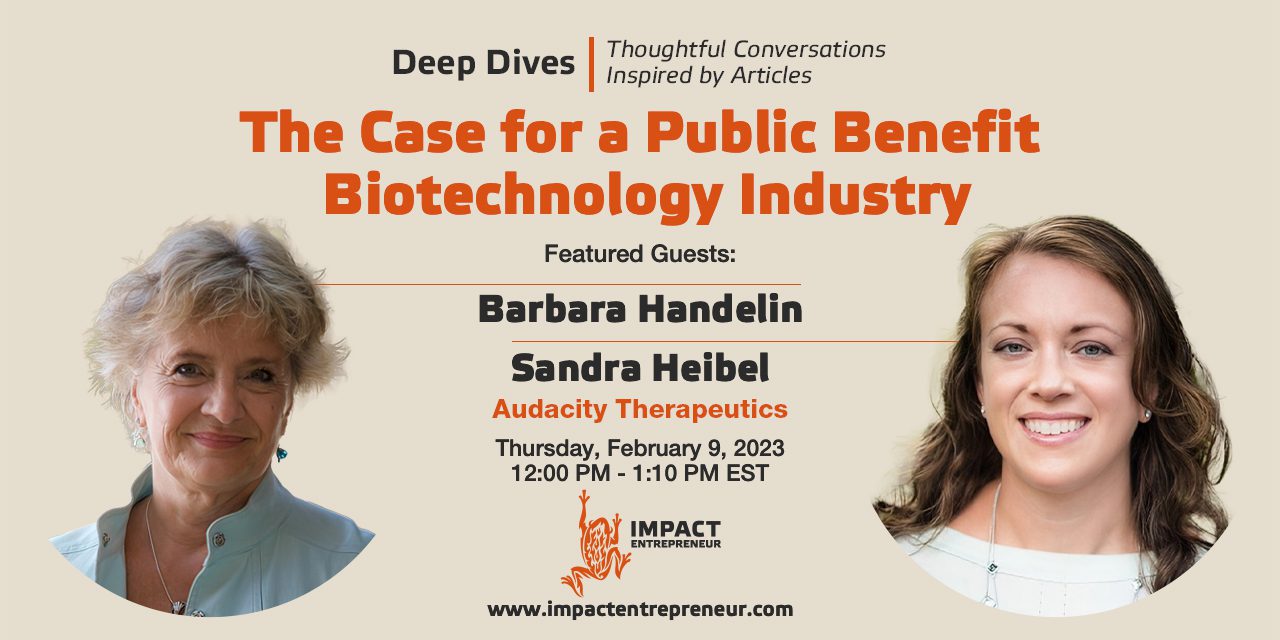 Biotechnology companies in the United States have a primary duty baked into their corporate charter to maximize profits and shareholder value…. Unfortunately, there are natural consequences of being a top profitability industry. Because most disease indications and their potential treatments are not blockbuster markets, the industry produces a very narrow sector of all the 'cures' needed….This begs a social and economic question: Should we be relying upon high profit markets to fulfill our most basic and precious need for prevention, diagnosis, or effective treatment for our human ailments?
Join us for a Deep Dive with Barbara Handelin and Sandra Heibel, co-authors of the IE Magazine article The Case for a USA Public Benefit Biotechnology Industry.
In their recent article in Impact Entrepreneur Magazine, Barbara Handelin and Sandra Heibel of Audacity Therapeutics point to a major flaw in the existing biotechnology innovation industry — a single-minded focus on high profitability medicines that ignores the vast majority of (non-blockbuster) treatments. In this Deep Dive, we welcome the authors to discuss their ideas for the creation of a public benefit biotech industry to remedy the situation through "prioritizing medical impact for the maximum range of patients and conditions".
About Our Deep Dives
Deep Dives are hour-long Zoom Meetings: Live Q&A Sessions (as opposed to our Zoom Webinars, where the audience is in View-Only Mode) between the author(s) or subjects of a Magazine article and our members and readers. Be sure to read the article in question and come bearing questions!
Barbara Handelin
Barbara Handelin, PhD is cofounder and CEO of Audacity Therapeutics, a public benefit (B Corp) pharmaceutical company which is seeding a new public benefit industry, operating in green practices and delivering drugs at a cost for a sustainable healthcare economy. She is a veteran entrepreneur and molecular medical geneticist who has pioneered the responsible application of genetics and molecular innovation to clinical medicine over a 35 year career. In 1987 Dr. Handelin established the first commercial DNA testing laboratories at Integrated Genetics (later Genzyme Genetics). She also co-founded Genovo), a biosimulation company, (Kenna Technologies). and BioPontis Alliance, a novel investment fund. Dr. Handelin has served on the board of several genomics companies (EXACT, RedPath IP, Stemina BioSciences) as well as on a variety of federal committees and advisory panels on ethics in genetic testing, including the Secretary's Advisory Panel on Genetics, Health and Society.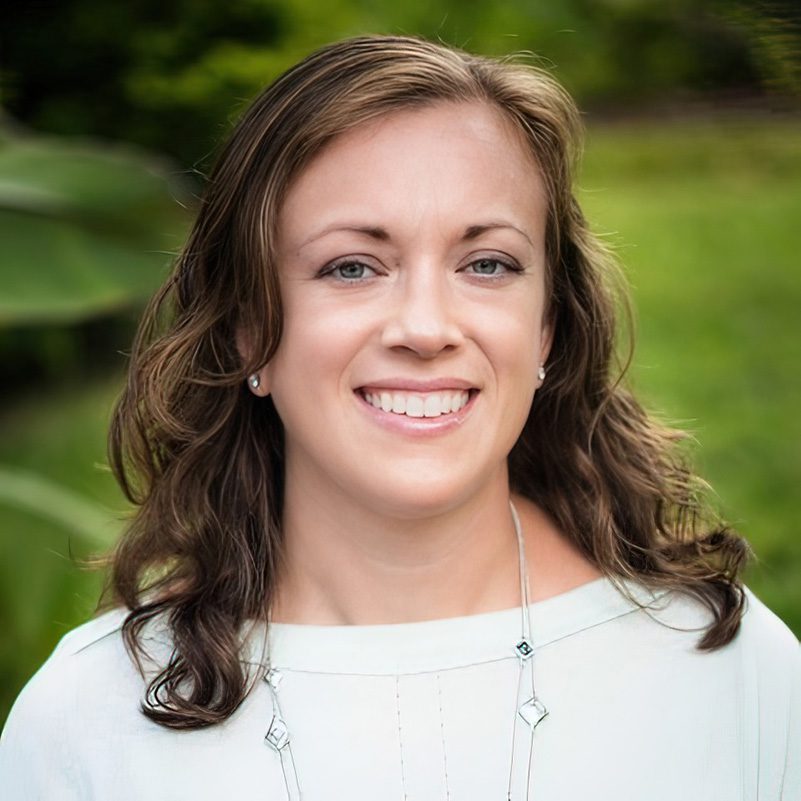 Sandra Heibel
Sandra Heibel, PhD believes in fiscally responsible development of therapeutics to benefit the public good. As the COO for Audacity Therapeutics, she applies her multi-disciplinary expertise as a scientist, program manager, and regulatory specialist with extensive knowledge of drug development and rare disease regulatory strategy. She co-leads the Commission on Financing a Public Benefit Biotechnology Industry, an initiative to develop a finance model that can support a new way of producing more medicines for more diseases at sustainable costs. She also serves as the Chief of Science and Regulatory Affairs at Haffner Associates where she works with Dr. Marlene Haffner, the preeminent expert in orphan drug regulatory affairs. Prior to working in the regulatory affairs field, she spent 13 years conducting preclinical and clinical research in a laboratory setting with a focus on rare, heritable diseases.