When India achieved independence, "unity in diversity" became a buzz phrase. ​
The country's leaders tried to cultivate inclusion across races, languages, religions, and many other dimensions.
Fast forward 75 years and discussions about inclusion have moved into all spheres of our lives, including conversations on creating inclusive workplaces.
Inclusion is vital for both companies and individuals as it has been seen to have positive effects on employee efficiency, team coordination, productivity, and satisfaction. How vital is it? In 2020, Glassdoor revealed the results of its 2020 Diversity Hiring Survey. The results were startling. About 76% of the survey population or 3 out of 4 people felt that diversity would be one of the key factors in evaluating an organization.
And there's more. Organizations benefit too. Research from Harvard Business Review shows that diverse teams solve problems faster. When you have a diverse team, you bring in diverse perspectives. Varied thoughts. Different approaches. And that results in more intuitive problem-solving.
It's why leaders and workers alike have begun to understand that diversity, inclusion, and belonging are crucial factors in a company's success.
And there are more tangible benefits when both diversity and inclusion are part of an organization's DNA:
Performance, innovation, and financial benefits: Research from Bersin by Deloitte indicates that inclusive organizations are "six times more likely" to be innovative. They are also equally adept at adapting to change and meeting or exceeding financial goals or targets. Similar research from McKinsey & Company shows that companies with greater racial or ethnic diversity tend to outperform their competitors financially. A Gallup study backs that up with companies with above-average gender diversity outperforming those with below-average by as much as 46% to 58%.
Hiring benefits. In a survey by McKinsey & Company, about 39% of the respondents revealed they had turned down a job offer because they perceived a lack of inclusion in the organization. And attrition reduces. Employees who feel included are 42% less likely to plan on leaving their company within a year of employment.
These findings are hardly surprising.
An organization with more diverse mindsets, more types of thinking, and richer exposure to diverse cultures is more likely to thrive with greater levels of creativity and resilience than one without.
While these statistics are interesting and substantiate the importance of inclusion, we must also keep in mind that diversity and inclusion are not just about performance metrics; they are core human values.
What is the difference between diversity and inclusion?
"Diversity is being invited to the party; inclusion is being asked to dance" — Vern Myers.
In a corporate context,
Diversity refers to a culture that includes a range of individuals with different characteristics and backgrounds, and
Inclusion refers to an environment in which everyone feels welcome
Diversity is a fact.
Wherever you are, whatever organization you run, diversity is a fact. People come from different backgrounds and vary with respect to race, gender, language, aspirations, cognitive abilities, perceptions, emotional makeup, physical characteristics, and many other ways.
In the workplace, diversity is usually a concern right from the hiring process to ensure that all have access to the same opportunities based on their merits.
So, while diversity is a fact, inclusion is a choice.
Inclusion is about creating a culture where everyone feels comfortable speaking up and being their authentic selves, which helps them thrive.
Why is inclusion important?
Inclusion, however, is not just about the impact on work effectiveness or efficiency. It is important as a fundamental aspect of human justice. Everyone deserves to feel safe and happy in their workplace. Working and living with dignity is a basic human need, so practicing inclusion is simply something that everyone should prioritize as the right thing to do.
Inclusion is vital for both companies and individuals as it has been seen to have positive effects on employee efficiency, team coordination, productivity, and satisfaction.
In an increasingly flat world, wherein cultures melt into one another, people have begun to recognize that diversity and inclusion go together.
Inclusion as a core value is crucial for promoting a healthy corporate culture everyone can be proud of.
How Can Organizations Create an Inclusive Workplace?
Even workplaces with the best intentions can fail to be inclusive because of unconscious bias or by failing to institute systems that actively promote inclusion. Investors, leaders, and employees can take active measures to ensure that a company's workplace is inclusive.
Here are a few ways to do so:
Start at the top
Getting C-suite-level buy-in on making inclusion a core priority and company value is perhaps the most crucial step in creating a culture of inclusion. Like a lot of other things, inclusion trickles down. Once an organization's leadership and management start advocating for inclusion, those who work for them are more likely to follow suit.
Practice inclusive hiring
Inclusion starts at the hiring stage. Analyze your screening process to remove any step that might be a barrier to creating a diverse workforce and introduce inclusive practices.
Write inclusive job descriptions, avoiding gender-specific language and subconscious ageism (for example, "seeking energetic young candidates")
Make job postings accessible to all (for example, they should be mobile-friendly, work with Braille, and be compatible with screen readers)
Highlight in job postings that inclusion is part of your core values
Use a standardized profile screening and interview process for all candidates, leaving less room for subjectivity and subconscious bias
Pay attention to the diversity of your interview panels. Ensure that interviewers represent a mix of genders, classes, and other social groups
Monitor the hiring process, watch for anti-diversity patterns, and make changes where required
Educate your employees
Discrimination often stems from a place of ignorance. Spread awareness in your workspace about how diversity and inclusion are essential for your vision, how an inclusive work culture stands to benefit, and simply how it is our basic moral duty to be inclusive of everyone. Emphasize inclusivity in diversity training, and make it a mandatory part of training for all new hires. This will sensitize them about their own unconscious bias and give them actionable tips to overcome it.
Take conscious steps for inclusion
Having a diverse team can improve understanding of different cultures — and hence makes you cater to — and help your team connect better
Expand your company's holiday and event calendar, creating an environment where employees can be themselves and showcase their own cultures
Model inclusive language, promoting the use of gender-neutral terms and pronouns
Analyze pay and career advancement patterns and procedures to uncover diversity bias and establish equitable practices
Make sure your firm's offices are accessible to people with disabilities
Form an inclusion council or task force
While promoting diversity and inclusion should be a company-wide concern and effort, having a team that is focused on just this pillar is helpful to streamline efforts. Many companies set up a task force that actively promotes inclusion, and some even have chief diversity officers. An inclusion task force is essentially a council or panel of key members from your organization and has a representative from different departments and, ideally, all social groups. Brainstorming, analyzing, and implementing strategies to ensure diversity and inclusion in the organization is the responsibility of this task force.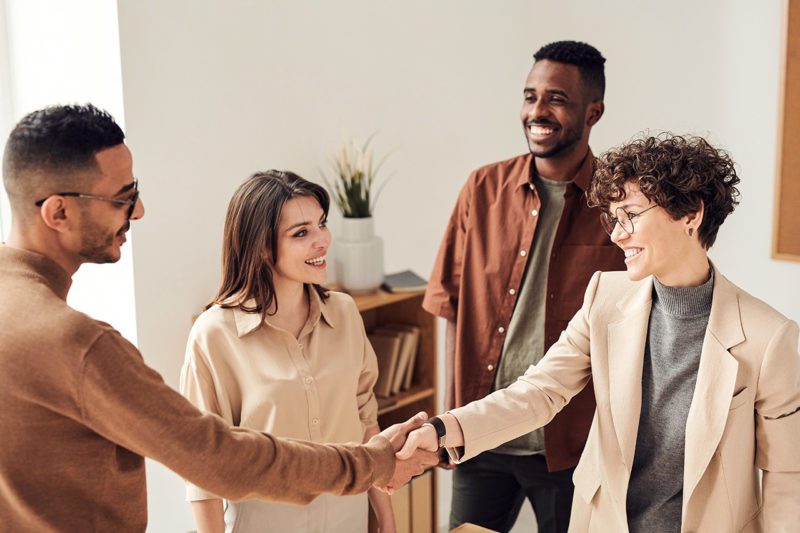 But creating a task force is just one step. Set measurable goals and gather actionable insights on how included your employees feel in the company. Encourage workers to speak up without fear of retaliation using confidential or anonymous surveys. As a leader, you must regularly assess your firm's progress and communicate goals not just to the task force but across the company.
Examples of Inclusive Workplaces
Many companies have been pushing the inclusion needle over the past couple of decades. A few stand out:
Out in Tech is a non-profit community of LGBTQ+ tech leaders. The community currently has 40,000 members and works using tech for social change principles. Through events and campaigns, the non-profit partners with corporates in bringing out greater inclusion
Alibaba Group chairman Jack Ma calls women the "secret sauce" behind its dominance in the online shopping industry, owing to their ability to balance logic and instinct. More than one-third of Alibaba Group's founders are women, and a similar percentage hold senior executive roles
Lenovo is the world's largest PC vendor, with 57,000 employees in more than 60 countries, and its tagline is "different is better." The company has built its success on a foundation of diversity and inclusion. Yolanda Conyers, the company's chief diversity officer, says that the firm's success in the technology sphere requires "more than out-of-the-box thinking, because it's not just one box. It's a hundred different boxes. A million different boxes. It takes every dimension of our diversity. All our diverse mindsets, skills, and cultural backgrounds, to deliver such a wide array of technology"
And closer home, diversity and inclusion are one of our core pillars at Girl Power Talk. We have team members from around the globe, and our Young Leaders belong to different countries, cultures, classes, religions, genders, and sexual orientations. This amalgamation of identities fosters mutual understanding and gives us a competitive edge in coming up with diverse and innovative solutions for our business problems. We are committed to doing everything we can to create a culture of inclusion and belonging in which each individual can shine as themselves and participate in a broader human pursuit that is much greater than the sum of our individual quests.