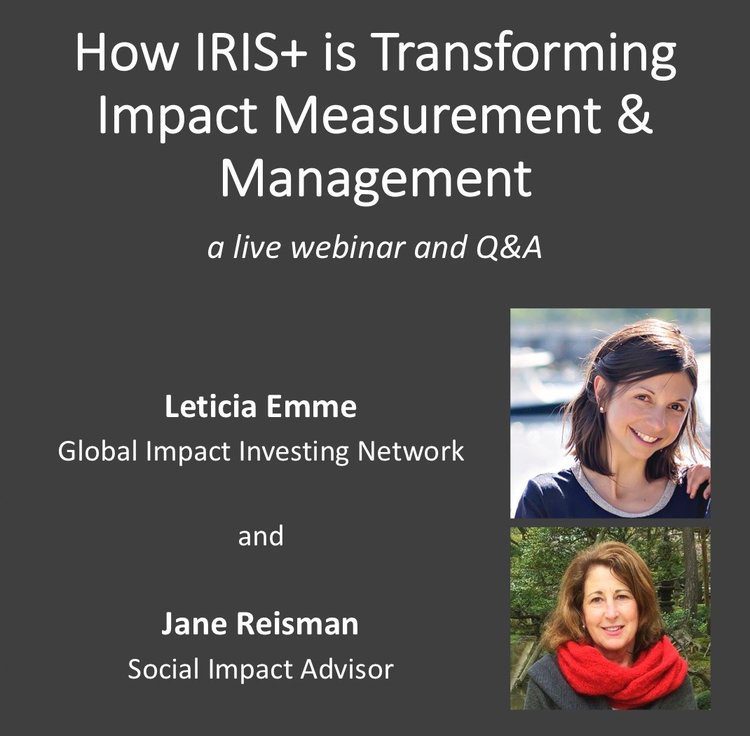 $15.00
Content: Video Webinar Presentation with Q&A
Length: 1:20:35
Premium Members get free access to the entire catalog of past webinars as well as invitations to upcoming, live programs.
$15.00Add to cart
Rapid growth in approaches to impact measurement and management (IMM) is causing many people connected to the impact investing ecosystem to wonder how all the initiatives fit together and how to apply new conventions, principles, tools and resources. This webinar offers clarity and provides some answers by walking through IRIS+, a generally accepted system for impact management.
Leticia Emme, Senior Manager, IRIS+ and Impact Measurement and Management at the Global Impact Investing Network (GIIN) will describe the main pain points in IMM and how IRIS+ seeks to address them. She will also provide a brief demo of how to use IRIS+ which will allow a close-up view of its various features.
Jane Reisman, a social impact advisor who has contributed to the development of IMM advancements will engage Leticia in an illuminating conversation to help all those involved in the impact investing ecosystem, including investors, entrepreneurs, academics and researchers, practitioners and other intermediaries, see how they can use IRIS+ in their work.
The session will Include ample time for the audience to ask questions and offer comments that will help advance understanding of the new IMM landscape and the contribution of IRIS+ to the field.
Through this webinar participants will learn:
Pain points that until now have hindered stakeholders from implementing strong impact measurement and management practices as the norm

How to use IRIS+ to answer their specific IMM needs – starting by identifying goals, to checking the research and evidence base, to accessing generally accepted indicators and best class resources, to implementation guidance

Guidance on specific practices that are key to IMM, such as incorporating the voice of affected stakeholders, and using impact data for decision-making
Featured Guests
Leticia Emme
Leticia Emme is a Senior Manager at the GIIN focusing on Impact Measurement and Management. Leticia drove the evolution of IRIS, from the catalogue of impact metrics most widely used by impact investors, to IRIS+, a generally accepted system to measure, manage, and optimize impact. Leticia has over a decade of experience managing and facilitating cross-stakeholder collaboration efforts. Prior to joining the GIIN, Leticia served as Director at the Social Performance Task Force (SPTF) where she managed the Social Investor Working Group. Leticia has been part of investor-led efforts to improve harmonization of investment practices and impact measurements for almost a decade.
Leticia holds an M.B.A. from the Kellogg School of Management at Northwestern University and a B.A. from Universidad de San Andres (Argentina).
Jane Reisman
Jane Reisman is an experienced social sector evaluator and impact measurement practitioner, and key contributor to the development of measurement, learning and best practices to the fields of philanthropy and impact investing. As the founder and leader of ORS Impact for over 25 years, Jane developed a record of engaging in new frontiers of evaluation and measurement- especially those that require innovative and practical approaches. She is active in field building efforts around impact measurement and management, having contributed to a formative body of literature as an advisor to the Rockefeller Foundation and acting as a convener and presenter on IMM at numerous events. She currently works as a social impact advisor and co-founder of Moving Beyond which promotes strategic learning and diversity, equity and inclusion.
Laurie Lane-Zucker
Laurie Lane-Zucker is Founder and CEO of Impact Entrepreneur, PBC, an impact economy business that hosts the Impact Entrepreneur Network — a large, global network of "systems-minded" entrepreneurs, investors and scholars of social and environmental innovation — and publishes Impact Entrepreneur Magazine. For over 30 years, Laurie has been a "pioneer" (Forbes) and recognized leader in sustainability, social enterprise, and impact investing. Laurie was the founding Executive Director of the international environmental organization, Orion Society, which publishes the celebrated Orion Magazine, as well as the founder of a global sustainability think-tank, the Triad Institute, and Hotfrog, a Founding B Corporation, GIIRS Pioneer Company, and the first company ever to complete an equity transaction on an impact investment exchange. Laurie is the bestselling and multiple award-winning publisher and editor of books and magazines on sustainability and social impact, and the author of numerous articles on entrepreneurship and impact investing.