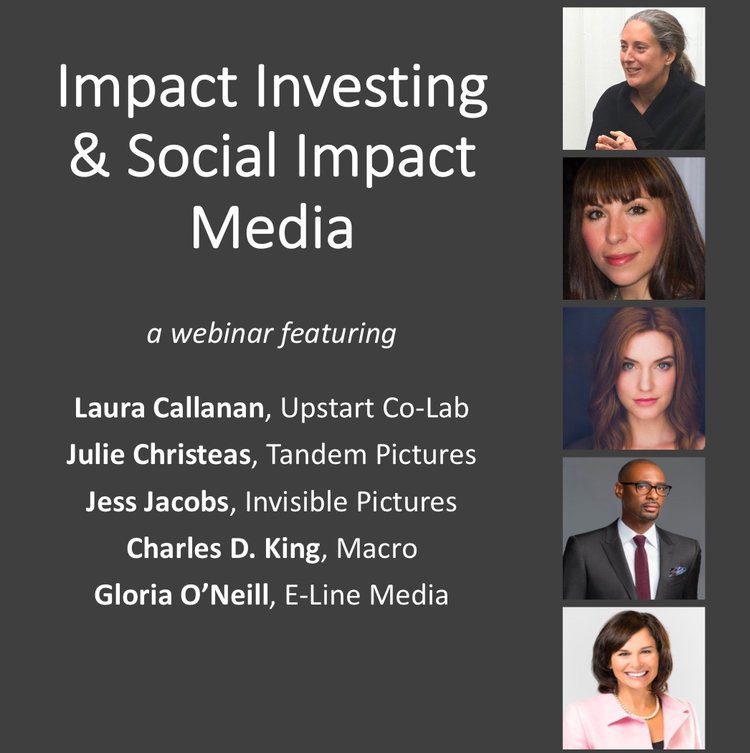 $15.00
Content: Video Webinar Presentation with Q&A
Length: 1:14:37
Premium Members get free access to the entire catalog of past webinars as well as invitations to upcoming, live programs.
$15.00Add to cart
Film, TV and video games are ripe for impact investing. In the era of #OscarsSoWhite and #TimesUp, diverse entrepreneurs are transforming storytelling, generating quality, 21st century jobs and creating economic opportunity. In this live discussion and Q&A moderated by Laura Callanan, founding partner of Upstart Co-Lab, hear from leading figures in social impact media discussing such topics as:
How film, TV and video games drive social impact and financial return

Analysis of social impact media and diversity, equity and inclusion

What/where are 21st century quality jobs in the media sector

The role of impact investment in the media sector
Moderator
Laura Callanan
Laura Callanan is the founding partner of Upstart Co-Lab which is disrupting how creativity is funded by connecting impact investing to the creative economy. Laura was senior deputy chairman of the National Endowment for the Arts, leading all grant-making programs, operations, and research before launching Upstart Co-Lab in 2015. Previously, Laura was a consultant with McKinsey & Company's Social Sector Office and associate director of the Rockefeller Foundation where, in addition to her responsibilities managing the endowment, she co-led the Foundation's first impact investing efforts which included two investments in the creative economy with Smithsonian Folkways Records and netomat.
Laura has been a visiting fellow at the Federal Reserve Bank of San Francisco, a scholar in residence at UC-Berkeley/Haas School of Business, a visiting scholar to the American Academy in Rome, and the recipient of a Rockefeller Foundation Bellagio Fellowship. She is the chair of the board for GlobalGiving Foundation, an advisor to Shift Capital, and a member of the British Council Policy and Evidence Centre for the Creative Industries – International Council.
Featured Guests
Julie Christeas
Julie Christeas is the founder and CEO of Tandem Pictures, a New York based production company founded in 2010. She has produced several feature films including BLOOD STRIPE (Jury Prize for Best Narrative Film, LA Film Festival 2016), WILDLIKE starring Bruce Greenwood and BrianGeraghty, and THE SLEEPWALKER starring Christopher Abbott and Brady Corbet (Sundance 2014/IFC). Julie also executive produced THE EYES OF MY MOTHER (Sundance 2016/Magnet Releasing) and MONOGAMY (Best NY Narrative, Tribeca Film Festival 2010).
Among other films Julie has produced are the documentary DUKALE'S DREAM starring Hugh Jackman and GHOST TEAM starring Jon Heder, David Krumholtz, Justin Long, Amy Sedaris and Melonie Diaz, released through The Orchard. Julie recently produced BUSHWICK BEATS which premiered at the Bushwick Film Festival in October 2018. Julie is very excited for her next feature film, BLACK BEAR starring Aubrey Plaza, which is slated to shoot this summer. Tandem Pictures has several other projects in development as well. Prior to Tandem, Julie was the Executive Vice President of Production and Development at Renart Films.
Jess Jacobs
Jess Jacobs is an actress, producer and activist known for her work supporting women's rights and in media and entertainment. She is co-founder of a New York-based, women-led creative development and production company, Invisible Pictures. Invisible Pictures is producing film, TV, documentary and digital short-form content, focusing on underrepresented stories not traditionally highlighted in dominant culture. Invisible Pictures' first feature film presentation, BULL, will premiere at the Cannes Film Festival in May 2019.
Jess is one of Real Leader Magazine's 100 Visionary Leaders (2018) and was the recipient of the 2018 Future is Female award at the International Conference on Family Planning, the largest global convening on family planning. Jess is a member of the Maverick Collective within Population Services International (PSI), co-designing a program in movement building with women and girls in Côte d'Ivoire, West Africa toward greater access to contraception. She is a board member of Rooftop Films, a New York based non-profit supporting independent film and community building around film screenings. Jess has spoken for UN General Assembly week, Women Deliver, SAP NextGen, BBYO, at film festivals across the country, and beyond and has been featured in Variety, Huffington Post, Forbes, and SWAAY, among others. Jess's most recent film, Butterfly Caught, in which she stars as a drug-addled actress in a timely portrait of the darker side of Hollywood, has been a festival success and her performance has been lauded and award-nominated. Gravitas Ventures released in the fall of 2018 and the film was on iTunes Indie Bestsellers list. Jess is represented by ICM Partners and Pierce Law Group, LLP.
Charles D. King
Charles D. King is Founder & CEO of MACRO, a leading media company representing the voice and perspectives of people of color. Founded in January 2015, King oversees the company's focus on creating, developing, producing and financing film, television, digital content, tech companies and brands driven by people of color that encompass universal themes to which all people can connect and relate. Formerly a partner and senior agent in the motion picture department at William Morris Endeavor, King was the first African American partner in the company's 100+ year history and the first ever African American partner at any major talent agency. King's list of notable clients spanned every sector of the entertainment industry, including acclaimed filmmakers Ryan Coogler and M. Night Shyamalan, music icons, media moguls and innovators including Prince, Tyler Perry, Oprah Winfrey and Janelle Monae and talent like David Oyelowo.
MACRO's film projects have received nine Oscar nominations. The company's first major studio film, Fences, received four nominations, including Best Picture and Best Actor for director/star Denzel Washington, and one win for Best Supporting Actress for Viola Davis. King was an executive producer on the film. Dee Rees' Mudbound, was the highest sale at the 2017 Sundance Film Festival and was nominated for four Academy Awards, including Best Adapted Screenplay, Best Supporting Actress and Best Cinematography. Roman J. Israel, Esq. also received an Oscar nomination for Washington. MACRO's most recent film, Boots Riley's Sorry To Bother You, won the Independent Spirit Award for Best First Feature. The company also has a first look co-finance deal with Warner Bros. Pictures and is a co-financier for the upcoming Just Mercy, starring Michael B. Jordan with Jamie Foxx and Brie Larson. King is a graduate of Vanderbilt University and Howard University School of Law.
Gloria O'Neill
Serving as President and Chief Executive Officer for Cook Inlet Tribal Council (CITC) since 1998, Gloria O'Neill has led the organization's growth in becoming one of the most effective and innovative service providers in Alaska and the nation. Ms. O'Neill has also established CITC as an emergent impact investor focused on fusing traditional Alaska storytelling, culture and values with modern technology. Through its for-profit subsidiary, CITC Enterprises Inc. (CEI), CITC has established an innovative model of sustainability, breaking new ground in social enterprise and impact investing. Under Ms. O'Neill's leadership, CEI launched the first-of-its-kind puzzle-platform video game "Never Alone (Kisima Inŋitchuŋa)" with global acclaim. The game, inspired by traditional Inupiaq folklore and stories, was honored as "Best Debut Game" at the 2015 British Academy of Film and Television Arts (BAFTA) Game Awards.
Ms. O'Neill serves on the University of Alaska Board of Regents, and is a director for the Alaska Native Justice Center (ANJC) and the Alaska Federation of Natives (AFN) boards. Ms. O'Neill was appointed to the Alyce Spotted Bear and Walter Soboleff Commission on Native Children by House Speaker Paul Ryan. In her role of President and CEO of CEI, Ms. O'Neill also serves as Executive Chair and Board member of partnering agency E-Line Ventures, LLC.