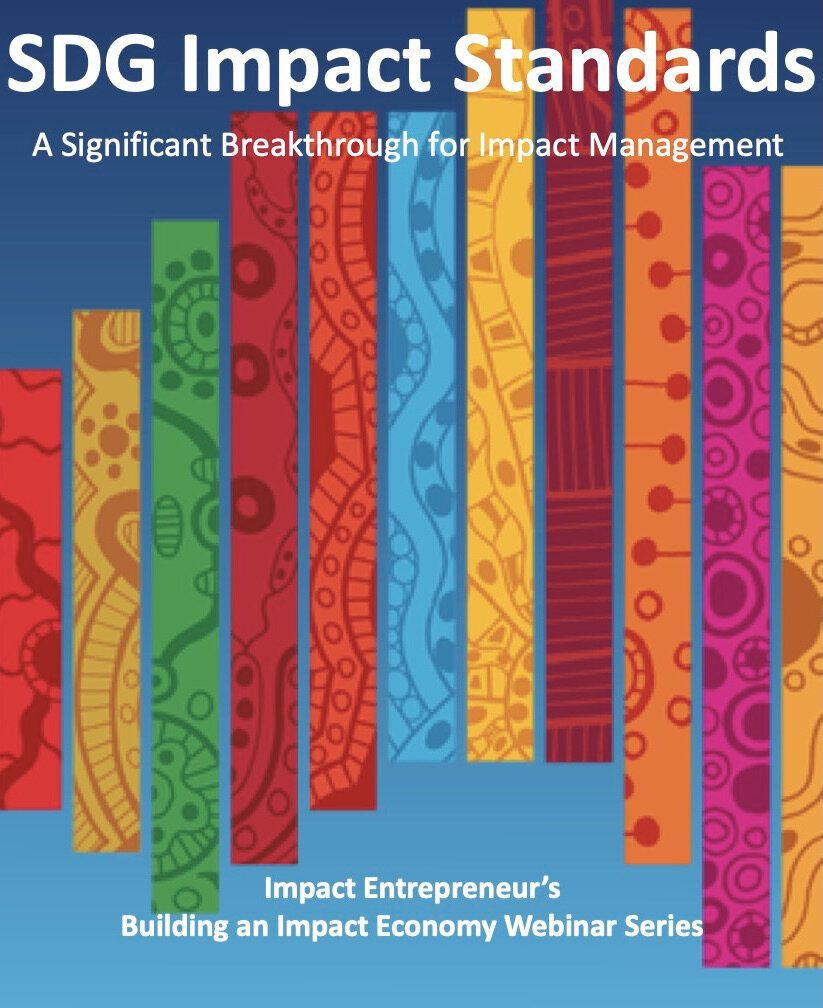 $15.00
Content: Video Webinar Presentation with Q&A
Length: 1:12:52
Premium Members get free access to the entire catalog of past webinars as well as invitations to upcoming, live programs.
$15.00Add to cart
The recent release of Impact Standards for achieving the UN Sustainable Development Goals (SDGs) offers a powerful antidote to impact washing. While growing numbers of investors and entrepreneurs alike are publicly aligning their activities with the SDGs–a practice dubbed by some as SDG tagging–very few are tracking and adjusting their contribution toward achieving these SDG and other sustainable development goals. Here is where the Impact Standards developed by the United Nations Development Program (UNDP) offers a much-needed solution.
The primary goal of the Impact Standards is to share best practices for an impact measurement and management system (IMM) that is readily adoptable by all players in the impact investing ecosystem (that seek to contribute to the achievement of the SDGs beyond financial materiality considerations. With an emphasis on long term value creation, these best practices guide internal management and decision-making processes to support informed and accountable choices that maximize impact and advance sustainable development. Adoption of this management system is necessary for closing the gap between current practice and the practices needed to achieve sustainable development outcomes through promoting continuous improvement, impact integrity, accountability and actual results.
The emergence of these Impact Standards could not have happened without development of tools, metrics, frameworks and reporting standards that preceded it. The standards provide the guidance, targets and assurance processes that aligns with and incorporates each of these aspects of robust and doable impact measurement and management.
This program addresses how this ambitious, practical and necessary initiative:
breaks through the noise and confusion which is often associated with financial and non-financial materiality and IMM
bridges a significant gap in the current toolbox between high level principles and impact performance reporting tools and benchmarking
makes sense of how best to use the growing suite of impact management tools to inform decision-making and transform the way we do business and invest: a new status quo where impact on sustainable development is at the center of our daily and long term decisions.
offers practical opportunities for an accessible onramp to adopting the Impact Standards
creates certification and assurance processes for companies and funds that adopt the Impact Standards
The panel features Fabienne Michaux, Director of SDG Impact at the UNDP, Belissa Rojas, IMM Coordinator for the SDG Impact Standards, and Cathy Clark, Faculty Director of CASE at Duke University, who leads the development of online training for adopting the Impact Standards. Jane Reisman, a social impact advisor engaged with field building and practice of impact measurement and management, will be the guest moderator for this lively and timely discussion.
Laurie Lane-Zucker
Laurie Lane-Zucker is Founder and CEO of Impact Entrepreneur, LLC, an impact economy business that hosts the Impact Entrepreneur Network — a large, global network of "systems-minded" entrepreneurs, investors and scholars of social and environmental innovation — and publishes Impact Entrepreneur Magazine. For over 30 years, Laurie has been a "pioneer" (Forbes) and recognized leader in sustainability, social enterprise, and impact investing. Laurie was the founding Executive Director of the international environmental organization, Orion Society, which publishes the celebrated Orion Magazine, as well as the founder of a global sustainability think-tank, the Triad Institute, and Hotfrog, a Founding B Corporation, GIIRS Pioneer Company, and the first company ever to complete an equity transaction on an impact investment exchange. Laurie is the bestselling and multiple award-winning publisher and editor of books and magazines on sustainability and social impact, and the author of numerous articles on entrepreneurship and impact investing. Laurie is contributing author of the recently published, bestselling textbook from World Scientific, Sustainability: Business and Investment Implications (2023).