Howard Weinstein is an impact entrepreneur who built several companies over the last two decades, some successful, some not, according to him. A recent profile of one of the businesses, Solar Ear, was featured in Impact Entrepreneur. Having worked in several different countries with varying stakeholders and different goals, Howard has developed an approach to developing business ideas, scaling, and achieving social impact. This article will look at his framework, some of the lessons he's learned, and what he says is the most powerful tool impact entrepreneurs have.
3-D Thinking
In the decades that he has worked in different countries, continents, and types of businesses, Howard has come to believe that a business seeking to succeed both financially and socially needs to operate in three different realms simultaneously. He envisions this framework as a "3-dimensional tic tac toe".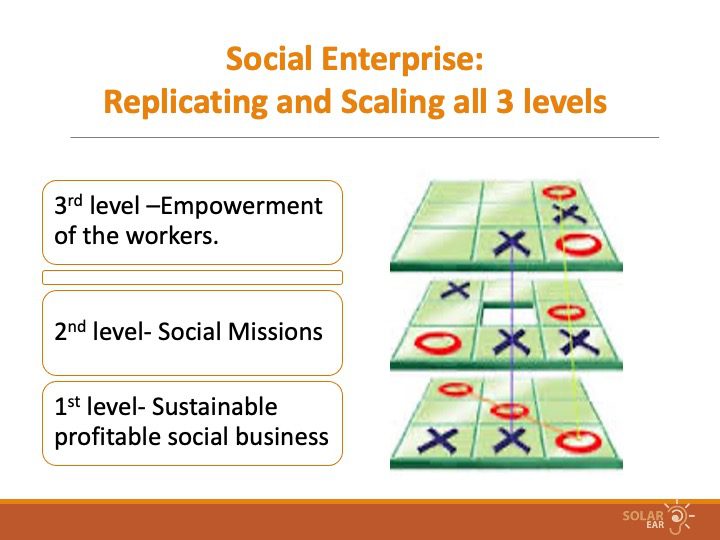 LEVEL ONE – Your Business
The first level of this framework encompasses the fundamental business, and everything that's needed to successfully produce and deliver your product or service. This includes marketing, sales, customer service, manufacturing, human resources, and finance etc. The business must succeed at this level – with sufficient margins – in order to have any hope of having a positive social impact.
LEVEL TWO – Your Social Mission
The second level of the framework is the organization's social mission, which could be focused on addressing poverty, the environment, medical access or any of the other United Nation's sustainable development goals (SDGs). Solar Ear's hearing aids allow hearing-impaired children to develop language skills and attend school, and their solar battery chargers have kept millions of batteries out of landfills – this is their social mission.
Howard has found that in every business he's helped start, the central component of their social mission is some form of education. The rate of HIV/AIDS among deaf individuals is much higher than non-hearing-impaired people in Africa, as TV and radio campaigns did not reach them. After learning this, Howard said they ran an education campaign and lowered the rate of HIV/AIDS among deaf people in Botswana from 38% to 10%. With the outbreak of COVID, they used a similar model to share vital health information to the deaf population.
LEVEL THREE – Empowerment
Howard thinks of the third and final layer of his 3-D approach as empowerment. Solar Ear's deaf employees learned when they went to the bank in Botswana with their first paychecks that they couldn't communicate to open an account. After Howard challenged them to find a solution, they decided to teach the bank tellers some sign language. This local experiment was ultimately shared with other bank branches in the country, allowing other deaf individuals in Botswana financial access they hadn't had before.
Continuing education and training are fundamental to empower your employees, Howard believes, and at Solar Ear one day a week is spent pursuing topics they suggest. Because of this, they had the skills and confidence to fly from Botswana to Brazil to hire and train the first Solar Ear employees there.
"The key to a good social business is working all the time in these three dimensions," Howard states. Not everything has the same emphasis all the time, he's found. "Some days you're working on one thing at one particular level, which focuses time and money on that, and other days you're working on something else."
Lessons from the Frontlines
Start at the Bottom
"Any social business I've helped start is designed to solve a problem. And the ideas always come from the stakeholders…that's critical for the success of any program." Using this type of bottom-up approach to identify and pursue projects means that stakeholders determine the direction of their business.
In the case of a business that Howard helped young people start in a favela in Brazil, he began by helping them brainstorm problems they faced. With a list of numerous challenges — that included trash, violence, clogged sink drains, and many others — Howard created 15 possible business ideas for them to consider. In the end, they chose to combine several of them and now sell soap packaged in recycled paper that incorporates photographs from the favela.
Howard says that he's learned to be a very good listener. His ego and what he calls his "North American bias" are stumbling blocks that he's learned to fight against. "It's very tough take ego out of a situation, but I've failed every time I didn't do it."
Mentors and Funding
Finding a mentor to provide guidance and insight can be invaluable to someone starting out. It's a role Howard has played several times, and he's a believer that feedback and knowledge shared by someone who has been where you are can be invaluable. His mentoring relationships have come through personal contacts and business organizations that he belongs to.
He also feels it's important that all partners share the financial risk. Regarding two of his businesses that failed, Howard blames the failures largely on the fact that his local partners had no financial stake in the businesses. He also suggests only hiring people you can fire. Market, financial, or business conditions can change – and if you feel you'll be unable to fire a relative or friend, you should reconsider hiring them.
Proving yourself on a small scale shows current and future funders what you're capable of. And Howard suggests seeking funding or donations progressively as you grow, based on metrics you can achieve and financial support you need for each stage. Solar Ear has developed hearing test capabilities that they believe will have a global impact for hearing-impaired babies, children, and adults. The roll-out and trial of these products will require substantial investment, but they did not seek the $5 million they will eventually need. Instead, Howard said they sought $300,000 for the first trial. The success and lessons learned from that program will allow them to show proof of concept to their backers for the next stage.
Your most powerful tool
The most powerful tool you have when you're getting your business off the ground or seeking to expand, is the ability to tell your story in a compelling way. Howard believes it's the most critical part of a good business plan, and vital to raising money. Explaining why your business is important and what it means to the individuals involved, will compel supporters to embrace your vision.
At the same time, it's not particularly useful to worry about what your impact might be ten or twenty years down the road, or once you are able to expand exponentially. Addressing a problem in one community is a great place to start. If you succeed, there will then be an opportunity to expand or replicate the business.
Growth will come from iteration, not perfection. Starting small and focusing on proof of concept is the best way to achieve success, according to Howard. Successfully rolling out a product or service in one community sets the groundwork for future expansion to neighboring communities, countries, and beyond. Ultimately, Howard insists you must accept you're going to make mistakes – and begin anyway.