Climate Change and Water: Entrepreneurial Solutions
Thursday, March 3, 2022
12:00 PM - 1:15 PM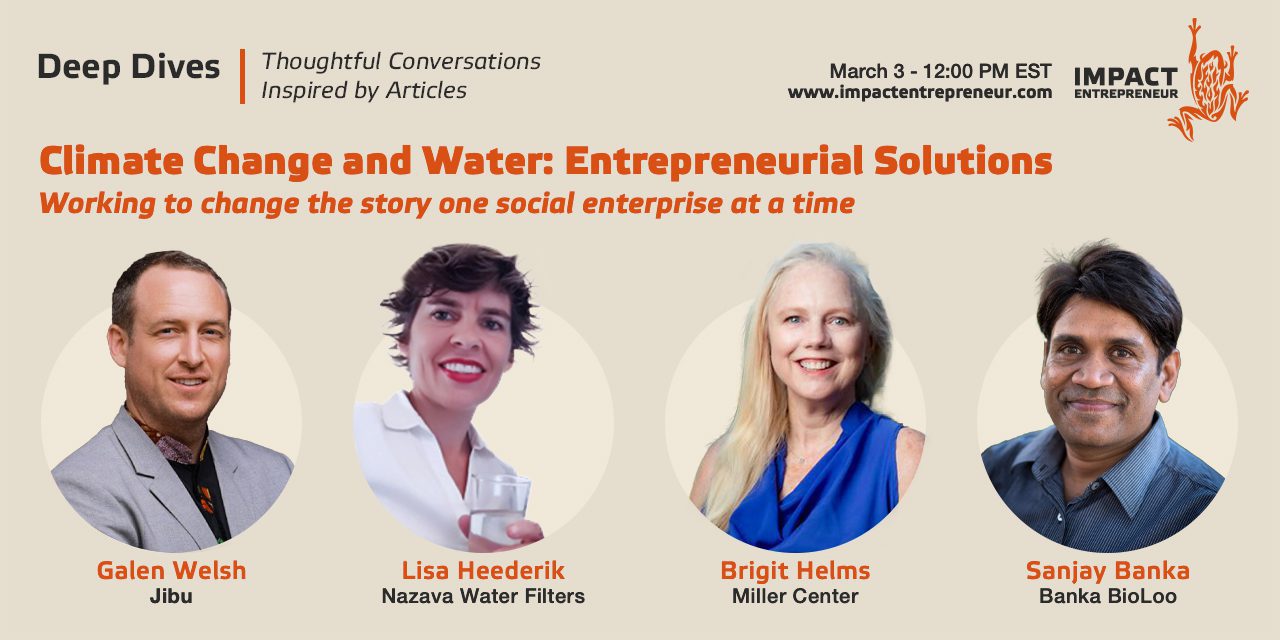 While the world's governments try to address these issues from a top-down perspective, many communities — especially those living at or below poverty levels — are already suffering the effects of climate change-exacerbated water issues. In response, a number of social enterprises are stepping up to provide localized solutions to specific communities' water-related issues.
Join us for a Deep Dive with Miller Center CEO Brigit Helms, author of the IE Magazine article Climate Change and Water: Working to Change the Story One Social Enterprise at a Time and three of the entrepreneurs profiled in the article, Sanjay Banka, Lisa Heederik, and Galen Welsch.
Sanjay Banka is Executive Chairman of Banka BioLoo Limited, and a strong propagator of SDG 6, the water and sanitation Goal. With academic background in sciences, humanities, human rights, law and business management, he has a strong understanding of the society, economy and the polity, along with technology and sustainable development. Professionally, he has worked in family businesses, start-ups, MNCs and co-founded Banka BioLoo, with spouse Namita Banka. The bioloo is an affordable onsite sanitation system, whereby the fecal matter is converted into water and biogas in a multi-chambered bio-digester tank, with the help of naturally-inoculated bacterial culture. Now, the company also provides fecal sludge treatment plants and packaged sewage treatment plants. All the solutions are environmentally-friendly, and have circularity at heart with outputs as reusable water and biosolids, both enhancing agriculture yield. Well-versed with development and humanitarian problems, primarily issues related to water and sanitation, he puts his best foot forward in helping provide sustainable water, sanitation and hygiene (WaSH) solutions to households, school children, workers and many other user groups, with a focus on the marginalized and vulnerable sections of the society, helping eradicate open defecation, generally, and affordable waste treatment. Sanjay is a prolific writer and speaker, and has authored many a piece on sustainable WaSH, as also spoken extensively, including at the UN. He is a member of many international committees and councils; and has put Banka BioLoo on the global map. The company is widely appreciated for its triple bottom-line, the 3 Ps – people, planet and profit.
Lieselotte Heederik (Lisa) is a social entrepreneur and development professional. She spent her childhood growing up in Bolivia, Kenya and Yemen and studied Rural Development Sociology at the University of Wageningen in the Netherlands and Advanced Development Studies at the Radboud University. During her studies she specialized in micro-credit and empowerment of rural women. In 2004 she won the Dutch student of the year award for her involvement in strengthening student unions in the Ukraine. In 2007 she moved to Banda Aceh in Indonesia to work for several NGOs on the reconstruction in the aftermath of the Tsunami. Experiencing the difficulty in obtaining safe drinking water, and realizing the enormous need for affordable purification solutions, Nazava Water Filters was found together with her husband Guido van Hofwegen. Nazava, meaning clean in Arabic, is a for-profit social enterprise and has as mission to provide safe, affordable drinking water to everyone, everywhere.  To date it has impacted over 600,000 people in Indonesia, Ethiopia and 30 other countries. In 2013 Nazava won the prestigious Tech Awards for the best technology to benefit humanity and in 2015 Nazava received the Frost and Sullivan Excellence Award for best Water Filtration Price/Performance Value Leadership. It was also a runner up in the Sankalp Indonesia Awards. In 2016 Nazava won the Ashden Award for Sustainable Energy and Water. To date, Nazava products have been exported to over 32 countries and it currently has operations in Indonesia, Kenya and Ethiopia. Lieselotte is the Director of Nazava Kenya and in charge of global expansion. By 2030 Nazava aims to become the global water purifier for BoP households; impacting over 10 million people globally. In her free time Lisa enjoys the outdoors through trail-running, triathlon and mountain biking.
Galen Welsch co-founded Jibu in 2012 and under his leadership Jibu has quickly become a top-rated social franchise bringing affordable drinking water access to thousands, and creating hundreds of jobs, mostly for youth, across East Africa. Galen's achievements at Jibu have been recognized by BBC World, the Guardian, Fast Company, the Franchise Times, and by Forbes (30 under 30). In addition to Jibu, Galen is an Aspen Institute scholar, an advisory board member of the University of New Hampshire's Social Sector Franchise Initiative, a mentor (and prior fellow) at the Unreasonable Institute, and an honorary member of Toniic impact investor network. Galen has been a speaker at Harvard's Social Enterprise Conference and at the UN General Assembly's Global Development Lab showcase. Previously, Galen has worked as a field manager for Colorado's Public Interest Research Group, for HEAL Africa in Goma, DR Congo, and for the Peace Corps as a Health Educator in Morocco.
About Our Deep Dives
Deep Dives are Zoom Meetings: Live Q&A Sessions (as opposed to our Zoom Webinars, where the audience is in View-Only Mode) between the author(s) and/or subjects of a Magazine article and our members. Be sure to read the article in question and come bearing questions!
Brigit Helms
Brigit Helms is Executive Director, Miller Center for Social Entrepreneurship, the premier university-based social enterprise accelerator dedicated to eliminating poverty. For 30 years, Helms has created and delivered solutions to social and environmental challenges in 45 countries across Africa, Asia and Latin America, in both the private and public sectors.