Innovating New Financing Solutions to Advance the SDGs
Thursday, July 28, 2022
12:00 PM - 1:15 PM
Finance is not working for people or the planet. We need to act to change this.
There is a significant gap between this growing awareness and tangible actions that will result in better outcomes. The COVID-19 pandemic has increased the annual SDG financing gap to $3.7 trillion in 2020, up from $2.5 trillion in 2019 (OECD) – a drop in the ocean compared to the claimed ESG investment universe. It is certain that in the current landscape of small, separate sustainable finance initiatives, often focused in high- and middle-income countries, we will not deliver the change at scale needed across the financial system globally. A transformational shift in how we think about capital, the role of capital in society, and the private sector is needed.
In this special fireside chat and audience Q&A, Impact Entrepreneur's Laurie Lane-Zucker welcomes the Director of UNDP's Sustainable Finance Hub, Marcos Neto, to discuss the innovative instruments for attracting and disbursing significantly greater amounts of impact capital and exponentially growing the business/finance sector's social and environmental impact.
We will discuss, among other topics:
A new normal where enterprises' role moves from maximizing profits to maximizing economic, social, and environmental impacts or, to put it even more ambitiously, our collective human and planetary wellbeing
Instruments that enable businesses and investors to continue to be profitable and become more equitable economic models fit for the future
UNDP's relationship to countries and the private sector in this journey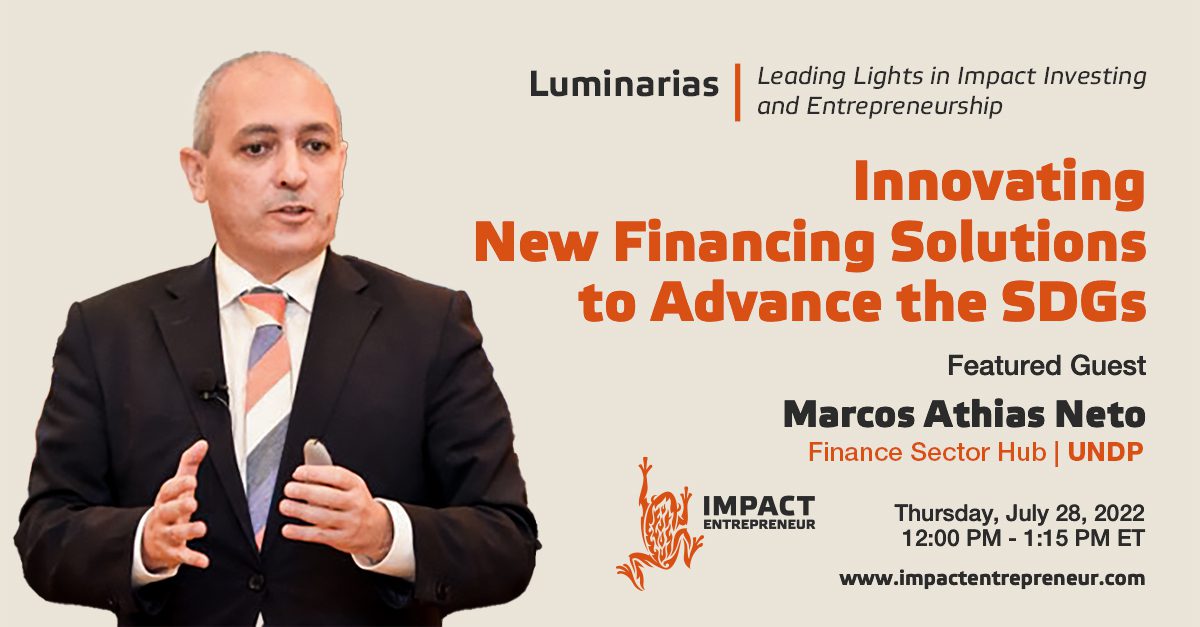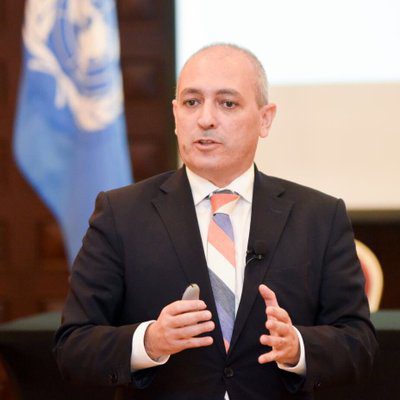 Marcos Neto
Marcos Athias Neto joined UNDP in February 2013 and has since led UNDP's global work on private sector development and foundations, first at UNDP's headquarters in New York and then, from November 2014, as head of the Istanbul International Center for Private Sector in Development (IICPSD). In April 2019, Marcos returned to New York to lead the establishment and management of UNDP's new Finance Sector Hub.
Marcos led the development of UNDP's new private sector strategy and its offers on SDG Finance. He co-chairs the executive boards of the Business Call To Action and the Connecting Business Initiative. Apart from his role at UNDP, Marcos also serves on the Supervisory Boards of CARE International and the Museum of Tomorrow International.
Over the past 25 years, Marcos has been a leader in sustainable development, poverty eradication and multi-stakeholder partnership building. He is a passionate advocate for the Sustainable Development Goals. Prior to joining UNDP, Marcos spent 17 years at CARE International. During his tenure at CARE International, Marcos served in numerous roles including Regional Manager for Asia and Latin America at CARE UK, Executive Director of CARE Brasil, and Program Director in Central America.
Marcos has lived and worked in Central and South America, Europe and the United States and has also worked in Asia, Middle East and Africa. He is a lawyer by training, with a Master of Laws from the School of Oriental and African Studies (SOAS) at the University of London. Marcos is married and has two children.
Laurie Lane-Zucker
Laurie Lane-Zucker is Founder and CEO of Impact Entrepreneur, PBC, an impact economy business that hosts the Impact Entrepreneur Network — a large, global network of "systems-minded" entrepreneurs, investors and scholars of social and environmental innovation — and publishes ImpactEntrepreneur.com. For over 30 years, Laurie has been a "pioneer" (Forbes) and recognized leader in sustainability, social enterprise, and impact investing. Laurie was the founding Executive Director of the international environmental organization, Orion Society, which publishes the celebrated Orion Magazine, as well as the founder of a global sustainability think-tank, the Triad Institute, and Hotfrog, a Founding B Corporation, GIIRS Pioneer Company, and the first company ever to complete an equity transaction on an impact investment exchange. Laurie is the bestselling and multiple award-winning publisher and editor of books and magazines on sustainability and social impact, and the author of numerous articles on entrepreneurship and impact investing.