The Ideal Role of Catalytic Capital in an Impact Economy
Thursday, April 20, 2023
12:00 PM - 1:15 PM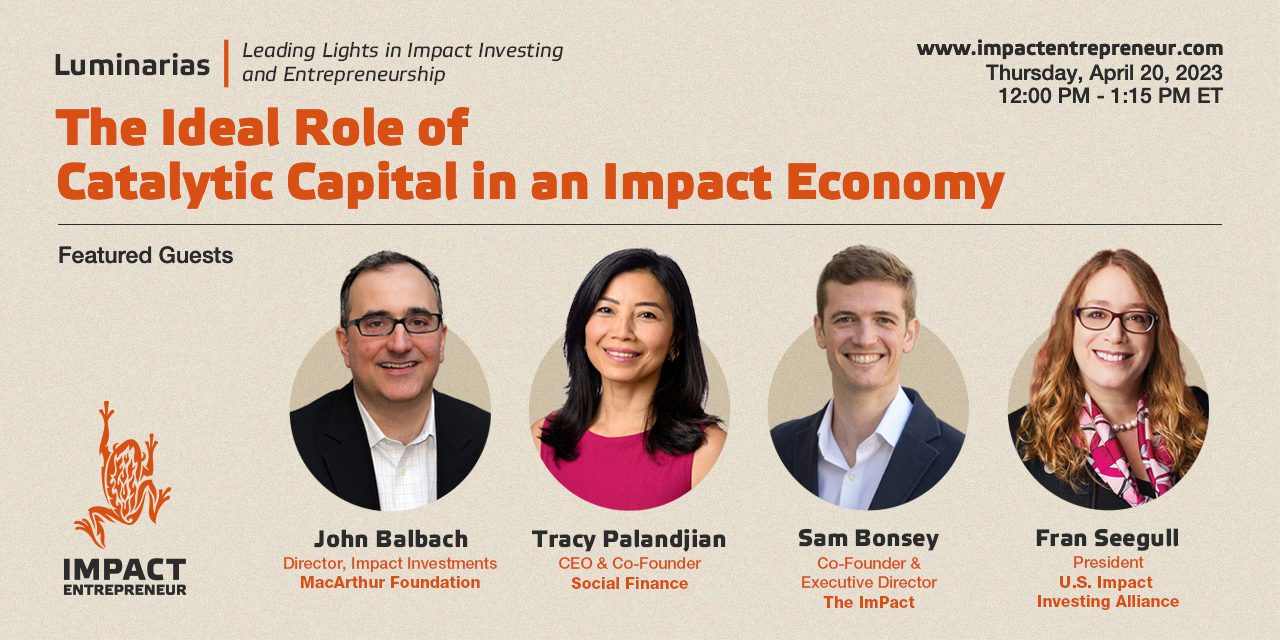 Catalytic capital is foundational to the impact economy, injecting patient, risk-tolerant, concessionary, and flexible dollars to impact enterprises. For much of the past decade, catalytic capital has arguably served as the "R&D" arm for the broader field, helping to seed innovative impact investing market developments. In response to the COVID-19 pandemic and confluence of global crises in 2020, catalytic capital providers pivoted to flow capital to response, recovery, and resiliency interventions. Now in 2023, amid a challenging, dynamic economic and political backdrop, what will be the ideal role of catalytic capital going forward? How can catalytic capital most effectively support early-stage impact ventures and the impact economy as a whole?
Join Impact Entrepreneur for a Luminarias Series Webinar to hear from field leaders on the following topics:
Best practices and taking stock — what has worked well and what needs to evolve in how catalytic capital is deployed and leveraged
Doubling down on policy progress – opportunities for the private sector to invest alongside government funds for sustainable infrastructure, climate solutions and economic resiliency
Widening the tent — bringing catalytic capital products to wealth management
John Balbach
John Balbach is Director of Impact Investments at MacArthur Foundation. John is responsible for the operational management of Impact Investments, including playing leadership roles with major initiatives such as Benefit Chicago and the Catalytic Capital Consortium. He also leads impact investing efforts to advance the Foundation's Climate Solutions Big Bet. Prior to MacArthur, John worked with Silicon Valley Bank and JPMorgan Chase. He has also served on a National Science Foundation commercialization review committee, managed and raised capital for an Impact Investing Fund focused on developing the Michigan life sciences sector, advised industry-leading corporations on infusing cleantech solutions into their supply chains, provided consulting services to leading nonprofit organizations with the Nonprofit Finance Fund, and served as a strategic advisor to hundreds of founders of technology-based startup ventures through a Michigan economic development program. He holds a BS in Finance from Miami (Ohio) University, an MA from St. John's College, and an MPA from the University of Minnesota's Humphrey School of Public Affairs.
Sam Bonsey
Sam Bonsey is Co-Founder and Executive Director of The ImPact, a global network of families committed to making more impact investments more effectively. Sam is also Vice-Chair of the board of directors and Chair of the investment committee of Keller Enterprises, a family office committed to values-aligned investing. In 2022, Sam became Chair of the Transformation Capital Initiative, a nonprofit dedicated to building the field of systemic investing, collaboratively accelerated by members of The ImPact.  In 2015, Forbes recognized Sam as a "30 Under 30" Social Entrepreneur. In 2010, Sam co-founded the 2Seeds Network, an incubator of community-driven development projects in Tanzania; in 2019, 2Seeds merged with Spark Microgrants, on whose board Sam now serves. Sam graduated magna cum laude from Harvard College with a degree in History and Literature, focused on African postcolonial studies and Swahili. Sam happily resides in Paris with his wife and son.
Tracy Palandjian
Tracy Palandjian is CEO and Co-Founder of Social Finance, a national nonprofit that builds innovative partnerships and investments to measurably improve lives. Since 2011, the firm has pioneered impact investments including the Social Impact Bond and the Career Impact Bond. To date, Social Finance has mobilized over $350 million in new investments to deliver measurable outcomes in education, economic mobility, health, and housing. Social Finance also develops recoverable grant opportunities for donor-advised funds (DAFs), aiming to unlock the $200+ billion in DAF assets toward greater social impact. Prior to Social Finance, Tracy was a Managing Director for eleven years at The Parthenon Group, where she established and led the Nonprofit Practice. She also worked at Wellington Management Company and McKinsey & Company. A member of the American Academy of Arts and Sciences and the American Philosophical Society, Tracy is a frequent speaker and writer on ESG and impact investing, social innovation, and results-oriented policymaking. Tracy is a member of the Harvard Corporation, is Vice Chair of the U.S. Impact Investing Alliance, and serves on the boards of The Surdna Foundation and The Boston Foundation. She is also an Independent Director of Affiliated Managers Group (NYSE: AMG). A native of Hong Kong, Tracy is fluent in Cantonese and Mandarin. She graduated from Harvard College with a B.A. magna cum laude in Economics and holds an M.B.A. with high distinction from Harvard Business School, where she was a Baker Scholar.
Fran Seegull
Fran Seegull is President of the U.S. Impact Investing Alliance, which works to increase awareness of impact investing in the United States, foster deployment of impact capital across asset classes globally, and partner with stakeholders, including government, to build the impact investing ecosystem. She also serves as Executive Director of the Tipping Point Fund on Impact Investing—a donor collaborative focused on growing the field. Previously, Fran was the Chief Investment Officer and Managing Director at ImpactAssets where she headed investment management for The Giving Fund—now a $2B impact investing donor-advised fund. Fran has a BS in Economics from Barnard and an MBA from Harvard. She serves on the Investment Committee of Align Impact and the Advisory Boards of SOCAP and the CASE i3 Initiative at Duke. She tweets at @franseegull.
Laurie Lane-Zucker
Laurie Lane-Zucker is Founder and CEO of Impact Entrepreneur, PBC, an impact economy business that hosts the Impact Entrepreneur Network — a large, global network of "systems-minded" entrepreneurs, investors and scholars of social and environmental innovation — and publishes ImpactEntrepreneur.com. For over 30 years, Laurie has been a "pioneer" (Forbes) and recognized leader in sustainability, social enterprise, and impact investing. Laurie was the founding Executive Director of the international environmental organization, Orion Society, which publishes the celebrated Orion Magazine, as well as the founder of a global sustainability think-tank, the Triad Institute, and Hotfrog, a Founding B Corporation, GIIRS Pioneer Company, and the first company ever to complete an equity transaction on an impact investment exchange. Laurie is the bestselling and multiple award-winning publisher and editor of books and magazines on sustainability and social impact, and the author of numerous articles on entrepreneurship and impact investing.