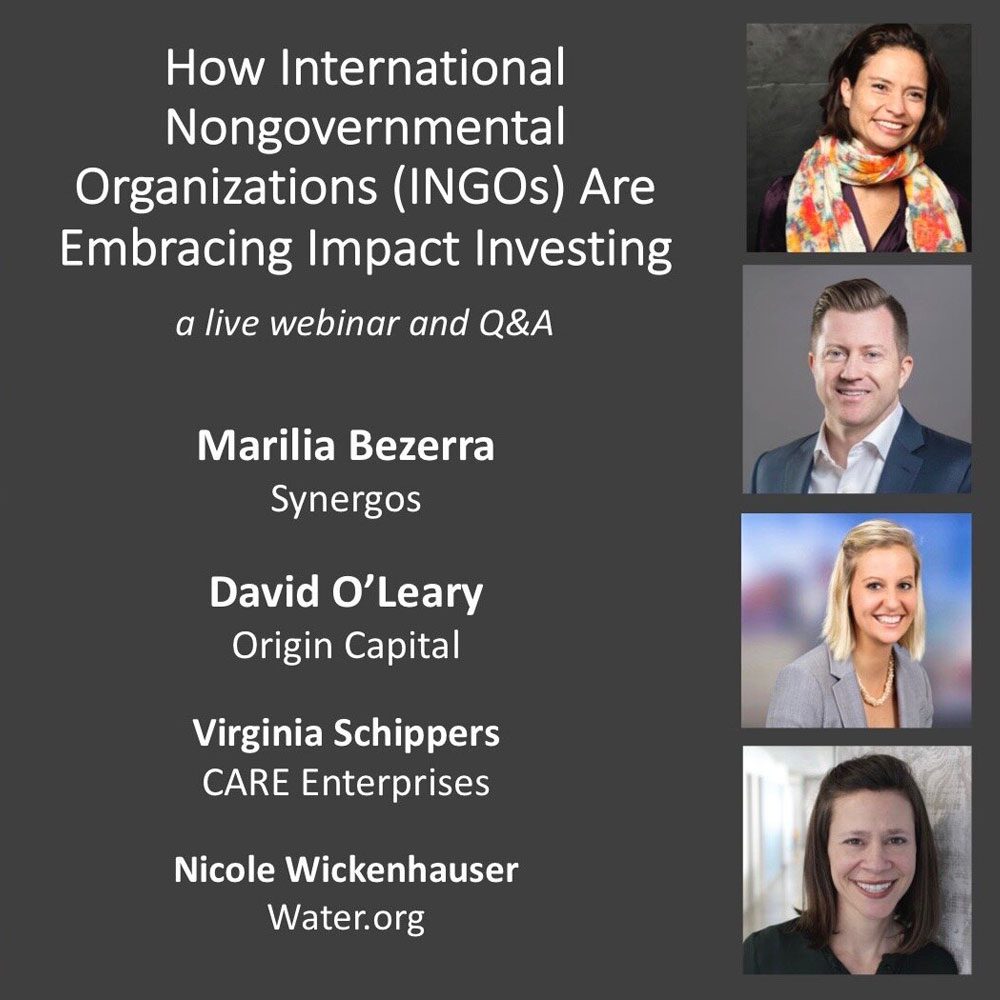 $15.00
Content: Video Webinar Presentation with Q&A
Length: 1:15:29
Premium Members get free access to the entire catalog of past webinars as well as invitations to upcoming, live programs.
$15.00Add to cart
Facing a multi-trillion dollar shortfall to achieve the Sustainable Development Goals (SDGs) — the "billions to trillions gap" — nations and international nongovernmental organizations (INGOs) are increasingly seeking and deploying new forms of capital. INGOs, for example, saw a 45% increase in the number of dollars they are putting toward impact investing from 2016 to 2017, according to the most recent INGO Impact Investing Network report.
Bringing their deep knowledge of and unrelenting dedication to social issues together with impact investment instruments not only unleashes significantly more capital toward advancing their missions, but also contributes to the building of an impact economy. In this webinar, Synergo's Marilia Bezerra moderates a discussion on INGOs and impact investment with three pioneering leaders in the field.
Moderator
MARILIA BEZERRA
MARILIA BEZERRA serves as Director, Global Philanthropists Circle at Synergos, a community of leading philanthropic families and social investors using their time, influence, and resources to fight poverty and social injustice in their own countries and around the world. She is also the founding partner of CARE Enterprises Inc., a for-profit subsidiary of CARE focused on creating gender justice through impact investment.
Other career highlights include founding and leading Aldeia Works, a boutique consulting firm focused on supporting philanthropists, corporations and nonprofits in the creation of meaningful social impact; helping develop partnerships and managing the rapid growth of Purpose.com; and taking a central role in building the Clinton Global Initiative from its start-up phase to the successful catalyst for action and global convening body it later became. Marilia received a master's of science degree (with distinction) in global affairs from New York University in 2007 and a law degree from the Federal University of Ceará in 1996. Before graduating she founded the Andanças Art School, an institution dedicated to providing art education and bridging the gap between children from the most privileged areas and children in the slums of her native Fortaleza. During her early career, she also deeply engaged in political activism as a student union leader and manager of political and advocacy campaigns.
Participants
DAVID O'LEARY
DAVID O'LEARY is Managing Director of Origin Capital; the impact investing division of World Vision Canada. Origin Capital creates high-impact solutions that allow Canadians to invest in the fight against global inequality; particularly for the most vulnerable people in the hardest to reach places. David is also Founder of Kind Wealth, a social enterprise providing financial planning for underserved Canadians. Previously, David spent 13 years as an investment analyst with Morningstar in both Canada and South Africa in a variety of Director level roles. David holds an MBA from the Rotman School of Business at the University of Toronto and holds the CFA designation.
VIRGINIA SCHIPPERS
VIRGINIA SCHIPPERS is the Director of Investor Relations and Impact for CARE Enterprises – a private, for profit subsidiary of the global non-profit, CARE – which is currently structuring its first blended impact fund that will invest in growth stage enterprises to promote "gender justice" for women and marginalized people across South and Southeast Asia. Virginia has spent her career promoting sustainable, market-led economic growth by helping businesses across Sub-Saharan Africa and Asia-Pacific to become "investment ready," creating pipeline for investors and catalysing capital flows to underserved markets. She has also structured deals across asset classes at financial institutions like MicroVest, Morgan Stanley, the Overseas Private Investment Corporation (OPIC), and local emerging markets private equity firms. Finally, Virginia has participated in the design of multiple impact funds with a goal of stimulating additional private investment into high-impact social enterprises via funds in Cambodia, Vietnam, Indonesia, Philippines, Laos, Myanmar, Bangladesh, and Sri Lanka.
NICOLE WICKENHAUSER
NICOLE WICKENHAUSER is the Director of Strategic Alliances at Water.org, where she forges and oversees partnerships that fuel the organization's work around the world. Water.org is a global leader in pioneering cost-efficient, market-driven approaches that remove financial barriers between those living in poverty and access to vital water and sanitation services. Through small, affordable loans offered by its local partners, Water.org has reached 21M+ people, most of whom live on less than $3 per day. In doing so, it has catalyzed $1.8B from the private commercial markets to meet the water and sanitation needs of those living in poverty. For over a decade, Wickenhauser has advanced Water.org's exponential growth by providing strategic input into it evolution and serving in senior roles across the communications, marketing and development functions. Previously, Nicole managed communications, PR and public affairs at organizations including Honeywell Federal Manufacturing & Technologies and Elmhurst Memorial Healthcare. With a Master's in Public Administration and Bachelor of Arts degrees in English Literature and Communications, she has found her life's focus in the water and sanitation cause.
Laurie Lane-Zucker
Laurie Lane-Zucker is Founder and CEO of Impact Entrepreneur, PBC, an impact economy business that hosts the Impact Entrepreneur Network — a large, global network of "systems-minded" entrepreneurs, investors and scholars of social and environmental innovation — and publishes Impact Entrepreneur Magazine. For over 30 years, Laurie has been a "pioneer" (Forbes) and recognized leader in sustainability, social enterprise, and impact investing. Laurie was the founding Executive Director of the international environmental organization, Orion Society, which publishes the celebrated Orion Magazine, as well as the founder of a global sustainability think-tank, the Triad Institute, and Hotfrog, a Founding B Corporation, GIIRS Pioneer Company, and the first company ever to complete an equity transaction on an impact investment exchange. Laurie is the bestselling and multiple award-winning publisher and editor of books and magazines on sustainability and social impact, and the author of numerous articles on entrepreneurship and impact investing.