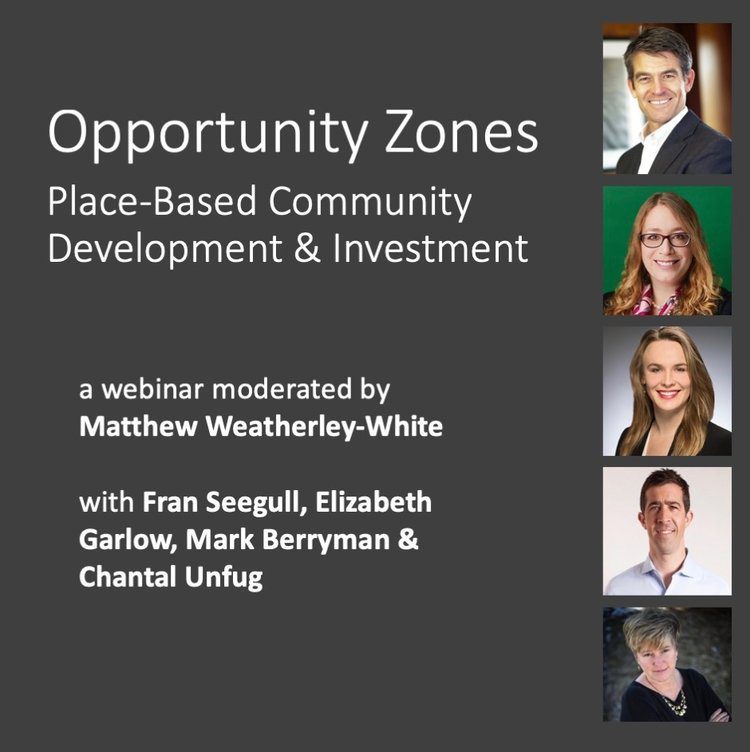 $15.00
Content: Video Webinar Presentation with Q&A
Length: 1:15:25
Premium Members get free access to the entire catalog of past webinars as well as invitations to upcoming, live programs.
$15.00Add to cart
Brought to life by the 2017 Tax Reform Bill, there are 8761 designated Opportunity Zones in the United States. These underserved communities, which are home to over 35 million people, are historically capital starved. The extremely generous tax incentives provided by the new legislation are designed to unlock vast amounts of investment into Opportunity Zone communities, a potentially revolutionary approach to economic development and a boon to places, both rural and urban, that have been left behind. Opportunities Zones are a sharp new arrow added to the quiver of strategies that is increasingly being called place-based impact investing.
While the potential benefits of Opportunity Zones to both disadvantaged communities and investors may be enormous — one multi-billion dollar fund recently announced its intention to direct a full 25% of their assets to OZ investments — the ramifications of and rules surrounding Opportunity Zones are deceptively complex, and some worry that, in practice, OZ's might trigger unanticipated (and perhaps undesirable outcomes), potentially hurting the very communities the legislation is meant to help.
This webinar seeks to bring clarity to the opportunity of Opportunity Zones, for communities and investors, while untangling some of the complexities and discussing ways to best make Opportunity Zones what they were intentioned to be: an authentic and consistent contributor to the public good.
The webinar is moderated by Caprock's Matthew Weatherley-White with panelists Fran Seegull from the Ford Foundation, Elizabeth Garlow from the Lumina Foundation, Mark Berryman from Caprock, and Chantal Unfug from the Colorado Department of Local Affairs.
Featured Guests
Fran Seegull
Fran Seegull is the Executive Director of the U.S. Impact Investing Alliance. The Alliance works to increase awareness of impact investing in the United States, foster deployment of impact capital across asset classes globally, and partner with stakeholders, including government, to build the impact investing ecosystem. Seegull was the Chief Investment Officer at ImpactAssets where she headed investment management for The Giving Fund—an impact investing donor advised fund. Seegull also oversaw product development and managed the Global Sustainable Agriculture and Microfinance Plus Notes.
Previously, Seegull was Managing Director at Funk Ventures, an early-stage impact venture capital firm. She also served as Vice President of Business Development at Novica, an online retailer of products made by artisans in developing economies. Seegull has a BS in Economics from Barnard College and an MBA from Harvard Business School. She serves on the Investment Committee of Align Impact and on the Investment Advisory Committee of RSF Social Finance. She tweets at @franseegull.
Elizabeth Garlow
Elizabeth Garlow is Lumina's impact investment officer, where she invests in early stage ventures focused on postsecondary education and skill-building. She most recently served as a community solutions policy advisor at The White House during the Obama Administration, where she managed the President's Promise Zones initiative, working closely with local leaders to create jobs, improve educational outcomes, reduce crime and support overall community prosperity.
Elizabeth previously served as the founding executive director of Michigan Corps, where she created the Michigan Social Entrepreneurship Challenge to develop and fund social enterprises across Michigan. She also served as a business development officer with ACCION USA, supporting the nation's largest microloan program. Elizabeth has served as a nonresident fellow at the Council of Michigan Foundations where she consulted with foundations statewide on mechanisms to facilitate direct impact investing activities, and at the W.E. Upjohn Institute for Employment Research where she helped launch a major research initiative focused on place-based strategies for human capital development in small-mid sized U.S. cities, with a focus on postsecondary "promise scholarship" programs. Elizabeth earned her masters in public policy from Princeton University's Woodrow Wilson School of Public and International Affairs and earned her B.A. in political science, economics and Spanish from Kalamazoo College.
Mark Berryman
Mark Berryman managing Director of Impact and Sustainable Investing at Caprock. Mark leads Caprock's impact and sustainable investment pipeline and portfolio. Mark has 18 years of experience in impact investing and emerging markets finance. Prior to joining Caprock, Mark spent over a decade as a Lead Investment Officer with the International Finance Corporation (IFC) of the World Bank Group focused on investing in financial institutions and private equity, venture capital, and private debt funds operating in emerging markets. While at the IFC, he was field-based in Turkey, China, Mali, and Washington DC. Mark also led Deutsche Bank's Global Social Investment Funds Group launching and managing global structured debt funds for financial inclusion and social enterprises.
Mark holds an MBA and Masters in International Affairs from Georgetown University and BA in Accounting from the University of Colorado, Boulder. Mark began his career two decades ago as a three-year Peace Corps Volunteer in Mali, West Africa, and has held other positions at eBay, the Multi-lateral Investment Guarantee Agency (MIGA), and the Microfinance Information Exchange. He speaks French and is conversational in two native African dialects.
Chantal Unfug
Chantal Unfug's early career as a business woman and part time ski instructor in Aspen and Winter Park led her on a continued path as an advocate for community and economic development, neighborhood stabilization and revitalization, including serving as the Director of the Women's Business Office under Governor Roy Romer and as the Manager of Denver Parks and Recreation under Mayor Guillermo "Bill" Vidal. Chantal blended her experiences in international communications, business ownership in the medical and biotechnology finance arena with her public sector career in community and economic development, policy implementation, legislative affairs and management. She has worked in local governments on the front range and western slope, having served under two governors, three Denver mayors, and as a county administrator. Her expertise ranges from organizational and managerial effectiveness, performance leadership, to communications and community and economic development. She is a skilled negotiator and excels at strategic planning and stakeholder engagement.
This path led Chantal Unfug to the Department of Local's Affair's to serve as Director of the Division of Local Government in 2013 where she leads over 65 employees to provide research, technical assistance, problem solving and expertise on community and economic development with a focus in local governance. She also oversees multiple unique state and federal grant programs, with 4 advisory committees distributing over $200M annually to strategically invest annually in over 1000 local community development and resilience projects. Over the past 5 years in DOLA, she has identified multiple gaps and trends to successfully develop, implement and launch programs to address the needs of communities across Colorado, including for example, 4R- Rural Response, Recovery and Resilience, Colorado Resilience Office, Rural Economic Development Initiative and Transforming Safety.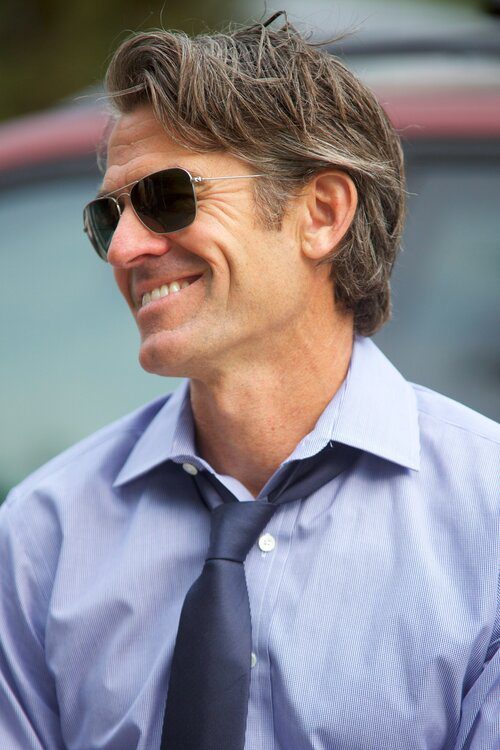 Matthew Weatherly-White
Matthew Weatherly-White Co-founder of The Caprock Group and principal architect of their market-defining Impact Investing platform, Matthew has been a recognized leader in the discipline for over a decade. In addition to supporting over $1billion of global, impact-oriented capital across all asset classes, Matthew led Caprock's successful Founding B-Corp Certification bid in 2007 and guided the company to its recognition as "Best for the World" in multiple categories over the ensuing years. Along the way, Matthew has served as strategic and board member to multiple impact investing funds, and has provided key early support for funds that now manage several hundred million in impact capital. Matthew recently left Caprock, winding down a near three-decade long career as a wealth advisor to families and institutions.
Outside of professional achievements, Matthew is a recognized thought leader, having appeared in media including The New York Times, Bloomberg, Barron's, Yahoo Finance, The Journal of Philanthropy, Kiplinger Finance and many others. His speaking engagements include TEDx, SOCAP, EuroMoney, UK Parliament, US State Department and others, and he has long been committed to encouraging the next generation of impact professionals by guest lecturing at, and serving as an advisor to, some of the leading business schools in the world: Oxford's Said, Duke's Fuqua, Stanford GSB, University of Virginia's Fuqua, Dartmouth's Tuck, etc.
He is currently under contract with Penguin Random House to pen a book on the future of capitalism, percolating a project that just might solve the challenge of democratizing access to impact investing for small investors, reading voraciously, spending a ton of time with his family and doing his best to enjoy wilderness with the same level of feral enthusiasm that first led him to explore high places when he was a child growing up in Colorado.