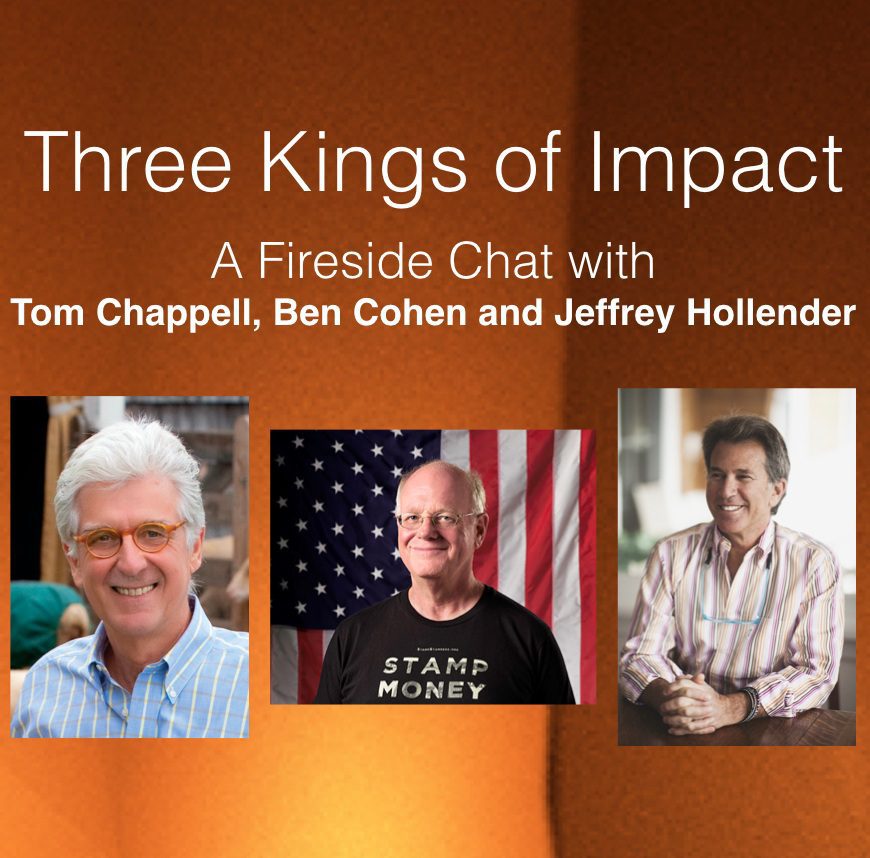 $15.00
Content: Video Webinar Presentation with Q&
Length: 1:12:30
Premium Members get free access to the entire catalog of past webinars as well as invitations to upcoming, live programs.
$15.00Add to cart
Stream our February 20, 2019 webinar with the legendary founders of Tom's of Maine, Ben & Jerry's and Seventh Generation
In the universe of social impact business, Tom's of Maine (1970), Ben & Jerry's (1978) and Seventh Generation (1988) were decades ahead of the game and to this day capture the attention like few other mission-driven companies. The companies are beloved by consumers and their founders are legendary in the world of social enterprise. The influence that they have had on the business landscape is incalculably large and profound. They are the early pioneers of a transformational business movement that is now cascading across the world.
In this historic, live fireside chat, Impact Entrepreneur welcomes founders Tom Chappell (Tom's of Maine), Ben Cohen (Ben & Jerry's) and Jeffrey Hollender (Seventh Generation) to share the stage together for the very first time. We discuss their entrepreneurial paths, the companies they led and what they are currently doing with their time and energies. The conversation is followed by a live Q&A with the webinar's audience.
Featured Guests
Tom Chappell
Tom Chappell is the founder of Tom's of Maine and Ramblers Way. He is a pioneering entrepreneur in natural personal care and sustainable business. In 1970, Tom Chappell and his wife Kate founded Tom's of Maine — a natural personal care company. Tom's of Maine went on to introduce several environmentally friendly products, including the first non-phosphate liquid laundry detergent and the first natural toothpaste. The core belief behind Tom's of Maine was that companies should minimize their environmental impact while working towards positive change in local communities.
While the Chappell's are considered pioneers of the natural & organic movement, they are also recognized as revolutionaries who helped launch a new multi-billion dollar natural personal care industry. When Tom's of Maine started there wasn't a defined market in which to sell these natural personal care products. However, by 2006, when the company decided to sell a majority stake to Colgate/Palmolive, not only had a market emerged, but it was valued at $6 billion. Today that market value is approaching $20 billion.
Not being able to sit on the sidelines after Tom's of Maine was sold, Tom and Kate decided to take action — again! Recognizing that they could apply their knowledge of sustainability and their values-grounded business practices to the fashion industry they started Ramblers Way. The company is headquartered in Kennebunk, Maine and its core mission is to create premium quality clothing made of natural fibers while maintaining sustainable and ethical practices in America. Ramblers Way was the first and only company in America to have its wool clothing certified to the Global Organic Textile Standard (GOTS). In addition, the company is Cradle to Cradle Certified™, which is a certification that ensures the guidance of a continual improvement in the process as it relates to material, health, material reutilization, renewable energy and carbon management, water stewardship, and social fairness.
In continuing with this values based mission, Mr. Chappell has authored two books shaped by these principles: The Soul of a Business: Managing for Profit and the Common Good and Managing Upside Down: Seven Intentions of Values-Centered Leadership. Additionally, Mr. Chappell travels the US giving speeches in business ethics. Mr. Chappell holds a BA in English from Trinity College and a Masters of Theological Studies from Harvard Divinity School.
Ben Cohen
Ben Cohen was born in Brooklyn in 1951 and brought up in Merrick, NY. In 1978, he and his longtime friend, Jerry Greenfield, started a homemade ice cream parlor in an old gas station in Burlington, Vermont. The ice cream was well received and after a few years, Ben & Jerry's started to distribute pints to grocery stores in New England and eventually nationally and internationally. Along the way, Ben held the positions of scooper, crepe maker, truck driver, Director of Marketing, Sales Director, CEO, and Chairman of what became a $300 Million-a-year public corporation. In 2000, despite his efforts to keep the company independent, Ben & Jerry's was sold to Unilever. Today, Ben is President and Head Stamper at the Stamp Stampede campaign whose goal it is to help build the movement to amend the constitution to get money out of politics. The Stampede encourages people to rubber stamp paper currency with messages that say "Not to be Used for Bribing Politicians" and "Stamping Money Out of Politics".
Ben and Jerry have received numerous awards and recognition, including the Corporate Giving award from the Council on Economic Priorities, the US Small Business of the Year Award from President Ronald Regan and several honorary doctorates. Along with Jerry he authored the book, Ben & Jerry's Double Dip: How to Run a Values-Led Business and Make Money, Too. In addition, Ben has served on the boards of the Social Venture Network, Hampshire College, Oxfam, Greenpeace, Business for Social Responsibility, Heifer International and Alter Eco.
Jeffrey Hollender
Jeffrey Hollender is co-founder and former CEO of Seventh Generation, which he built into a leading natural product brand known for its authenticity, transparency, and progressive business practices. Hollender is currently the founder of Sustain Natural, that developed and markets sustainable feminine care products for women. He is also Adjunct Professor of sustainability and social entrepreneurship at the Stern Business School, New York University.
Hollender is a strategic advisor and former Board Chair of the Greenpeace US; co-founder and Board Chair of the American Sustainable Business Council, a coalition of 200,000 business leaders committed to progressive public policy. He is the author of his seven books, including most recently, The Responsibility Revolution: How the Next Generation of Businesses Will Win and Planet Home. Visit him and JeffreyHollender.com
This webinar is co-sponsored by Rockefeller Philanthropy Advisors as part of its Scaling Solutions initiative.
Laurie Lane-Zucker
Laurie Lane-Zucker is Founder and CEO of Impact Entrepreneur, PBC, an impact economy business that hosts the Impact Entrepreneur Network — a large, global network of "systems-minded" entrepreneurs, investors and scholars of social and environmental innovation — and publishes ImpactEntrepreneur.com. For over 30 years, Laurie has been a "pioneer" (Forbes) and recognized leader in sustainability, social enterprise, and impact investing. Laurie was the founding Executive Director of the international environmental organization, Orion Society, which publishes the celebrated Orion Magazine, as well as the founder of a global sustainability think-tank, the Triad Institute, and Hotfrog, a Founding B Corporation, GIIRS Pioneer Company, and the first company ever to complete an equity transaction on an impact investment exchange. Laurie is the bestselling and multiple award-winning publisher and editor of books and magazines on sustainability and social impact, and the author of numerous articles on entrepreneurship and impact investing.