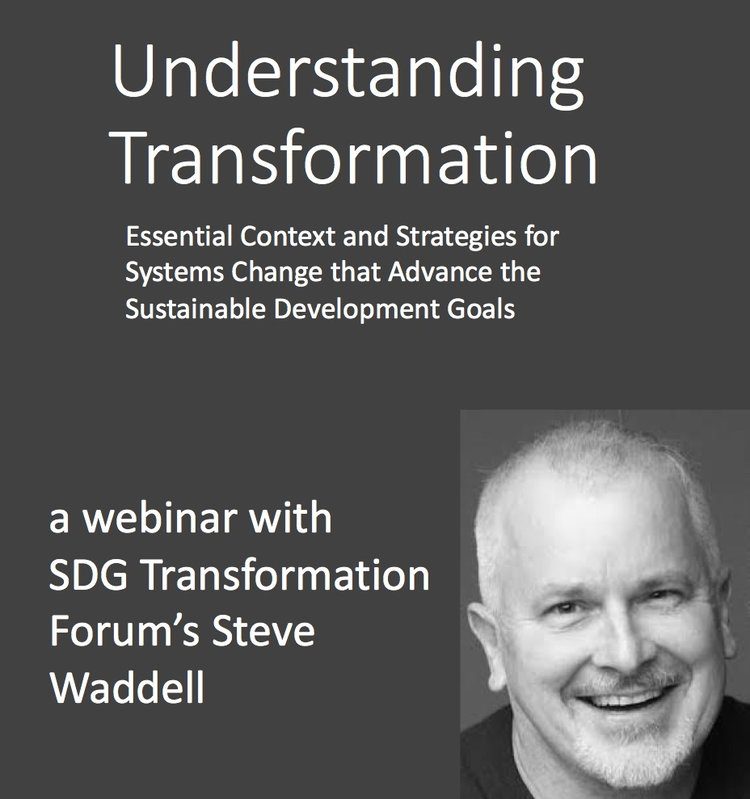 $15.00
Content: Video Webinar Presentation with Q&A
Length: 56:19
Premium Members get free access to the entire catalog of past webinars as well as invitations to upcoming, live programs.
$15.00Add to cart
"Transformation" is a much-used, and abused, term. Most commonly, it's employed to simply describe a really big change. But looking at it as a type of change, distinct from "incremental" and "reform," is critical to actually working for transformation.
Understanding the distinctions between these three types of change has deep implications for strategies and actions, especially within the context of systems change.
This webinar focuses on actions that support change, such as impact investors' and entrepreneurs', and how their impact can be enhanced through deepened understanding of transformation-specific tools and strategies.
BACKGROUND
The 2018 IPCC Special Report on Global Warming states that "limiting global warming to 1.5ºC would require rapid, far-reaching and unprecedented changes in all aspects of society," necessitating transformation of the private (business), public (government), and social (non-profit) sectors.
This webinar addresses the following questions:
What is transformation in the context of systems change?

What is the difference between the three types of change: incremental, reform and transformation?

How do we achieve transformation?

What strategies are most effective in achieving transformation?
Steve Waddell
For over 35 years Steve Waddell has worked on large systems change and transformation. He has done this as an entrepreneur, consultant, writer and educator. But primarily he has done this as a community organizer and social entrepreneur, bringing together diverse people and organizations to develop the new systems that transformation requires. He has done this locally, globally, and all levels in between. Globally, he is best known for his work with Global Action Networks (GANs), global multi-stakeholder transformation networks like the Forest Stewardship Council and Transparency International. Today his major focus is the SDG Transformations Forum, where he is lead staff. Steve has an MBS and PhD (Sociology); he is Canadian-American, living in Boston.
Laurie Lane-Zucker
Laurie Lane-Zucker is Founder and CEO of Impact Entrepreneur, PBC, an impact economy business that hosts the Impact Entrepreneur Network — a large, global network of "systems-minded" entrepreneurs, investors and scholars of social and environmental innovation — and publishes Impact Entrepreneur Magazine. For over 30 years, Laurie has been a "pioneer" (Forbes) and recognized leader in sustainability, social enterprise, and impact investing. Laurie was the founding Executive Director of the international environmental organization, Orion Society, which publishes the celebrated Orion Magazine, as well as the founder of a global sustainability think-tank, the Triad Institute, and Hotfrog, a Founding B Corporation, GIIRS Pioneer Company, and the first company ever to complete an equity transaction on an impact investment exchange. Laurie is the bestselling and multiple award-winning publisher and editor of books and magazines on sustainability and social impact, and the author of numerous articles on entrepreneurship and impact investing.