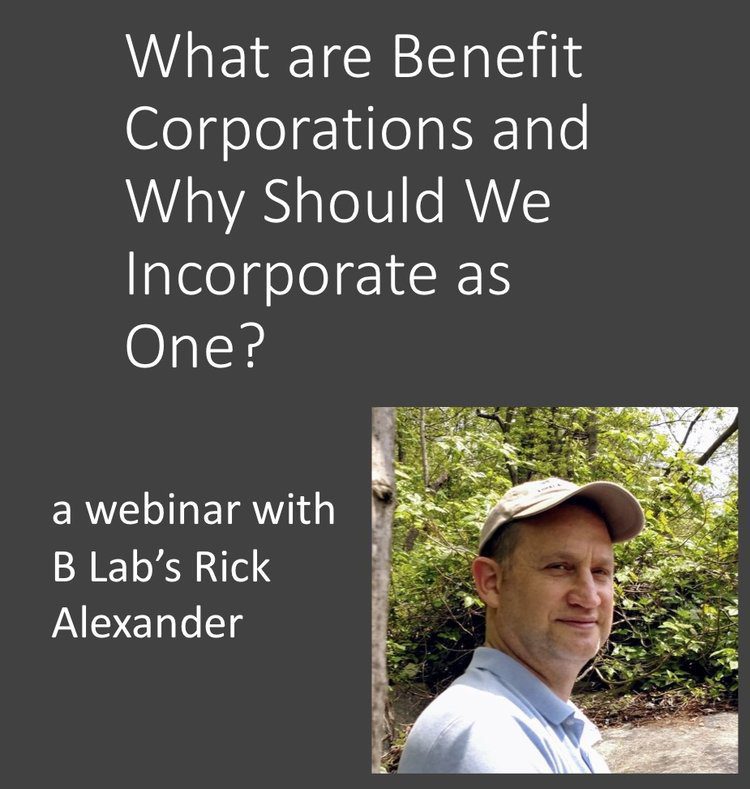 $15.00
Content: Video Webinar Presentation with Q&A
Length: 55:45
Premium Members get free access to the entire catalog of past webinars as well as invitations to upcoming, live programs.
$15.00Add to cart
There are now more than 8,000 benefit corporations in the United States, and the law is spreading to other countries as well. Italy and Columbia have adopted statutes, legislation has been introduced in three other countries, and it is being considered in a number of other countries. More than 50 benefit corporations have raised capital for a total of $2.0 billion invested. View this webinar to learn the reasons for the new form, and how and why a company might choose to adopt the structure.
BACKGROUND
When competing for twenty-first century customers, workers and license to operate companies must serve a variety of constituencies. Nor can this service be relegated to glossy CSR programs that are siloed from the actual business. Workplaces are prominently rated, supply chains are vigorously audited and carbon emissions are tallied. Yet at the same time that corporate responsibility to these social and environmental constituencies is rising, management and boards find themselves under increasing pressure to deliver quick financial results for shareholders.  
This construct creates a contradiction: product, service and talent markets demand corporations that practice authentic value-based principles, while capital markets (and, to some extent, legal principles) seem to demand a value-free drive for profit. This tension makes it very difficult to earn the trust of the very workers, customers and communities that will allow a corporation to thrive over the long term.
Very quietly, state legislatures across the country have created a solution. In the last eight years, thirty-five states, including Delaware, have made a new governance model available to corporations. Corporations chartered in those states can amend their charters to become "benefit corporations," and thereby allow their boards and managers to make commitments to all of their constituencies, encouraging a collaborative atmosphere in which the creation of long-term, durable value is encouraged. 
This webinar is led by one of the world's leading authorities on benefit corporations. The webinar will include a slide presentation followed by a Q&A with webinar attendees. The presentation will address such questions as:
How does a benefit corporation differ from a traditional corporation?

What's the difference between a "B Corp" and a "benefit corporation"

What is the cost of becoming a benefit corporation?

How do investors feel about the form?

Are there any "success stories?"
Rick Alexander
Rick practiced law for 26 years at Morris, Nichols, Arsht & Tunnell LLP, including four years as managing partner. He remains counsel to the firm. During that time, he was selected as one of the ten most highly regarded corporate governance lawyers worldwide, as Delaware Mergers & Acquisitions Lawyer of the Year, as Delaware Corporate Law Lawyer of the Year, and as one of the 500 leading lawyers in the United States. In 2015, Rick became the Head of Legal Policy at B Lab. In that position, Rick works with lawyers, companies, investors, legislators and regulators around the world, seeking to create sustainable corporate governance structures.
Rick prepared the initial drafts of both the Delaware public benefit corporation legislation and the ABA Benefit Corporation White Paper, and serves as Special Consultant to the ABA's Corporate Laws Committee. He is a member of the Delaware Access to Justice Commission, Chair of the Content Committee of the American College of Governance Counsel, a member of the Commonwealth Climate and Law Initiative Advisory Board, a Research Fellow of British Academy Future of the Corporation Program, and a member of the Advisory Council of the Program on Purposeful Ownership at the Said Business School, Oxford. He is also Secretary of the Transgender Legal Defense and Education Fund.
Laurie Lane-Zucker
Laurie Lane-Zucker is Founder and CEO of Impact Entrepreneur, LLC, an impact economy business that hosts the Impact Entrepreneur Network — a large, global network of "systems-minded" entrepreneurs, investors and scholars of social and environmental innovation — and publishes Impact Entrepreneur Magazine. For over 30 years, Laurie has been a "pioneer" (Forbes) and recognized leader in sustainability, social enterprise, and impact investing. Laurie was the founding Executive Director of the international environmental organization, Orion Society, which publishes the celebrated Orion Magazine, as well as the founder of a global sustainability think-tank, the Triad Institute, and Hotfrog, a Founding B Corporation, GIIRS Pioneer Company, and the first company ever to complete an equity transaction on an impact investment exchange. Laurie is the bestselling and multiple award-winning publisher and editor of books and magazines on sustainability and social impact, and the author of numerous articles on entrepreneurship and impact investing. Laurie is contributing author of the recently published, bestselling textbook from World Scientific, Sustainability: Business and Investment Implications (2023).