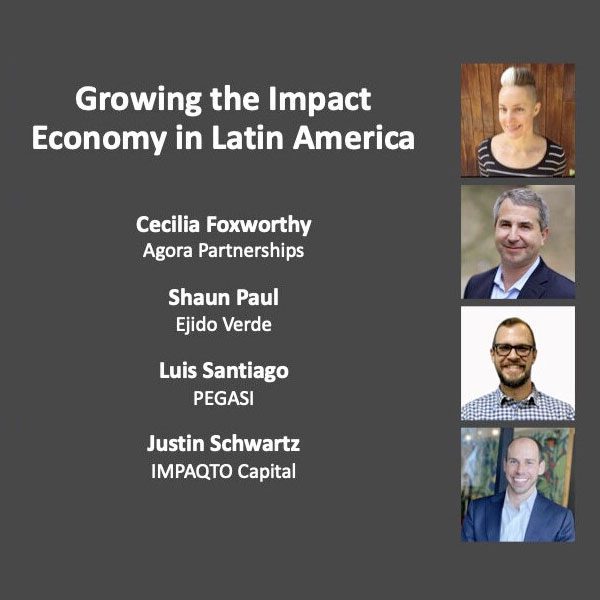 $15.00
Content: Video Webinar Presentation with Q&A
Length: 1:13:41
Premium Members get free access to the entire catalog of past webinars as well as invitations to upcoming, live programs.
$15.00Add to cart
How can the impact movement create inclusive prosperity across Latin America that is driven by social and environmental sustainability? According to
Agora Partnerships
, a leading impact organization focused on the LatAm region, "Entrepreneurship is fundamental to human progress. In order to meet the UN Sustainable Development Goals – to challenge global inequality, fight extreme poverty, and protect our planet – we need to unlock entrepreneurial potential at scale."
In this Building an Impact Economy Webinar Series panel discussion, Impact Entrepreneur welcomes Agora's CEO Cecilia Foxworthy and representatives from several of their many field-building partners to discuss the landscape of impact entrepreneurship and impact economy building in Latin America. The panel will highlight some of the most exciting entrepreneurial ventures that are addressing the SDGs, as well as some of the visionary leaders and organizations that are collaborating to create a vibrant and supportive ecosystem for impact enterprises to flourish.
Laurie Lane-Zucker
Laurie Lane-Zucker is Founder and CEO of Impact Entrepreneur, PBC, an impact economy business that hosts the Impact Entrepreneur Network — a large, global network of "systems-minded" entrepreneurs, investors and scholars of social and environmental innovation — and publishes Impact Entrepreneur Magazine. For over 30 years, Laurie has been a "pioneer" (Forbes) and recognized leader in sustainability, social enterprise, and impact investing. Laurie was the founding Executive Director of the international environmental organization, Orion Society, which publishes the celebrated Orion Magazine, as well as the founder of a global sustainability think-tank, the Triad Institute, and Hotfrog, a Founding B Corporation, GIIRS Pioneer Company, and the first company ever to complete an equity transaction on an impact investment exchange. Laurie is the bestselling and multiple award-winning publisher and editor of books and magazines on sustainability and social impact, and the author of numerous articles on entrepreneurship and impact investing.