Impact Entrepreneur is honored to again be an Official Nominator for The Earthshot Prize. Applications for nomination for the 2023 Prize are now open.
*The IE Application Window Has Now Closed*
About the Earthshot Prize
The Earthshot Prize was designed to find and grow the solutions that will repair our planet this decade. We face our greatest challenge; to regenerate the place we all call home in the next ten years.
We believe in the power of human ingenuity to prove to us all that the seemingly impossible is possible.

All interested parties should review the following two documents closely so as to understand the criteria and make an informed judgement as to whether you should apply.
Guide to Selection Priorities 2023
Impact Entrepreneur's Application Review Process
Given the fact the Impact Entrepreneur runs the largest global network of transformation-minded entrepreneurs, investors, and scholars, and based on our experience as an Official Nominator for the 2022 Prize, we expect a significant number of applications. In order to properly review each and every application, we have set our deadline for receiving applications as January 9, 2023 (the deadline for our official nominations is January 31st).
*The IE Application Window Has Now Closed*
Our Evaluation Committee is made up of members of our staff, team of correspondents, and advisory board. While the Committee has been given no limit as to the number of applications it can nominate, the review process will be rigorous and it is anticipated that only a small number of applications will be chosen for official nomination.
Important heads up — our application form, which includes the same fields as the formal nomination form we use to submit an official nomination, is rather extensive (three sections). We urge you to take your time with it and make sure to put your best foot forward (as you might expect, the Prize competition is extremely competitive).
*The IE Application Window Has Now Closed*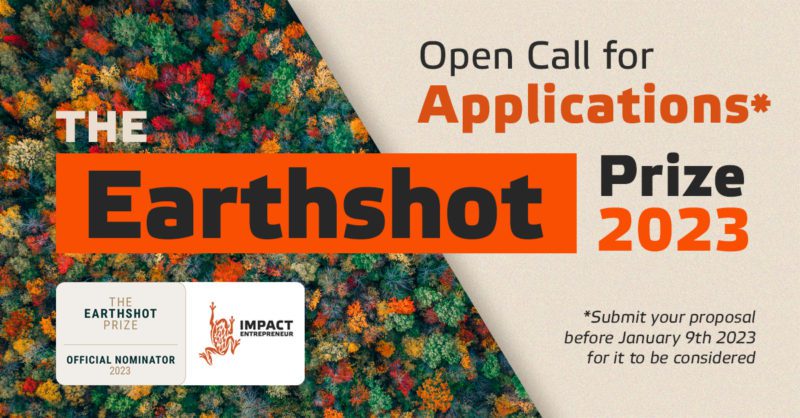 Earthshot Prize Founder Prince William Discusses Vision for Biggest Environmental Awards on the Planet