Investing in Locally-led Rural Resilience with Willy Foote
Thursday, April 21, 2022
12:00 PM - 1:15 PM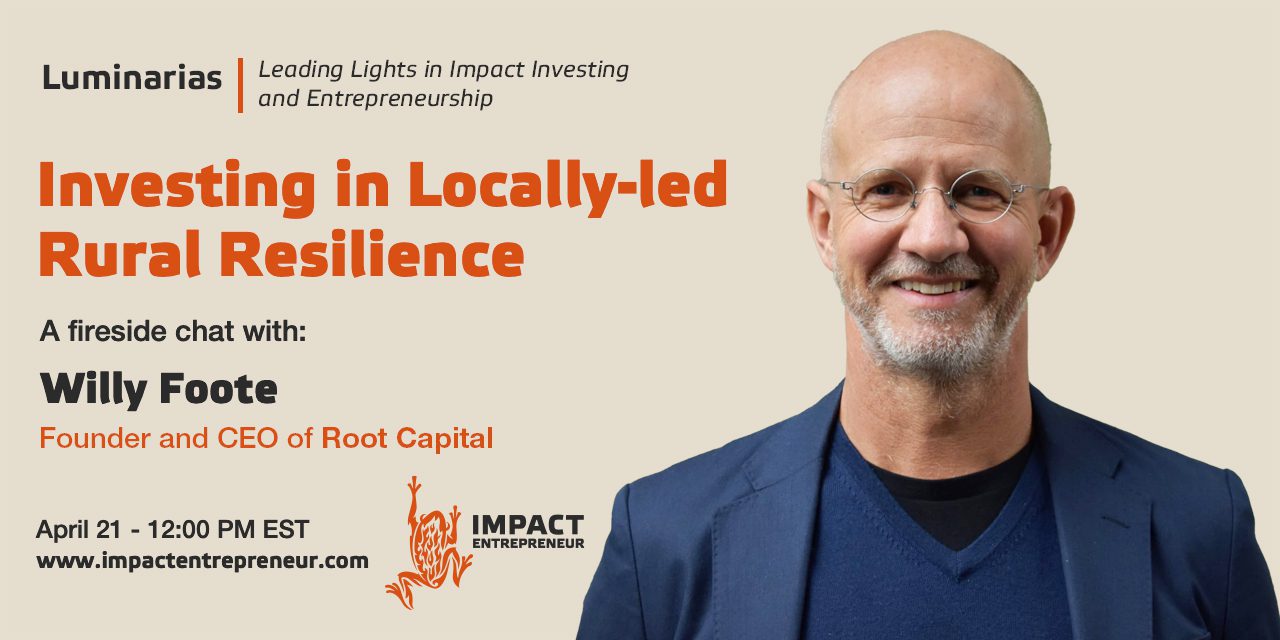 ​Globally, 2.5 billion people rely on smallholder agriculture for their livelihoods. Farming families lack access to critical resources like business knowledge, market connections, and financing. Fortunately, there's a solution. Agricultural enterprises are engines of impact in rural communities, connecting farmers with higher prices on the international market and helping them tackle some of their most dire challenges: gender inequity, youth unemployment, cycles of poverty, and the impacts of climate change. But these enterprises are unserved by financial institutions. They fall into the "missing middle" of agricultural finance — too big for microfinance yet too small for a commercial bank.
In 1999, Willy Foote founded Root Capital to close that rural financing gap and unlock impact in their communities. Root Capital leverages blended finance to extend credit to these enterprises while building their business and agronomic knowledge so that they can build their long-term resilience.
In this live fireside chat and audience Q&A, Impact Entrepreneur's Laurie Lane-Zucker welcomes Willy Foote to discuss the story of Root Capital and how to use catalytic capital to drive impact in rural communities. Over the conversation, we'll learn about:
Root Capital's novel triangulated payment model that allows them to make loans that other financial institutions don't
The lessons learned over the past twenty years as they've moved from focusing on bankability to building the long-term resilience of their clients; and
How agricultural enterprises are uniquely positioned to promote gender equity, include young people, and unlock grassroots climate action in rural communities.
Willy Foote
Willy Foote is founder and CEO of Root Capital, a nonprofit that offers farmers around the world a pathway to prosperity by investing in agricultural businesses that serve as engines of impact in their communities. Since 1999, Root Capital has provided more than $1.6 billion in loans to 740 agricultural businesses in Africa, Asia, and Latin America reaching 2.3 million smallholder farmers and over 10 million people in rural communities.
Foote is a Skoll Entrepreneur and an Ashoka Global Fellow. He was named a Young Global Leader by the World Economic Forum in 2008, one of Forbes'  "Impact 30" in 2011, was a 2012 Henry Crown Fellow of the Aspen Institute, and was the 2020 Northeast Honoree for the Young Presidents' Organization (YPO) Global Impact Awards. He served for nearly a decade on the Executive Committee of the Aspen Network for Development Entrepreneurs (ANDE), is a member of the Council on Foreign Relations and YPO, and serves on the Strategic Advisory Council of the Erb Institute for Global Sustainable Enterprise at the University of Michigan. Foote holds an MS in development economics from the London School of Economics and a BA from Yale University.
Laurie Lane-Zucker
Laurie Lane-Zucker is Founder and CEO of Impact Entrepreneur, LLC, an impact economy business that hosts the Impact Entrepreneur Network — a large, global network of "systems-minded" entrepreneurs, investors and scholars of social and environmental innovation — and publishes Impact Entrepreneur Magazine. For over 30 years, Laurie has been a "pioneer" (Forbes) and recognized leader in sustainability, social enterprise, and impact investing. Laurie was the founding Executive Director of the international environmental organization, Orion Society, which publishes the celebrated Orion Magazine, as well as the founder of a global sustainability think-tank, the Triad Institute, and Hotfrog, a Founding B Corporation, GIIRS Pioneer Company, and the first company ever to complete an equity transaction on an impact investment exchange. Laurie is the bestselling and multiple award-winning publisher and editor of books and magazines on sustainability and social impact, and the author of numerous articles on entrepreneurship and impact investing. Laurie is contributing author of the recently published, bestselling textbook from World Scientific, Sustainability: Business and Investment Implications (2023).