Project DEEP (Developing Equitable Economies Program) aims to disrupt the status quo in entrepreneurship and investing to unlock equitable wealth creation for underrepresented entrepreneurs and investors. In this Q&A, Project DEEP course instructor and national thought leader in entrepreneurship ecosystem building Dell Gines discusses the importance of creating communities that support entrepreneurs and fuel equitable economic development.
Dr. Dell Gines is a national thought leader in entrepreneurship ecosystem building. As a banker for the Black community in Omaha, Nebraska, Dell became aware of the lack of support financial institutions gave to Black entrepreneurs. As a result, he committed his work to the economic development landscape. Throughout his career, he has sat on loan committees, created personal finance and business plan classes for entrepreneurs, and helped with economic development efforts in outlying rural communities through Rural Futures.
Dell Gines discusses inclusive entrepreneurship
Dell's work exposed him to severe disparities in wealth and economic opportunity between the white and Black communities in Omaha. A Pew Research report found that Omaha had the second widest gap in economic health between Black and white people in the country. Dell knew that Black, Hispanic, and small rural communities across the country continue to struggle despite the massive economic growth occurring around them. This fact compelled him to focus on economic development in these communities by building thriving entrepreneurship ecosystems.
Drawing on his experience in inclusive entrepreneurship ecosystem building, Dell teaches the Entrepreneurial Ecosystem Building course as part of the Sorenson Impact Center's Project DEEP program. In the course, he covers the evolution of economic development, the elements of entrepreneurship ecosystem building, and inclusivity as a framework for development. In this conversation, he discusses the importance of creating communities of support for entrepreneurs in order to fuel equitable economic development.
Project DEEP centers on the need to change our systems and power structures in order to remove barriers for women and people of color to be successful entrepreneurs and investors. How does your work further this goal?
Entrepreneurship is important to wealth creation and community growth, and has the potential to create economic equity. By prioritizing inclusive entrepreneurship ecosystem building, individuals and communities that are often left out — or are on the lower end of the wealth creation process — will have a fairer opportunity to share in the economic growth of the United States. By ensuring that more diverse individuals can start and grow successful businesses, you also help decentralize wealth in the United States and empower these individuals and their communities to make decisions on their own behalf. This is why inclusive ecosystem building is important.
I want local communities to recognize that entrepreneurship success is a community sport. America has pushed the notion of rugged individualism in entrepreneurship, which is just not true.
Can you explain "entrepreneurial ecosystem building" and the impact this can have on underserved communities? Why is investing in entrepreneurship so important to making economic development more equitable?
An entrepreneurship ecosystem, in short, is the community of support for entrepreneurs. Traditional support of entrepreneurship focuses on single programs or resources. These often include access to credit and capital, relationship networks, or technical assistance. While these are all important, entrepreneurs require many more things to be successful in their communities. These include a supportive local culture, infrastructure, and good small business policy. Ecosystem builders work on behalf of entrepreneurs in their community to ensure that all of the previously mentioned things work well for entrepreneurs. If they don't, entrepreneurship ecosystem builders work to fill any gaps and strengthen any weaknesses in the local community.
In terms of solutions, what is the top change you would like to see to better support underestimated entrepreneurs in the ecosystem? What one thing would make the biggest difference?
I want local communities to recognize that entrepreneurship success is a community sport. America has pushed the notion of rugged individualism in entrepreneurship, which is just not true. Communities with strong networks of support and a commitment to entrepreneurship have more and stronger entrepreneurs. By taking a holistic, community-centered approach to developing entrepreneurs, marginalized entrepreneurs can accelerate their growth and create pathways to prosperity in some of our most economically distressed communities.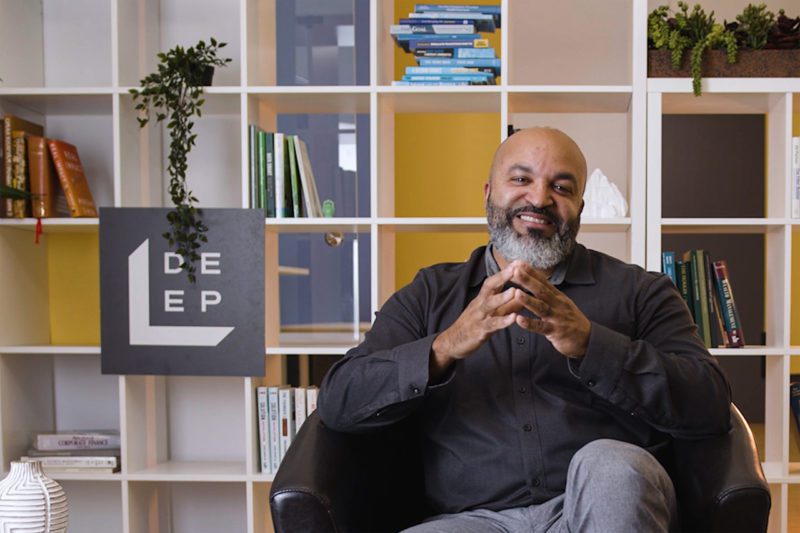 For an economic developer or community champion who wants to make a difference in their community, what first steps can they take to drive that change?
I would recommend three things. The first is to learn about and engage with the field of entrepreneurship ecosystem building. The field is growing extremely fast, with a wide variety of practitioners worldwide. The second is to prioritize entrepreneurship in their economic and community development strategies. Entrepreneurship is one of the most effective ways to create economic prosperity in communities. The third and arguably the most important is to do every development activity with an eye toward diversity and equity. This is imperative for both ethical and economic reasons.
What do you hope your Project DEEP course offers? What do you hope someone will take away from this course?
I hope this course will help people understand entrepreneurship ecosystem building and its potential to create true economic equity in the United States. In addition, I hope that individuals who watch the course will understand the foundations of entrepreneurship ecosystem building and some practical ways they can begin to utilize this development strategy in their communities to create economic growth.