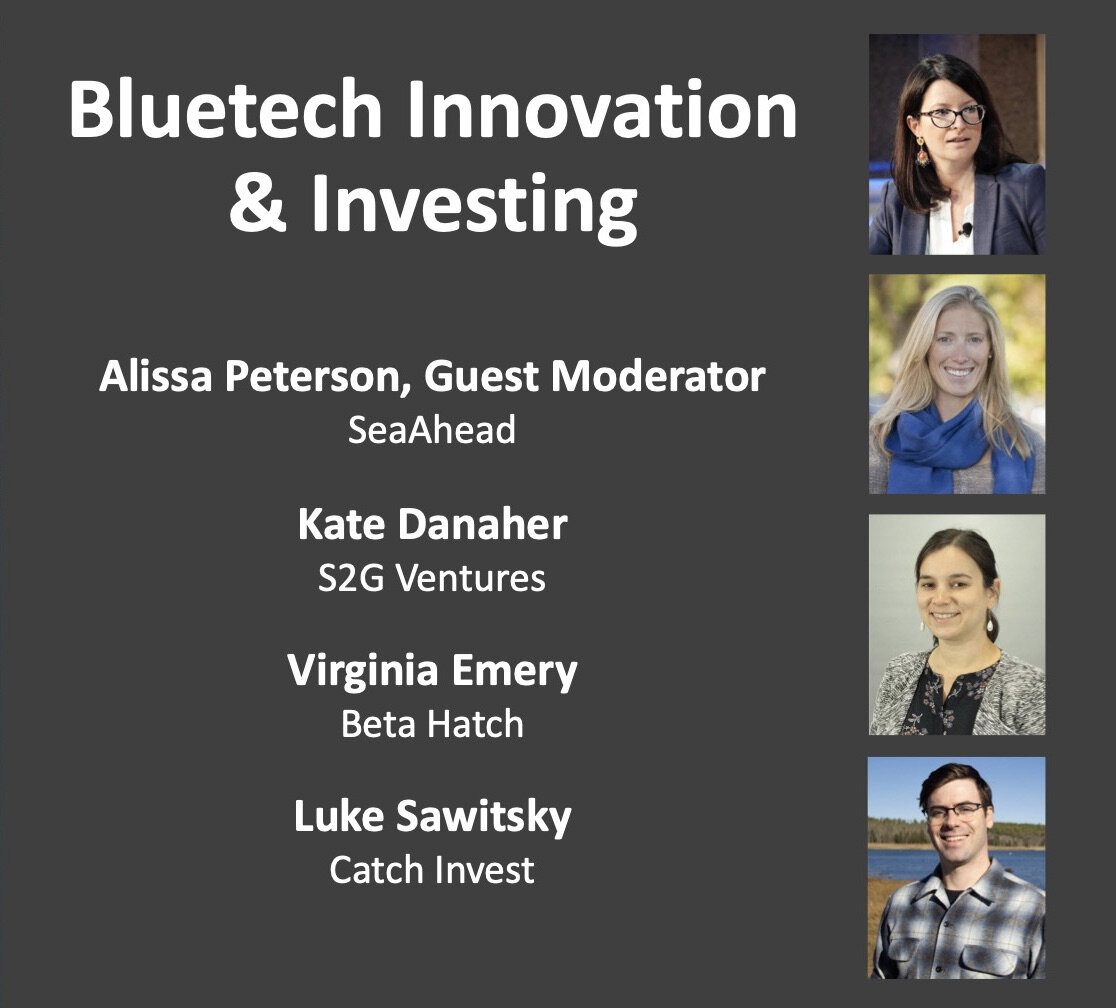 $15.00
Content: Video Webinar Presentation with Q&A
Length: 1:10:32
Premium Members get free access to the entire catalog of past webinars as well as invitations to upcoming, live programs.
$15.00Add to cart
Bluetech Innovation & Investment: Growing and Funding Business for a Sustainable Ocean Future
As emphasized in SDG 14, the stresses on the world's oceans are growing. Our climate is changing as global populations rapidly approach 8 billion people, with over 40% of them living near the coast. Demand for marine-based food continues to increase and the sea is also being used in new ways – from ocean farming to large-scale energy generation. The OECD estimates the size of the Blue Economy at over $1.5 trillion and on track to double by 2030. This combination of factors presents an acute need – as well as an opportunity – for new, scalable technologies and ventures that improve ocean sustainability.
We are starting to see parallels to the macro drivers and global trends that launched Cleantech over 20 years ago and Food & Agriculture venture innovation about 10 years ago. Blue Economy spending and investment is increasing in a range of opportunities, including the decarbonization and electrification of shipping and ports, expansion of the aquaculture industry, and demand for marine renewable energy, coastal resiliency, "smart" urban waterfronts, and ocean biodegradable plastics. Just imagine the opportunities that apply to 71% earth's surface when it is catching up to state-of-the-art technologies adapted from 29% of the surface. In the last few years, ocean specific incubators, angel investment groups, and VC funds have started to leap at the chance to make a good profit while supporting innovations with strong environmental and social impact.
During this program, organized in partnership with SeaAhead, we will discuss:
How startup incubators, like SeaAhead's BlueSwell program, can support the growth of bluetech entrepreneurs and open innovation for the ocean
The perspective of an entrepreneur whose company has the potential to disrupt aquaculture supply chains by producing a sustainable, alternative feed
What Angel Investors are looking for when they decide to invest in this nascent space
The role that later stage investment is playing in the ocean technology ecosystem
Adaptation of land-based technologies to ocean-based challenges and the overlap of investment opportunities
Guest Moderator
ALISSA PETERSON
ALISSA PETERSON is a Co-Founder and the Executive Director of SeaAhead, which has a mission of furthering 'Venture Innovation for the Ocean' by supporting startups with technologies that enhance ocean health or sustainable ocean industries. At SeaAhead, Alissa manages finance, operations and strategic partnerships including overseeing our incubator collaboration with the New England Aquarium, BlueSwell.
Prior to SeaAhead, she was most recently the VP of Product Marketing & Planning at NanoSteel, an advanced materials company creating scalable solutions for vehicle lightweighting and 3D printing. Prior to NanoSteel, Alissa was Director of Product Marketing & Business Development at Primus Power, a venture-backed grid-scale energy storage technology company. Through her work at NanoSteel and Primus, she has managed business development, strategic planning, product marketing, communications, government relations and M&A. Prior to her startup experience, Alissa was a consultant in McKinsey's Global Sustainability & Resource Productivity Practice in the US and Europe where she served clients on cleantech growth strategy. She acts as a mentor through the Cleantech Open, MIT Clean Energy Prize and Year Up. Alissa holds a Master's in Mechanical Engineering from MIT and a BS in Civil Engineering from Duke University. Outside of work, Alissa can often be found either playing LEGOs with her son or covered in plaster dust from renovating her 1830's colonial.
Featured Guests
KATE DANAHER
KATE DANAHER is Managing Director of S2G Ventures Ocean and Seafood. Kate has worked at the intersection of impact investing and sustainable food and agriculture for over eight years. Kate believes that business can catalyze the positive social and environmental shifts we need in this world but that the right capital partners and ecosystem are critical to their success. Kate specializes in structuring capital, facilitating syndications and providing wrap around resources to enable businesses to scale while preserving their mission. Prior to joining S2G Ventures, Kate was the Chief Lending Officer at RSF Social Finance, where she oversaw the capital deployment strategy to evaluate products, investment sectors, and growth objectives in alignment with the organization's strategic plan. She is a food and agriculture finance expert who has specialized in the US food system, fair trade supply chains, and consumer-facing brands. Kate received her MBA through the Global Social and Sustainable Enterprise program at Colorado State University.
VIRGINIA EMERY
VIRGINIA EMERY is founder and CEO of Beta Hatch, a pioneering insect farming company that is industrializing insects for agriculture. Beta Hatch is fueled by a passion to see insects reach their true potential in our food systems. The company has grown to be internationally recognized for its scientific approach to scaling insect production, and operates North America's largest mealworm farm for animal feed production in Washington. Virginia is the country's most innovative insect entrepreneur, recently recognized as a Visionary Grist 50 Fixer. Virginia has a PhD in entomology from the University of California, Berkeley, has been awarded over 20 grants and honors, and has published on subjects ranging from chemical communication to genetics to insect behavior. Her life's mission is to breed a bug that tastes like bacon.
LUKE SAWITSKY
LUKE SAWITSKY is the Vice President and Director of Investments at Catch Invest , an impact investor specializing in fisheries asset financing in North America. Luke has worked at Catch Invest since 2019 and has worked on quota acquisition deals as well as emergency COVID relief to support fisheries communities and address food insecurity across the nation. Prior to Catch Invest, Luke worked at a variety of roles in fisheries and the blue economy, including stints in the aquaculture industry at a venture backed biotech startup, managing a salmon buying station in Alaska, and as a consultant for the New England Aquarium. Passionate about fisheries and sustainability, Luke is a life-long recreational fisherman who received his BA from Northwestern University as well as an MBA and an MS in Sustainable Systems from the University of Michigan. At Michigan he was an Associate for three years at the University of Michigan Social Venture Fund, a student-operated early stage VC fund specializing in Impact Venture Capital.
Laurie Lane-Zucker
Laurie Lane-Zucker is Founder and CEO of Impact Entrepreneur, PBC, an impact economy business that hosts the Impact Entrepreneur Network — a large, global network of "systems-minded" entrepreneurs, investors and scholars of social and environmental innovation — and publishes Impact Entrepreneur Magazine. For over 30 years, Laurie has been a "pioneer" (Forbes) and recognized leader in sustainability, social enterprise, and impact investing. Laurie was the founding Executive Director of the international environmental organization, Orion Society, which publishes the celebrated Orion Magazine, as well as the founder of a global sustainability think-tank, the Triad Institute, and Hotfrog, a Founding B Corporation, GIIRS Pioneer Company, and the first company ever to complete an equity transaction on an impact investment exchange. Laurie is the bestselling and multiple award-winning publisher and editor of books and magazines on sustainability and social impact, and the author of numerous articles on entrepreneurship and impact investing.