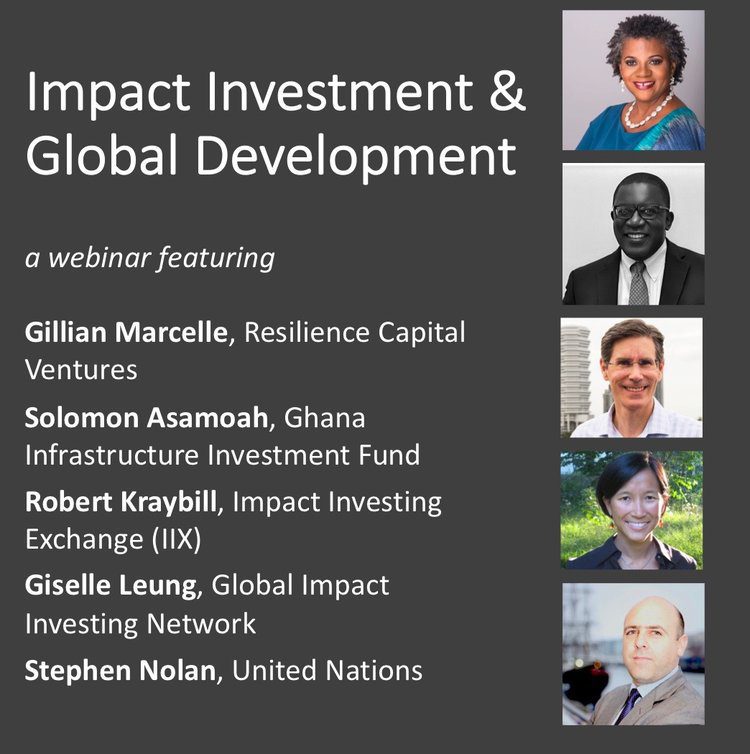 $15.00
Content: Video Webinar Presentation with Q&A
Length: 1:20:35
Premium Members get free access to the entire catalog of past webinars as well as invitations to upcoming, live programs.
$15.00Add to cart
The international community is in agreement about the imperative for generating large scale private sector finance and deploying these funds towards development challenges. The sustainable development goals SDGs are a succinct set of aspirational goals. Impact investment, with its dual focus on financial returns and social impact, has the potential to contribute to achieving the SDGs. In this webinar, we discuss with leaders in the impact investment community:
Approaches to building collaboration across divides and cultures that separate large institutional investors, specialist impact investment firms, philanthropies and development finance institutions DFIs

Status report on efforts to gain traction on applying impact investment principles to global development

Perspectives on ensuring good governance of the global impact investment community, to better achieve adherence and commitment to accountability, representation and diversity

Track record and good practice in extending field building efforts to under-reached areas of the world and an understanding of the enabling factors to encourage impact investment

Communication strategies to capture the attention of millennials and youth
THIS WEBINAR IS THE FINAL IN A SERIES OF THREE PROGRAMS FOCUSED ON DIVERSITY, INCLUSION AND ACCOUNTABILITY IN IMPACT INVESTMENT DESIGNED IN COLLABORATION WITH GILLIAN MARCELLE OF RESILIENCE CAPITAL VENTURES LLC. FOR MORE INFORMATION ON THE SERIES, VISIT THIS LINK.
Moderator
Dr. Gillian Marcelle
Dr. Gillian Marcelle, founder of Resilience Capital Ventures LLC, is a blended finance specialist. She is a senior leader in finance and international development who currently works on capital raising for large cap funds, provides support to startups led by women and people of color and advises on ecosystem strengthening for impact investment. Her track record in attracting investment to emerging markets includes equities and capital markets work with JP Morgan Chase in Sub Saharan Africa and more recent investment promotion for the United States Virgin Islands, a US Territory in the Caribbean. She has also led project teams in post conflict countries for the International Finance Corporation. A long-time advocate for social justice and economic transformation, she has provided public service at the highest levels of the international community, having been appointed to the UN ICT Task Force by Kofi Annan, then UN Secretary General. Her academic qualifications include degrees in economics, business administration and innovation policy from the University of the West Indies, Kiel Institute of World Economics (Germany) George Washington University (USA) and SPRU, University of Sussex (UK).
Featured Guests
Solomon Asamoah
Solomon Asamoah is an investment professional with over 25 years of experience originating and executing transactions in both developed and developing markets. He has personally led over $4bn in transactions across the African continent. In April 2017, he was appointed the CEO of the Ghana Infrastructure Investment (GIIF), an investment vehicle, initially capitalized at USD $250m, with a mandate to originate, structure and invest in infrastructure-related projects across Ghana. He has also held senior leadership positions at the African Development Bank (AfDB), where his responsibilities including the bank's power, infrastructure and private sector operations; at various financial institutions, where he was involved in capital markets and equity (including private equity funds), including for example at Nepad, Africa Finance Corporation, the Development Bank of Southern Africa (DBSA), International Finance Corporation (IFC), the World Bank and HSBC Markets. Mr Asamoah has a Masters Degree in Chemical Engineering from Imperial College, London.
Robert Kraybill
Robert Kraybill is Managing Director, Portfolio Management and Chief Investment Officer of Impact Investment Exchange (IIX). In this role, Kraybill leads all of IIX's portfolio management activities. He led the effort in the launch of IIX's first Women's Livelihood Bond™ and is leading the team developing the $100 million Women's Livelihood Bond 2™ and the Women's Catalyst FundTM. In addition, Kraybill leads IIX's efforts to launch a $25 million impact investment fund – the IIX Growth Fund – to make growth equity investments in high-impact enterprises in underserved markets of South and Southeast Asia with a focus on women empowerment. Before joining the impact investing movement, Kraybill spent nearly 20 years in the traditional capital markets as an advisor and investor, most recently as head of Asian private equity for Marathon Asset Management, a US$12 billion alternative investment manager. Before that, Kraybill was head of investment banking, Asia ex-Japan, for Dresdner Kleinwort Wasserstein. Kraybill began his career at Morgan Stanley and Credit Suisse. Kraybill received his B.A. magna cum laude from Princeton University and his J.D. summa cum laude from the University of Pennsylvania. Kraybill has lectured on M&A as an Adjunct Professor at the Singapore Management University.
Giselle Leung
Giselle Leung serves as Managing Director of the Global Impact Investing Network (GIIN), a not-for-profit organization dedicated to increasing the scale and effectiveness of impact investing. In this leadership role, she provides strategic direction on how the GIIN supports the global impact investing industry and drives the cultivation of strategic partnerships. Giselle joined the GIIN in 2010 as the founding manager of the Investors' Council, a leadership group of experienced, large-scale impact investors.
Prior to joining the GIIN, Giselle was a manager at Enterprise Solutions to Poverty (ESP), where she worked with leading companies in India, China, Colombia and Mexico to build inclusive business strategies that engage the poor in areas of agribusiness, microfinance, and social enterprise. Giselle began her career at Cambridge Associates providing investment portfolio analysis to large non-profit endowments, and was a business strategy consultant at Braun Consulting. Giselle also served as a Peace Corps volunteer in Panama where she advised rural artisan groups on business operations, marketing and sales. Giselle holds an MBA and a Master of International Affairs from Columbia Business School and The School of International and Public Affairs, and a BA in psychology from Harvard University.
Stephen Nolan
Stephen Nolan is Managing Director at the United Nations Environment Financial Centers for Sustainability Network. He is also Founder & CEO of Sustainable Nation Ireland. Prior to his current role at the UN, Stephen was Special Advisor to the Secretary General, CEO of the UN's Global eSchools & Communities Initiative, and co-founder and CEO of Green International Financial Services Centre.
Stephen has led and delivered initiatives from start-up to scale across both public/private spheres in Europe, Asia, Latin America, Africa and North America. He has a background in technology, policy and, most recently, sustainable and responsible finance, and he possesses a distinct skillset/understanding of the machinery of Government, international agencies and businesses/capital markets, and where they collaborate to drive market opportunities. His track record demonstrates the ability to successfully lead, raise capital for and execute complex, multi-stakeholder undertakings at the highest levels internationally.