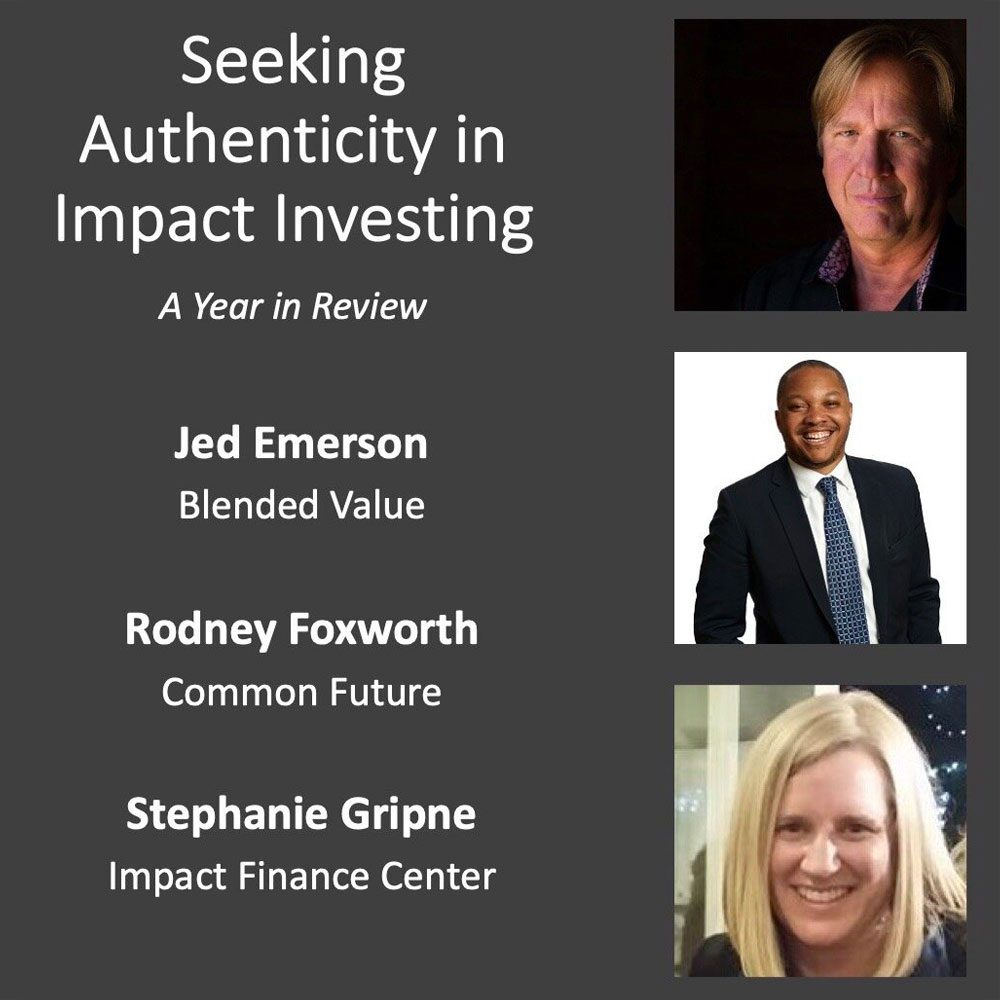 $15.00
Content: Video Webinar Presentation with Q&A
Length: 1:15:58
Premium Members get free access to the entire catalog of past webinars as well as invitations to upcoming, live programs.
$15.00Add to cart
Over the course of 2019, there has been a discernable, growing focus on "authenticity" in the impact investing and entrepreneurship space. As more and different types of capital — some of which is more unintentional and self-interested than conscious and mission-centric — enter the space, there has been an increasing interest in finding ways to maintain authenticity and keep impact investing "on mission".
In this 2019 Year in Review webinar, three impact investing luminaries address these and related questions:
What is authenticity in impact investing?
Is "impactwashing" (or "greenwashing") a growing concern? If so, how can it be identified and, if necessary, called out?
How vulnerable are ESG practices in/reporting by public companies and ESG investing to impactwashing?
What is the relationship between personal authenticity/transformation and authentic impact investing?
What steps can impact entrepreneurs take to ground their businesses in authenticity and locate capital that is truly mission aligned?
How does the growing practice of place-based investing assist in grounding authenticity of impact? What are the challenges of maintaining authentic impact focus in this community-centric investing and entrepreneurship movement?
Why is authenticity essential for building a transformational impact economy?
Participants
JED EMERSON
JED EMERSON is strategic advisor to family offices and wealth management firms executing diverse approaches to investing for financial returns with social and environmental impact. Co-author of the first book on impact investing, as well as six other books on impact investing and social entrepreneurship, he has been active in both fields for nearly thirty years. He has served as founding director and board member of diverse social enterprises and impact investment groups. Emerson is a Senior Research Fellow at University of Heidelberg's Center on Social Investing and has held faculty appointments at Harvard, Stanford and Oxford business schools. He has taught social entrepreneurship at Kellogg Business School and NYU-Abu Dhabi in the U.A.E. In the late 90s, Emerson coined the concept of Blended Value to describe the reality that the value we create in our lives and through our investing is a blend of social, environmental and economic elements. While the value we create is whole, we are asked to choose between doing well or doing good, making money or engaging in philanthropy and working in nonprofit or for-profit organizations.
This dualism prevents us from capturing the full value and returns of not only our investments, but our lives and personal purpose. The Purpose of Capital: Elements of Impact, Financial Flows, and Natural Being explores how we may bridge the divide between how we think about doing well and doing good in order to optimize the overall impact of our lives and wealth. In recent years, Emerson's work has expanded to include consideration of not simply how to invest for more than money, but also how we might think about the deeper purpose of our wealth and lives—the Why. The Purpose of Capital explores the broad and historic links and connections between how we think about money and investing and how we understand the total, integrated value of our lives and World. Before becoming an internationally recognized leader in impact investing and social entrepreneurship, Emerson spent the first part of his career in social work, focusing on youth and community development. He was founding director of Larkin Street Services, a San Francisco-based nonprofit serving homeless and runaway youth.
RODNEY FOXWORTH
RODNEY FOXWORTH, a nonprofit leader and social entrepreneur, is CEO of Common Future, formerly known as BALLE, a network of leaders (re)building an economy that includes everyone. Common Future's work unites wealth-holders and wealth-builders across the U.S. and Canada to advance a more equitable economy. Previously, he was CEO and Founder of Invested Impact, a consulting firm focused on economic development, philanthropy, and social innovation, and co-founder and Strategy Advisor of Impact Hub Baltimore. Prior to founding Invested Impact, Rodney was community manager at BMe, a national network of black male leaders and entrepreneurs. Rodney has also served as program manager at Job Opportunities Task Force, a policy advocacy and workforce development organization. Additionally, he has been a consultant to the Annie E. Casey Foundation, Calvert Impact Capital, and the John S. and James L. Knight Foundation, among others. Rodney is a BALLE Fellow, Next City Vanguard, and Baltimore Business Journal "40 under 40" honoree. He is featured in the Washington Post bestseller, "Reach: 40 Black Men Speak on Living, Leading, and Succeeding." Rodney serves on the board of Justice Funders, SOCAP, and NFF.
STEPHANIE GRIPNE
STEPHANIE GRIPNE As Founder and CEO of Impact Finance Center (IFC), Stephanie is the creative force behind several social enterprises designed to accelerate the impact investing movement and move $1T in investment capital into social ventures that do well by doing good: CO Impact Days, Impact Investing Institute, and Rocky Mountain Who's Who & Impact Investing. Lauded by Forbes as "the Steve Jobs of impact investing", Stephanie is continuously innovating IFC's model, which serves as an accelerator for asset owners by identifying, educating, and activating philanthropists and investors who want to become impact investors. In just five years, Stephanie has positioned the State of Colorado as the leader in impact investing and the successful pilot for a National Impact Investing Marketplace. Early evaluation efforts of IFC's work indicate that 260 direct impact investments totaling $260M have been completed. A successful entrepreneur, academic, investment advisor, and impact investor, Stephanie's vision is driven by 20 years of combined experience at the $100 million Eco Products Fund, the Nature Conservancy, the USDA Forest Service, DOE Oak Ridge National Laboratory, the Journal of Wildlife Management, and several universities. She received her Ph.D. from the Boone and Crockett Wildlife Conservation Program at the University of Montana, and has a B.S. in Biology & Wildlife Management from the University of Wisconsin at Stevens Point and a M.S. in Ecology from Utah State University. Stephanie is a Visiting Scholar at the Tishman Environment and Design Center at The New School in New York City; Aspen Institute Environment Forum Scholar; Environmental Leadership Senior Fellow; Property and Environment Research Center Fellow; Ford Foundation Community Forestry Fellow; Colorado Commission on Employee Ownership member; and a Colorado Boone and Crockett Professional Member.
Laurie Lane-Zucker
Laurie Lane-Zucker is Founder and CEO of Impact Entrepreneur, PBC, an impact economy business that hosts the Impact Entrepreneur Network — a large, global network of "systems-minded" entrepreneurs, investors and scholars of social and environmental innovation — and publishes ImpactEntrepreneur.com. For over 30 years, Laurie has been a "pioneer" (Forbes) and recognized leader in sustainability, social enterprise, and impact investing. Laurie was the founding Executive Director of the international environmental organization, Orion Society, which publishes the celebrated Orion Magazine, as well as the founder of a global sustainability think-tank, the Triad Institute, and Hotfrog, a Founding B Corporation, GIIRS Pioneer Company, and the first company ever to complete an equity transaction on an impact investment exchange. Laurie is the bestselling and multiple award-winning publisher and editor of books and magazines on sustainability and social impact, and the author of numerous articles on entrepreneurship and impact investing.