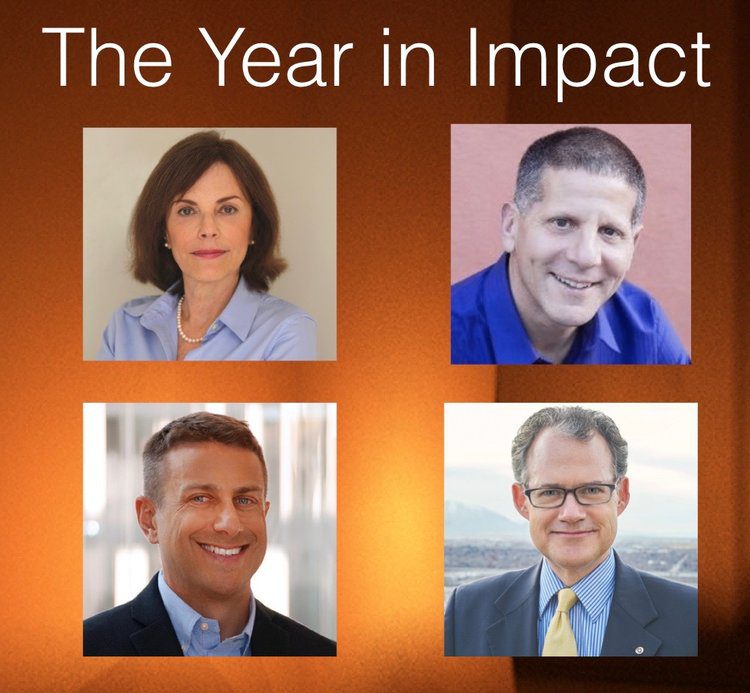 $15.00
Content: Video Webinar Presentation with Q&A
Length: 1:16:48
Premium Members get free access to the entire catalog of past webinars as well as invitations to upcoming, live programs.
$15.00Add to cart
2018 was a big year for impact. The impact investing sector roughly doubled in size. The Sustainable Development Goals continued to emerge as a favorite touchstone for entrepreneurs, investors, governments and others. Opportunity Zones were launched. Place-based impact investing became an increasingly popular strategy. Many new and different kinds of funds were launched. Impact incubators and accelerators proliferated. And much more.
In this video webinar, we welcome four of the most important and influential editors and journalists of impact to discuss the year's biggest developments, emerging trends in the space, and some important happenings that might not have received the attention they deserved. We then look to the coming year of 2019 and, wearing prognosticator hats, share thoughts on what it coming down the pike, both for impact investing and impact entrepreneurship.
Featured Guests
Anne Field
Anne Field is an award-winning business journalist, writer and editor, who focuses on entrepreneurship, social enterprise and impact investing. Anne's work has been published in Crain's New York Business, CNBC.com, Locavesting, The New York Times and many other places. Her blog Not Only for Profit, which covers social entrepreneurship and impact investing, appears in Forbes. Anne also has a deep background writing about financial services, supply chain issues and management. And she taps her long career covering business to produce content for consulting firms, foundation, nonprofits and other organizations.
Before starting work as a freelancer, Anne was on the staff of such publications as Business Week, Business Month and Success. She is the winner of many awards, including the Jesse H. Neal Award for Best How-To Article and the American Society of Business Publication Editors Award for Best Case Study. She was also featured in the Denver Business Journal's 2018 Who's Who in Impact Investing special issue. Anne attended the Columbia University Graduate School of Journalism and Wesleyan University. She lives in New Rochelle, NY.
David Bank
David Bank is the CEO and editor of ImpactAlpha, "Investment news for a sustainable edge." ImpactAlpha serves investors and entrepreneurs who generate financial returns through social and environmental value. The Brief, ImpactAlpha's daily newsletter, has become the go-to source for the growing community of "Agents of Impact." As a reporter for The Wall Street Journal, David covered software, cybersecurity and philanthropy. His book about Microsoft, "Breaking Windows" (Free Press, 2001), was named one of the best business books of the year by Harvard Business Review and Amazon.com. As vice president of Encore.org, he developed campaigns around encore careers, second acts for the greater good. A Nieman Fellow at Harvard University, David is a graduate of Columbia Journalism School and UC Santa Cruz.
Devin Thorpe
Devin Thorpe is an author, educator and speaker. He calls himself a champion of social good. He travels extensively as a volunteer doing service, as a journalist finding heroes and as a speaker sharing what he's learned. As a Forbes Contributor he covers social entrepreneurship and impact investing, reaching an audience of over 2 million people. He's produced over 1,000 episodes of his Your Mark on the World show featuring luminary change agents. A bestselling author, his books—read over 1 million times—help people use money for good. He has helped nonprofits raise millions of dollars via crowdfunding. To tell stories, he draws on his entrepreneurial finance experience as an investment banker, CFO, treasurer, and mortgage broker. Previously he worked on the U.S. Senate Banking committee staff and earned an MBA at Cornell. Frequently finding himself on airplanes, Devin is grateful to be middle-seat-sized.
Scott Anderson
Scott Anderson is Communications Manager for the WIlliam Davidson Institute at the University of Michigan, and is responsible for news content and social media. He also oversees the editorial team at NextBillion.net, a WDI initiative. He has more than 20 years of journalism and communications experience. Before joining WDI, he managed corporate media sites and blogs for several Fortune 500 companies. Anderson also worked as a business reporter for several newspapers and magazines, including The Ann Arbor News and Ward's Automotive. He holds a Bachelor's degree in journalism from Central Michigan University.
Laurie Lane-Zucker
Laurie Lane-Zucker is Founder and CEO of Impact Entrepreneur, PBC, an impact economy business that hosts the Impact Entrepreneur Network — a large, global network of "systems-minded" entrepreneurs, investors and scholars of social and environmental innovation — and publishes ImpactEntrepreneur.com. For over 30 years, Laurie has been a "pioneer" (Forbes) and recognized leader in sustainability, social enterprise, and impact investing. Laurie was the founding Executive Director of the international environmental organization, Orion Society, which publishes the celebrated Orion Magazine, as well as the founder of a global sustainability think-tank, the Triad Institute, and Hotfrog, a Founding B Corporation, GIIRS Pioneer Company, and the first company ever to complete an equity transaction on an impact investment exchange. Laurie is the bestselling and multiple award-winning publisher and editor of books and magazines on sustainability and social impact, and the author of numerous articles on entrepreneurship and impact investing.