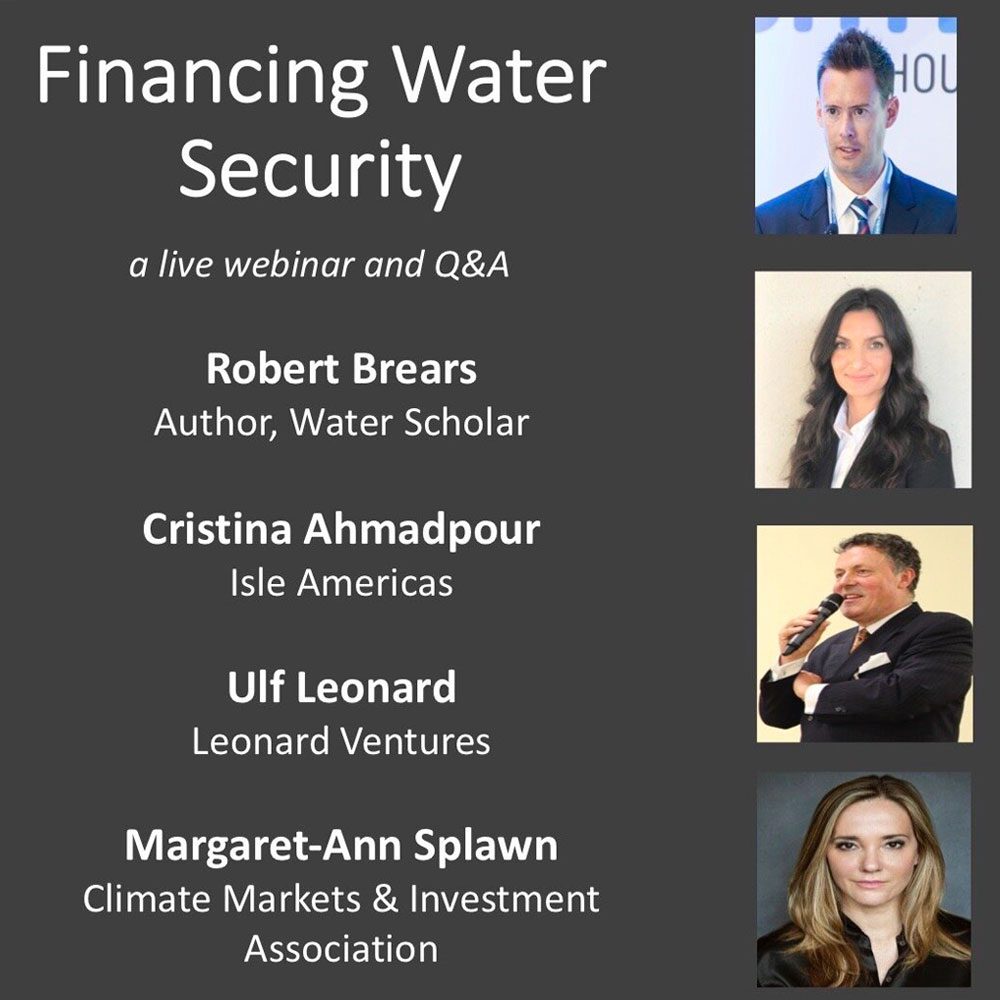 $15.00
Content: Video Webinar Presentation with Q&A
Length: 1:13:58
Premium Members get free access to the entire catalog of past webinars as well as invitations to upcoming, live programs.
$15.00Add to cart
Globally, water security is challenged by a variety of mega-trends including climate change, rapid urbanization, and rising economic and population growth impacting water quality and water quantity. At the same time, aging infrastructure is placing pressure on water utilities to provide adequate and safe water to communities around the world. While numerous technology advances are being made to improve water quality and enhance water efficiency, a key question is how can these technologies be mainstreamed to achieve water security and what is the role of finance? This webinar provides a brief overview of the numerous water security challenges we all face before discussing the role of finance in achieving water security around the world. Topics covered include public, private, and blended-finance opportunities, the rise of green bonds, and financing PPPs.
Guest Moderator
ROBERT BREARS
ROBERT BREARS is the author of Urban Water Security, The Green Economy and the Water-Energy-Food Nexus, Blue and Green Cities: The Role of Blue-Green Infrastructure in Managing Urban Water Resources, Natural Resource Management and the Circular Economy, and Climate Resilient Water Resources Management. He is the editor of the Climate Resilient Societies book series with Palgrave Macmillan. Robert is a contributing author for the World Bank's Water Blog, Asian Development Bank's Blog, United Nations Industrial Development Organization's Making It Magazine, and Green Growth Knowledge Platform. He has published widely on water security, water resources management, and related issues, and has conducted field research around the world, including Antarctica. He is Founder of Mitidaption, Mark and Focus, and Our Future Water.
Participants
CRISTINA AHMADPOUR
CRISTINA AHMADPOUR is a consultancy executive specializing in emerging technologies and innovative best practices in the water sector. While most of her career has been working with utilities and technologists, Cristina has managed projects from inception to delivery that required collaboration with contractors, engineering consultants, treatment plant operators, manufacture sales representatives, electric utility representatives, industry associations, etc. Through this experience, Cristina has developed a strong network of trusted relationships with varying stakeholders and has established a unique competency in the commercial, technical, and regulatory aspects of the industry.
As President of Isle's Americas business, she manages a team that supports the most progressive water utilities in their interest to identify, evaluate, and engage best available solutions that drive value to their services and business operations. Facilitating an assessment of needs and identifying solutions that respond to top priorities has been an integral part of how she works with water utility leaders today.
ULF LEONHARD
ULF LEONHARD is founder and CEO of Leonhard Ventures. Ulf has over 25 years of private equity (fundraising and strategic business consulting) experience, spanning a broad range of sectors (e.g. IT, cleantech, food, forest, agriculture, resource technologies, high tech and advanced manufacturing, water) and entrepreneurial stages (start-up, early stage, growth). Since 1997, he has organized over 120 events in Germany, Austria, France, Switzerland, Spain, United Kingdom and United States, reaching approximately 11,500 participants from more than thirty-five countries. His past work includes roles at A.T Kearney Management Consulting and as CEO of a Private Equity Fund in Stuttgart, Germany.
MARGARET-ANN SPLAWN
MARGARET-ANN SPLAWN is the Executive Director of the non-profit Climate Markets & Investment Association (CMIA), a membership organization with the mission to stimulate a shift in the direction and scale of private and public financial flows into investments which are consistent with the objectives of the Paris Agreement. Before joining CMIA Margaret-Ann provided carbon origination, advisory, risk management and procurement services to compliance entities with carbon exposure in the EU Emissions Trading Scheme. Margaret-Ann has over twenty years experience in financial markets trading at a number of leading brokerage firms in bonds, interest rate swaps & options and credit default swaps. She holds a MSc in Environmental Policy and Regulation from the London School of Economics and is a Fellow at the Royal Geographical Society.
Laurie Lane-Zucker
Laurie Lane-Zucker is Founder and CEO of Impact Entrepreneur, LLC, an impact economy business that hosts the Impact Entrepreneur Network — a large, global network of "systems-minded" entrepreneurs, investors and scholars of social and environmental innovation — and publishes Impact Entrepreneur Magazine. For over 30 years, Laurie has been a "pioneer" (Forbes) and recognized leader in sustainability, social enterprise, and impact investing. Laurie was the founding Executive Director of the international environmental organization, Orion Society, which publishes the celebrated Orion Magazine, as well as the founder of a global sustainability think-tank, the Triad Institute, and Hotfrog, a Founding B Corporation, GIIRS Pioneer Company, and the first company ever to complete an equity transaction on an impact investment exchange. Laurie is the bestselling and multiple award-winning publisher and editor of books and magazines on sustainability and social impact, and the author of numerous articles on entrepreneurship and impact investing. Laurie is contributing author of the recently published, bestselling textbook from World Scientific, Sustainability: Business and Investment Implications (2023).