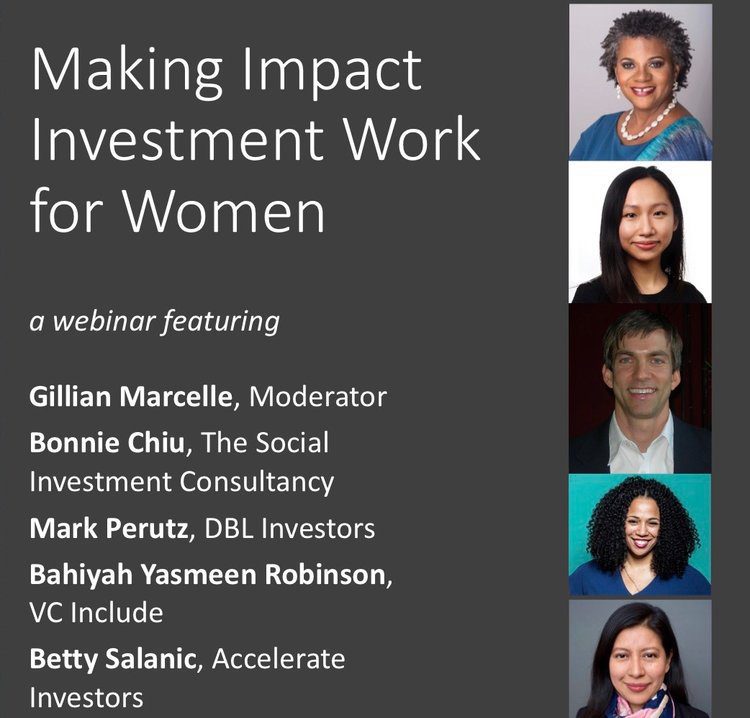 $15.00
Content: Video Webinar Presentation with Q&A
Length: 1:13:26
Premium Members get free access to the entire catalog of past webinars as well as invitations to upcoming, live programs.
$15.00Add to cart
Women's empowerment and gender equality are complex issues; designing and executing strategies that are transformative require that we take a stance and have an understanding that complexity is real and multi-layered dimensions and intersectionality matter. In this webinar, we discuss and learn about:
Strategies for getting more women at decision-making levels in impact investment, as fund managers, LPs, Venture Capitalists, angel investors and in philanthropies

Tactics and mechanisms for including gender equality and women's empowerment in investment strategies of impact investment funds, blended funds and VCs; with emphasis on identifying what helps with getting a pipeline of projects that are investible and selecting from among that pipeline

The experiences and differences across and between women based on racial, sexual orientation, national origin and age

Learn about a research project that conducted a detailed exploration of gender issues in impact investment in the UK
This webinar is the first in a series of three programs focused on diversity, inclusion and accountability in impact investment designed in collaboration with Gillian Marcelle of Resilience Capital Ventures LLC. For more information on the series, visit this link.
Moderator
Gillian Marcelle, PhD
Gillian Marcelle, PhD is a senior leader in economic development and international business with a proven track record in attracting investment to emerging markets. She is currently the managing member of Resilience Capital Ventures LLC, an advisory firm in the blended finance space and serves as a non-Executive Director of Tafari Capital, an innovative fintech start-up in Joburg, South Africa. Her finance background includes development finance with the International Finance Corporation, as well as, equities and capital markets with JP Morgan Chase. She has also advised the United Nations on impact investment and innovation for the benefit of the global South. In July 2018, she completed a contract as the Executive Director of the UVI RTPark, a specialist economic development agency for the US Virgin Islands. In this role, she successfully transformed the organization; doubling the number of technology and knowledge based investors in three years and placing focus on deriving social investment contributions from the firms benefitting from generous tax incentives. A global citizen with wide networks and various communities of practice drawn from her personal and professional connections in Washington DC., London, Johannesburg and Trinidad & Tobago. Her educational background includes earning degrees in Economics from the University of the West Indies, St Augustine, and the Kiel Institute of World Economics, an MBA with a specialization in high technology management from the George Washington University and a doctorate in innovation policy from the Science and Technology Policy Research Unit, SPRU, University of Sussex. For her scholarly work, she is an affiliated researcher at the Tata Center for Technology and Design, MIT, Cambridge MA.
Featured Guests
Bonnie Chiu
Bonnie Chiu is the Managing Director of The Social Investment Consultancy. In this capacity she convenes Women in Social Finance, a network of 100 senior-level women in social finance in London, and has co-founded the Diversity Forum, a network of leading impact investors in the UK committed to diversity and inclusion. She is also the Founder and CEO of award-winning non-profit social enterprise Lensational, which equips marginalised women with photography training and digital storytelling.
An award-winning social entrepreneur and advocate, she is Forbes 30 Under 30 Social Entrepreneur in Europe, and an Ambassador for Sustainable Development Goal 5 on Gender Equality for the Lavazza calendar. She is a global speaker and commentator, having been invited to speak in 17 countries, most prominently at the Clinton Global Initiative Annual Meeting 2016, and she serves as a Forbes contributor, writing on diversity and inclusion.
Mark Perutz
Mark Perutz is a Partner at DBL Partners. Previously he was an investment professional at JPMorgan helping to manage the Bay Area Equity Fund from 2003 through the spin-out of the Bay Area Equity Fund from JPMorgan and the founding of DBL Partners in January 2008. He is currently on the board of RallyPoint and a stealth company, was formerly on the Board of Revolution Foods, and has worked with the following DBL portfolio companies: Advanced Microgrid Solutions, Off-Grid Electric, Primus Power, Farmer's Business Network, NEXTracker, SolarCity, Tesla Motors, Solaria, Ogin, PowerLight, eMeter, Siva, Labcyte, CareDx, Bentek, ReShape and Wholeshare.
Previously, Mark was an equity research analyst at Robertson Stephens. At Robertson, Mark's coverage focused on the areas of enterprise software and web infrastructure. Mark has also worked in business development at Interwoven, a web content management company; per-formed technology and market research at the Tower Group; and built computer systems as a systems integration consultant for Accenture. Mark received a BS and MS in Mechanical Engineering from MIT, and received a MBA from the Sloan School of Business at MIT.
Bahiyah Yasmeen Robinson
Bahiyah Yasmeen Robinson is the Founder + CEO of VC Include, an advocacy organization that connects female and diverse emerging managers with LPs that care about returns, impact and inclusion across the lens of gender, ethnicity, sexual identity and race. Since June 2018, VC Include has produced curated convenings in New York City, Los Angeles, Salt Lake City and Silicon Valley, and is expanding to additional cities in 2019. These intimate gatherings create meaningful, longterm relationships through knowledge exchange and a new level of pattern matching, while creating a more diverse pipeline of investors in the alternative investments ecosystem.
Bahiyah is also the CEO of Robinson (+) Consulting Group, a New York City based company that provides insights, strategy and investor connections to corporations, NGOs and ecosystems of startups, with a focus on women, women of color, and the African Diaspora. She's lead multiple technology, investment, fundraising and social impact initiatives in the US, Brazil and across Sub-Saharan Africa since 2001. Her collaborations and investments have been recognized over the years by the Knight Foundation, Echoing Green, Entrepreneur, CNN and Forbes. Bahiyah was born in Palo Alto, California. She was raised and educated around the themes of science, technology, and equity.
Betty Salanic
Betty Salanic is the chief executive officer of Accelerate Investors, which is accelerating access to capital for diverse-led funds. In this role, Betty partners with pension funds, endowments, foundations, asset managers and other investment industry stakeholders.
Betty began her career as an analyst at J.P. Morgan Asset Management in New York. She later joined an impact investment fund, Root Capital, in investor relations – raising capital from foundations, government agencies and socially responsible investors. Subsequently, she conducted research and due-diligence on multi-million dollar private equity and venture capital investments for Rice University's $5.8 billion endowment. Betty graduated from The University of Texas at Austin with a BBA in Finance and a BS in Corporate Communication.