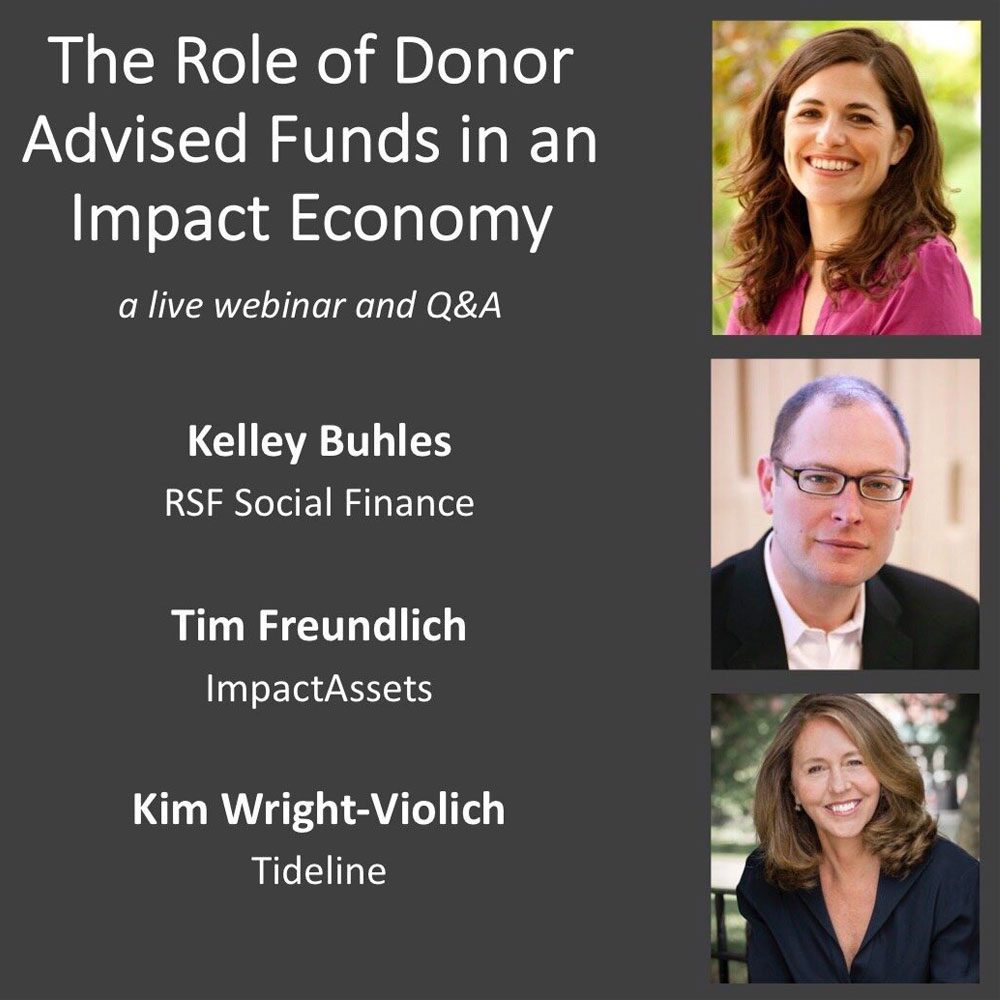 $15.00
Content: Video Webinar Presentation with Q&A
Length: 1:13:57
Premium Members get free access to the entire catalog of past webinars as well as invitations to upcoming, live programs.
$15.00Add to cart
Recent media coverage of Donor Advised Funds (DAFs) has criticized them for not moving enough money to end charities fast enough, as well as giving to hate groups and not aligning endowment investment capital with purpose. This webinar explores what the best practice is or should be for DAFs to fulfill their promise of well over $100 billion (and fast-growing) in alignment and making positive impact with the society and planet they exist to serve. What would a robust set of principles that elevate DAF best practices look like across grantmaking, investing and otherwise? Is there an opportunity to lead the field toward these best practices, and what role could reasonable, effective regulation play if any?
Participants
KELLEY BUHLES
KELLEY BUHLES is the Senior Director of Philanthropic Services at RSF Social Finance. Kelley oversees all aspects of RSF's philanthropic program working to support the intentions of our client community through giving. In 2010, Kelley launched RSF's participatory grantmaking program, Shared Gifting and has led that program to give over $1 million in gifts through participatory processes. Kelley has also played a key role in coordinating RSF's Integrated Capital approach to financing, co-authored "the Prudent Woman" an article imagining a feminine investment theory, and supports RSF's organizational culture and operations. Her work is driven by the quest to transform philanthropy so that wealth is controlled by communities, and to build a regenerative economy where all beings can thrive.
When not unpacking the assumptions of our current economic paradigm, Kelley can be found in Marin County, California with her Swiss husband and baby, writing comedy and eating cheese. Previously, she served on the board of the Haight Ashbury Food Program, coordinated the Bay Area Fair Trade Coalition, and ran an interactive performance art theme camp at Burning Man. She graduated from San Diego State University with a BA in anthropology.
TIM FREUNDLICH
TIM FREUNDLICH is a long-time innovator in new financial instruments in the social enterprise sector, which he now applies as the head of ImpactAssets, the $1 billion boutique donor advised fund and investment note offerer for impact investments. While previously at Calvert Foundation for 12 years, he conceived of and launched the donor advised fund. He was also instrumental in building the $250mm Community Investment Note with more than $1 billion invested into 300-plus nonprofits and for profits globally.
He co-founded and serves as Managing Partner for Good Capital that, in addition to its flagship Social Enterprise Expansion Fund LP, founded the 2,500-person annual Social Capital Markets (SOCAP) conferences in San Francisco and four Impact Hubs in the US; co-working, meeting and community space serving approximately 2,000 social innovators. Tim is a sought-out industry speaker and regularly featured and quoted in media such as Bloomberg and CNBC and has appeared on The Street and Forbes. He received a BA from Wesleyan University and an MBA from the University of San Francisco. Tim and his wife, Julie, live in San Francisco with their sons, Milo and Gus.
KIM WRIGHT-VIOLICH
KIM WRIGHT-VIOLICH is a Managing Partner at Tideline where she co-leads the firm's strategy, operations, and client engagement. She brings her expertise in growing businesses in the financial services industry, designing products for investment advisors, and leveraging the synergy between the social, public and private sectors in her work with clients. Prior to co-founding the firm, Kim was the CEO of Schwab Charitable, where she oversaw the organization's growth from a startup to $5 billion in contributed assets. Under her leadership, Schwab launched a pioneering impact investing program that allowed clients to guarantee social impact loans.
Laurie Lane-Zucker
Laurie Lane-Zucker is Founder and CEO of Impact Entrepreneur, PBC, an impact economy business that hosts the Impact Entrepreneur Network — a large, global network of "systems-minded" entrepreneurs, investors and scholars of social and environmental innovation — and publishes Impact Entrepreneur Magazine. For over 30 years, Laurie has been a "pioneer" (Forbes) and recognized leader in sustainability, social enterprise, and impact investing. Laurie was the founding Executive Director of the international environmental organization, Orion Society, which publishes the celebrated Orion Magazine, as well as the founder of a global sustainability think-tank, the Triad Institute, and Hotfrog, a Founding B Corporation, GIIRS Pioneer Company, and the first company ever to complete an equity transaction on an impact investment exchange. Laurie is the bestselling and multiple award-winning publisher and editor of books and magazines on sustainability and social impact, and the author of numerous articles on entrepreneurship and impact investing.