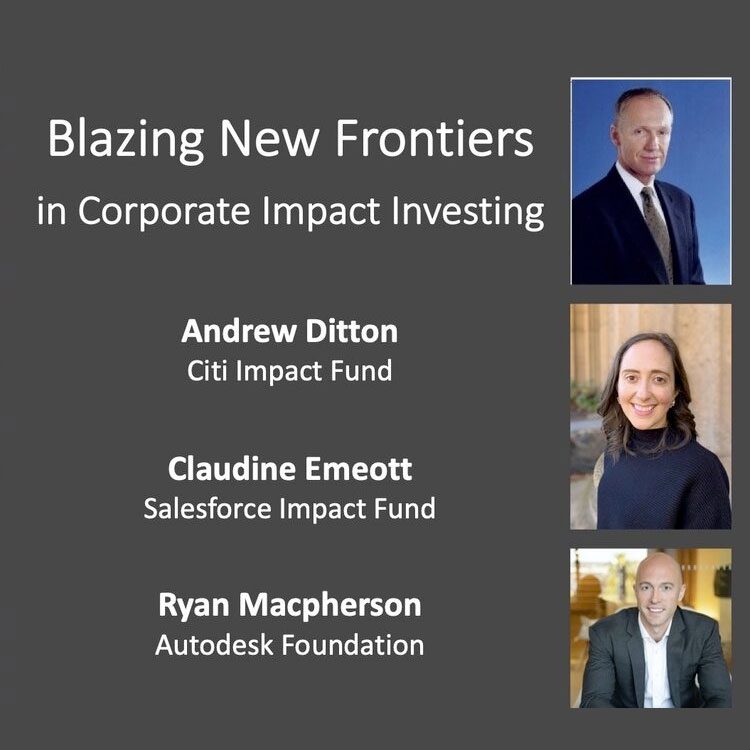 $15.00
Content: Video Webinar Presentation with Q&A
Length: 1:12:28
Premium Members get free access to the entire catalog of past webinars as well as invitations to upcoming, live programs.
$15.00Add to cart
Impact investing has upended traditional investing. Large corporations — using balance sheets, special purpose vehicles, and philanthropic funds — are following suit. The goal? To leverage $22 trillion in cash and liquid assets sitting in corporate coffers to further corporate strategy, generate financial returns and yield positive environmental and social impact.
In this session, corporate venture capital experts discuss novel ways companies are investing in innovation with the intention to deliver double and triple bottom line returns. Equipped with tools like blended capital, strategic business integration, and new market entry, these impact investors are demonstrating the next frontier in corporate venturing — and philanthropy.
Through this session the audience will have learned:
How corporations are investing in innovation with the intention to deliver impact during COVID-19 and beyond
Unique ways corporations are delivering value to portfolios beyond writing a check
Pitfalls to avoid when launching and executing a corporate impact investing strategy
Participants
ANDREW DITTON
ANDREW DITTON is Managing Director and Head of Citi's Impact Fund. Mr. Ditton previously served as Managing Director and the Head of CRA Business Strategy, and as the Co-Head of Citi Community Capital. Before joining Citi, Mr. Ditton served as Managing Member of Davis/Ditton LLC, an affordable housing development and syndication business in Chicago. Prior to that, Mr. Ditton was the Executive Vice President and Chief Operating Officer of the Local Initiatives Support Corporation (LISC). Mr. Ditton is currently a Director of the National Equity Fund and is Chairman of the Board of the Community Development Trust. A graduate of Shimer College, Mr. Ditton received his Master's degree in Urban Studies from Loyola University. Mr. Ditton is an Adjunct Professor at Columbia's Graduate School of International and Public Affairs.
CLAUDINE EMEOTT
CLAUDINE EMEOTT works at the intersection of tech, investing, and impact. She currently leads the $50M Salesforce Impact Fund, investing mission-driven enterprise technology companies in education, workforce development, sustainability, and financial inclusion. The fund seeks investments with market returns, demonstrable social or environmental impact, and opportunities to grow the Salesforce ecosystem through strategic partnerships. Prior to Salesforce, Claudine led social enterprise investments at Kiva, where she also spearheaded a new impact measurement framework. Before moving to the Bay Area, Claudine spent the first half of her career in economic development consulting and has lived in Beijing, Chicago, and Kathmandu. Claudine serves on the board of Global Communities, which works closely with the U.S. government, foundations, and corporations to implement high-impact programs in global development, humanitarian assistance, and financial inclusion in 35 countries globally. Claudine holds a B.A. from Harvard and a master's from MIT.
RYAN MACPHERSON
RYAN MACPHERSON is a Portfolio and Investment Manager at Autodesk Foundation, the corporate foundation of Autodesk, Inc. In his role, Ryan leads Autodesk's impact investments into early-stage, world class technologies addressing society's most pressing global challenges. Ryan is passionate about developing new financing mechanisms and incentive structures to support the commercialization of science and engineering-based breakthroughs. He has done so throughout his career by leading investment operations at PRIME Coalition, directing the 2016 MIT Clean Energy Prize, and establishing new technology transition programs within the Department of Defense and General Services Administration. Ryan holds a Master of Business Administration from the MIT Sloan School of Management and a Bachelor of Science with high distinction in Civil Engineering from the University of Virginia.
Laurie Lane-Zucker
Laurie Lane-Zucker is Founder and CEO of Impact Entrepreneur, PBC, an impact economy business that hosts the Impact Entrepreneur Network — a large, global network of "systems-minded" entrepreneurs, investors and scholars of social and environmental innovation — and publishes Impact Entrepreneur Magazine. For over 30 years, Laurie has been a "pioneer" (Forbes) and recognized leader in sustainability, social enterprise, and impact investing. Laurie was the founding Executive Director of the international environmental organization, Orion Society, which publishes the celebrated Orion Magazine, as well as the founder of a global sustainability think-tank, the Triad Institute, and Hotfrog, a Founding B Corporation, GIIRS Pioneer Company, and the first company ever to complete an equity transaction on an impact investment exchange. Laurie is the bestselling and multiple award-winning publisher and editor of books and magazines on sustainability and social impact, and the author of numerous articles on entrepreneurship and impact investing.