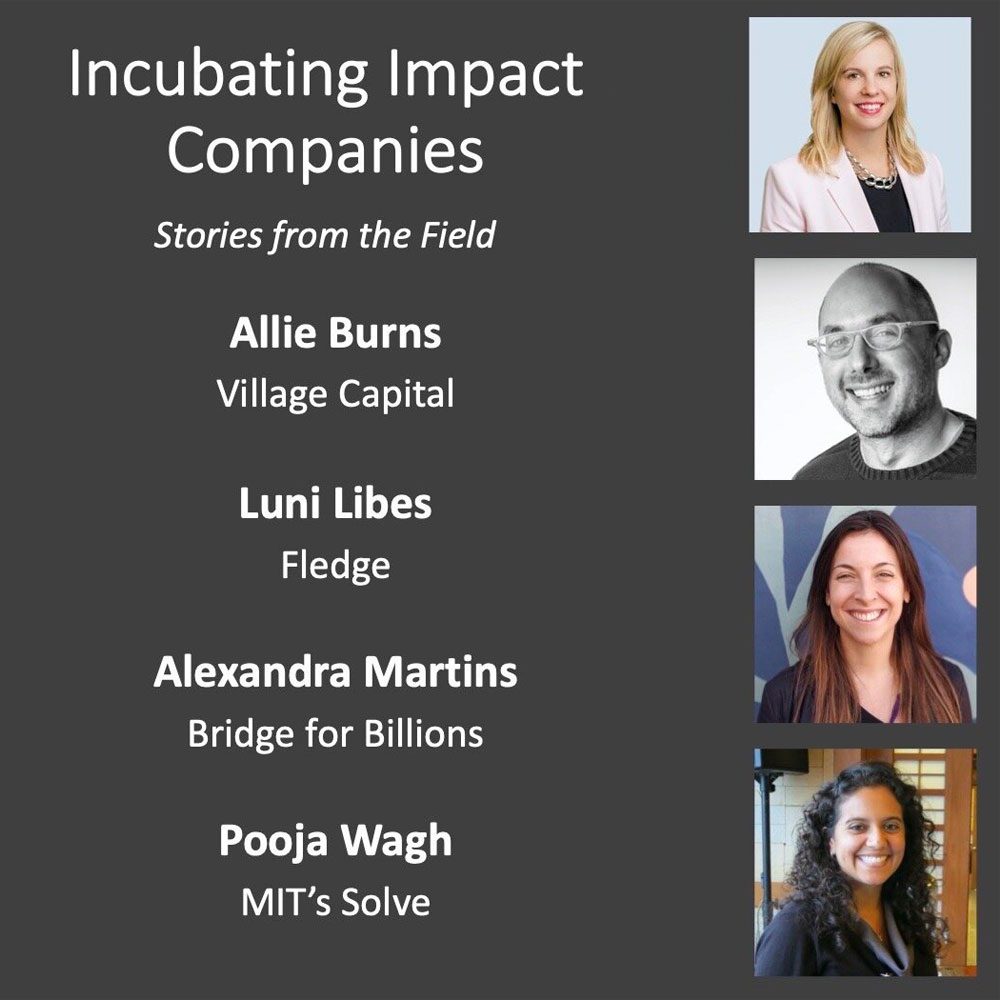 $15.00
Content: Video Webinar Presentation with Q&A
Length: 1:14:45
Premium Members get free access to the entire catalog of past webinars as well as invitations to upcoming, live programs.
$15.00Add to cart
Impact-focused incubators and accelerators have proliferated in the past decade. The best of these initiatives use different strategies to assist idea- and early-stage impact businesses develop their business models and attract capital.
This webinar and Q&A features senior leaders from four of the leading impact business incubators and accelerators. We discuss, among other topics:
Their unique approaches to impact incubation/acceleration
Their incubator's/accelerator's relationship to funders
The emerging funding models for impact companies
Their advice for entrepreneurs and investors
Their relationship to higher education
Participants
ALLIE BURNS
ALLIE BURNS brings nearly two decades of experience working with entrepreneurs and innovators at the intersection of tech and social change to her role as CEO of Village Capital. Prior to joining the organization in 2016, she served as a senior executive at Revolution and the Case Foundation, the venture capital firm and private family foundation created by former AOL executives Jean and Steve Case. In that role, she led the organizations' communications and marketing teams, and was instrumental in the development of major initiatives including the Rise of the Rest, the Startup America Partnership and the Be Fearless campaign.
LUNI LIBES
LUNI LIBES is a 25+ year serial entrepreneur and (co)founder of six companies. His latest startups are Fledge, the conscious company accelerator, where he helps new mission-driven for-profit entrepreneurs from around the world navigate the complexities between idea and customer revenues, and investorflow.org, an online service connecting impact investors.
In addition, Luni is an Entrepreneur in Residence Emeritus at the University of Washington's CoMotion, the center for innovation and impact and has taught Entrepreneurship at both UW and at the Bainbridge Graduate Institute. Luni is author of The Next Step series of books and podcasts, guiding entrepreneurs from idea to startup and The Pinchot Impact Index, a way to measure, compare, and aggregate impact.
ALEXANDRA MARTINS'
ALEXANDRA MARTINS' daily job is to speak with entrepreneurs from all over the world and guide them on how to obtain the support they need. From a family of entrepreneurs herself, she started her career working in banking & corporate finance and 5 years ago shifted paths to specialize in social innovation. Since then, she has worked with NGOs, social ventures, and other impact driven-initiates, with a special focus on promoting social inclusion and change through entrepreneurship. With experience across different sectors, organizational cultures, and countries, One year ago she joined Bridge for Billions – the online incubator for early-stage startups building a digital ecosystem that supports everyone, everywhere to impulse their ventures.
POOJA WAGH
POOJA WAGH is the Lead of Solve's Health pillar and Director of Results Measurement for Solve. She develops and nurtures relationships with Solve's health-focused Members, partners, and Solver teams, and works with them to drive forward promising, innovative solutions to intractable challenges in the health and wellness space. She also oversees monitoring and evaluation of Solve's portfolio of Solver teams and measures the impact of Solve's partnerships on the ability of Solver teams to affect change. Prior to joining Solve, Pooja worked at Innovations for Poverty Action, where she managed a portfolio of rigorous research projects aiming to improve the access and quality of financial services in underserved areas around the world, and at IBM Global Business Services as a consultant. Pooja holds a Masters in Public Policy from the Harvard Kennedy School and a Bachelors in electrical engineering from MIT.
Laurie Lane-Zucker
Laurie Lane-Zucker is Founder and CEO of Impact Entrepreneur, LLC, an impact economy business that hosts the Impact Entrepreneur Network — a large, global network of "systems-minded" entrepreneurs, investors and scholars of social and environmental innovation — and publishes Impact Entrepreneur Magazine. For over 30 years, Laurie has been a "pioneer" (Forbes) and recognized leader in sustainability, social enterprise, and impact investing. Laurie was the founding Executive Director of the international environmental organization, Orion Society, which publishes the celebrated Orion Magazine, as well as the founder of a global sustainability think-tank, the Triad Institute, and Hotfrog, a Founding B Corporation, GIIRS Pioneer Company, and the first company ever to complete an equity transaction on an impact investment exchange. Laurie is the bestselling and multiple award-winning publisher and editor of books and magazines on sustainability and social impact, and the author of numerous articles on entrepreneurship and impact investing. Laurie is contributing author of the recently published, bestselling textbook from World Scientific, Sustainability: Business and Investment Implications (2023).